3 of the Best Books on Roulette Systems and Strategies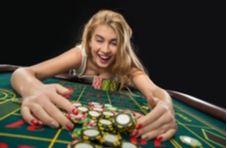 There are casino games that come with huge reputations… and roulette is one such game.  It has seized the imagination of gamblers for longer than we care to remember.
Even today, roulette is front and centre on all mainstream gambling platforms.  From Vegas to the World Wide Web, roulette has the kind of allure that is hard to match.
What is it about roulette that has punters so enraptured?  Is it the numbers, the layout or the hardware and how it operates that gets folk all in a tizz?
A Game of Chance… But with Plenty of Systems and Strategies
Well, by our estimation, it all comes down to the fact that this queen – and has to be queen – of casino games is one of the only games of chance that has more betting systems, strategies and tactics ascribed to its name than stud, draw and Hold'em poker all rolled into one!
Why is this such a big deal?  In simple terms, in the normal scheme of things, games of chance are exactly that – and by that we mean luck is the one and only determining factor when it comes to winning or losing.
Can the Outcome of the Game Be Influenced in Any Way?
Players right here at Springbok Casino – or at any other online or B&M casino for that matter – ostensibly can't influence the outcome of the game through statistically-informed decision-making.
In short, there isn't a perfect way to play live or online roulette – as there is perhaps with games such as blackjack, Caribbean Stud or Jacks or Better video poker.  This begs the question why reams and reams have been dedicated to the betting systems and strategies of roulette?
As it stands, more books have been written about the finer points of the queen of casino games than authors like Stephen King, Dean Koontz, Mylo Carbia and Ramsey Campbell have churned out fictional horror stories!
Having ascertained that roulette is one of the casino games that falls squarely into the games of chance category – along with slots, scratch cards, baccarat and lottery games – how do players find the elusive edge? 
Best Roulette Strategy Books
By looking at the fine print of course – and in this context we don't mean the T&Cs – we mean the best roulette 'strategy' books!  Confused?  If so, perhaps now is a good time to take a brief sneak peek of what the authors of these books are trying to impart.
Here are a few books dedicated to our queen of casino games and how you can hypothetically win more roulette sessions than you lose – at Springbok Online Casino South Africa and at gaming halls in Sun City, Atlantic City and Macau:
Get the Edge at Roulette by Christopher Pawlicki
At just 223 pages, Get the Edge at Roulette is more a guide to the game than a tome.  Despite a deep dive into a few complex betting systems, the book is objective, well written and easy to understand.  It really is a celebration of our queen of casino games, as it touches on interesting stuff like the 'chequered' history of roulette and how a roulette wheel is constructed.
It also explains how to spot things that players can manipulate, like deviations of the wheel and dealer signatures - neither of which apply to online roulette.  There is also loads of fascinating information about betting systems that are not so much legendary but rather hopelessly ineffective.
The chapter that is probably the most relevant to players like you and I is the one on online roulette – and it is this chapter that you will find a few useful little pointers.  
At Springbok Casino spoiler alerts are not our thing, so we suggest you get the book and read the chapter yourself… you may just find it enlightening!
Sweet Spot One-Third Roulette Strategy by Stephen R Tabone
As the title suggests, Sweet Spot One-Third Roulette Strategy (OTRS) is 'an extensive exploration into roulette column and dozen betting'.  It focuses on two distinct betting systems that are equally applicable to the live and online game.
If you have got the time and patience, this comparatively weighty book really is worth wading through.  You will get a blow-by-blow account of two systems that professional gamblers use to break the proverbial bank – and let's face it, that is exactly what we all intend on doing when we play real money casino games!
What are the two systems?  The first is based on betting on a random selection of 18 numbers.  The actual numbers you select are not cast in stone and can be changed at any time during a betting session.  You can also select more or less than 18 numbers but only under certain conditions.
The second system is pretty similar but this time you only bet on 12 numbers – and exactly the same 12 numbers at that – over and over again.  What is at the heart of both these systems is they effectively take one of the decision-making variables out of the game – and that variable is of course the numbers selection.
That leaves you to focus exclusively on when to wager and how much to wager… and there are plenty of salient points that you can adopt in respect to both these decisions.  According to the author, OTRS creates order out of chaos and give players an excellent chance of banking a few ZAR here and there!
Roulette Odds and Profit by Catalin Barboianu
Barboianu's book zooms in on a complex mathematical model that takes into account a whole lot of variables like the betting system you use and your personal playing criteria and then spews out a suitable strategy.
It is not the easiest of reads as it really is all about 'the mathematics of complex bets'.  One section that can be helpful in the online casino environment is the section on odds, profits and losses and how you can capitalize on the odds.
Once you have found a winning strategy that matches your particular player dynamics, you can put it into practice right here at Springbok Casino South Africa – home to the best casino games online!