Are the Funky Variations of Online Roulette Worth Playing?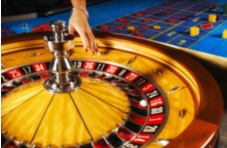 Technology is the driving force behind innovative casino games development.  These days, you can play all sorts of weird variants of roulette.  The question is; are they worth the effort?  Despite the added entertainment value there is a downside to choosing creativity over classic.  Why should you stick to the pure forms of roulette featured at Springbok Mobile Casino South Africa?  Let's explore that question in a little more detail.
Double the Wins at Half the Payouts? Huh?
Before we get into exactly why the classic roulette games are still your best gambling option, here is an overview of some of the pretenders to the online roulette throne.  First off, there is Double Ball Roulette.  As you have probably guessed there are two balls operating simultaneously on the wheel.  The idea is to bamboozle you into thinking you have double the chance of winning. 
Perhaps in an altered reality you do - as you can get paid out on the standard inside bets based on the outcome of both the balls.  The payouts, however, are half that of the classic games you can play right now at our mobile casino South Africa.  If you want to scoop up winnings at the standard odds of 35:1, both balls have to fall into the same pocket!  Seriously?  What are the chances of that happening? 
In Double Ball Roulette even the outside bets are more difficult to win, as both balls have to land on red or black, odd or even, 1 to 18 and so on.  Having said that, there is a 1:1,200 payout for any player who correctly predicts a number and both the balls land in that specific pocket.  That too is more than a long shot - it is next to impossible.  As I am sure you aware, the odds reflect probability and at Springbok Casino we prefer dealing in reality over fantasy!
A Mandatory Side Bet and High Edge! What's 'Royal' About That?
Now let's shift our attention to Roulette Royal.  This online roulette variant is billed as a mega-money generator.  That may be true if you happen to be a magician but you do have to pay for the privilege of qualifying for the big paying progressive jackpot.  You also have to hit the same number in five consecutive spins, a feat that has a 1 in 1,874,161 chance of actually occurring.  That is a bit like betting on corrupt-free politicians or Kim Kardashian becoming a nun or Boris Johnson having a crew cut.  It ain't going to happen.  
Besides the progressive jackpot, there are jaw dropping odds of 3,000:1 and 1,200:1 for hitting 3 or 4 numbers in a row, respectively.  Again, the odds are a true reflection of how unlikely that is of happening.
Right, we have effectively blown the concept of big wins to bits.  How about that statistical indicator known as the house edge?  Well the numbers floating around the progressive side bet in Roulette Royal are revealing to say the least.  According to the mathematicians who calculate these sorts of things, the average return to player (RTP) on the mandatory progressive jackpot wager is 63%.  That means the advantage to the house is a whopping 37%. 
To put that into perspective, the European Roulette we feature right here at Springbok Casino has an RTP of 97.3% and an edge of just 2.7%.   Don't be a sucker and instantly fall for the souped-up versions of roulette.  You really are far - and we mean far - better off playing the classic form of the game at the #1 mobile casino South Africa instead!
Multiple Wheels Increase the Outlay… Eight-Fold! 
OK, how about Multi-Wheel Roulette?  It has exactly the same structure as European Roulette… with one obvious exception.  Rather than one roulette wheel on the gaming interface, there are up to eight wheels that you have the option of activating in any given betting round.  The problem here is that you have to replicate your bets according to the number of wheels in-play.  In other words, if you place a R2 chip on a number as a straight-up bet and all eight wheels are in-play, that exact same bet is replicated eight times to generate a total outlay of R16… on just one number.
That effectively means the ball has to land in the same numbered pocket on all eight wheels for you to hit pay dirt - which in this case is R560 or R16 x 35.  Even having two winning wheels on the same number is stretch.  Any more than that is wishful thinking.  When you take into account that many of the most successful roulette betting strategies involve placing multiple bets on every spin, then this form of the game can become very expensive indeed.  Multi-Wheel Roulette is essentially the same as multi-hand video poker.  You can win more money… but at what price?
Why You Should Play European Roulette at Springbok Casino Instead
European Roulette may not have the pizazz of the puffed-up variants we have already mentioned but it is the most honest form of the game by far.  There are no mandatory side bets or funky hardware features to entice or confound you.  If you do want a bit of an adrenalin rush there is nothing stopping you from placing multiple bets on every spin of the wheel.  It is after all the best way to hedge your bets, so to speak, by maximising the coverage of the layout.  When you consider the game's vital statistics - and by that we mean the RTP and house edge - they are sitting way into positive territory at 97.3% and 2.7%, respectively!
Sign Up at the Best Mobile Casino South Africa… NOW
What that of course means is you can happily register an account at Springbok Casino in the knowledge classic roulette has not lost its allure nor its payout capabilities.  Once you have signed up at Springbok Casino, funded your account and claimed the first of three welcome bonuses, you have uninterrupted access to the best mobile casino South Africa – and the hundreds of casino games contained therein!  
Even though we recommend European Roulette for a more traditional and stable gaming experiencing in terms of volatility and payouts, you're more than welcome to explore the other exciting renditions for a bit of a spin on the classic!  They're still super fun to play in their souped-up variations – and they're all available right now at Springbok Casino, the top rated mobile casino South Africa!