Best Kept Secrets: Column Betting Systems in Roulette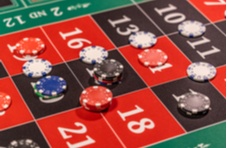 Roulette is the kind of game that is tailor made for our top ranked mobile casino South Africa.  Along with clean graphics and tap-to-bet functionality, there is zoom-in imagery displaying exactly where the ball lands on the wheel.  Factor in our super-cool column betting systems and one thing is for sure – there is money to be made playing roulette online at Springbok Casino… and we are willing to share our secrets with you!
A Game of Fortune with Multiple Bet Types 
One of the many positive facets of roulette is the myriad of bets that are available on every spin.  There are outside bets that have the highest probability of winning but pay out at the lowest odds.  These bets are arranged on the outside of the layout and include the even money bets like odd or even, red or black and low or high.
They also include the dozen and column bets that reward players at Springbok Mobile Casino South Africa with slightly better payouts of 2 to 1.  When you win these bets, you essentially double your money and that is what every good gambler has in mind when they fire up the game engines of European or American roulette on their tablet or phone.  Then, of course, there are the big paying inside bets that may deliver payouts at odds ranging from 5 to 1 to 35 to 1 but only win around 16% to 3% of the time.
Why European Roulette is the Best Option 
In this article we are focussing on the column bets in European Roulette.  Why European Roulette?  Well, the single zero form of the game has an edge of just 2.78%.  Compare that with the 52.6% advantage to the house in the double zero American format and it is a no-brainer to stick to the original casino game with a continental flavour. 
What is more is that it is not only the edge in European Roulette that is more favourable to players at Springbok Casino.  At 32.40% versus 31.6%, the column bets also have a higher chance of winning in the single zero game.  Seriously…  if you are going to play roulette at the best mobile casino South Africa, there is only one game that should be on your radar!
What are Column Bets in Roulette?
All the numbered pockets on the roulette wheel, with the exception of the single zero, are laid out in three columns containing 12 numbers each:
Column 1 – features numbers 1 to 34
Column 2 – features numbers 2 to 25
Column 3 – features numbers 3 to 36
Each column pays out at odds of 2 to 1.  That means if you bet R10 on the first column and one of the 12 numbers in that column comes up, you are paid out R20 – doubling your bet on that particular number instantly.  
The Hedge Column Betting System
The trick to optimising the probability of winning more bets than you lose is to cover as much of the layout as you can.  When you bet on just one column, you only cover roughly a third of the layout, but when you bet on two columns, nearly 65% of the layout has the ability to deliver returns on your bet – which is an obvious improvement on your winning odds.
The problem is that only one column bet can win, so why bother with two?  Well, in this roulette betting system it is essentially about hedging your bets.  By placing a so-called hedge bet, the potential profit of the original bet may not be as high as it could be.  It does however mean that players at Springbok Casino who adopt this system have a better chance of winning something, as opposed to winning nothing at all.  It also means the probability of hitting more wins during any given gambling session is that much higher.
How does the hedge column betting system actually work?  In short, you place the equivalent of two units in the column you think will deliver a win.  At Springbok Mobile Casino South Africa that means betting R20, for example, on either column 1, 2 or 3.  Then you wager the equivalent of one unit, or R10, on another column. The total bet is consequently R30 per spin. 
If your column comes in on the R20 bet, you are paid R40 and you get the original bet back.  That said, you lose R10 on the hedge bet, generating total winnings of R50 and a profit of R30.  If the hedge bet wins, you are paid out R20 – plus you get your R10 bet back.  In that scenario, you break even at R30.  If neither of the columns win, you lose your entire stake… but there is only a one in three chance of that happening.
The Progression Column Betting System
Progression betting systems are popular strategies that can be adapted to virtually all the games at our mobile casino South Africa.  It's a system where you incrementally increase or decrease the bet size depending on whether you win or lose.  In the case of column betting in roulette, you basically select a column and implement the following betting system:
Bet one unit and if you lose, increase the bet size to two units.
If you win that bet, revert back to the original one-unit wager
If you lose, increase the bet to three units
If you win that bet, revert back to one unit
If you lose, increase the bet to six units
Continue with the same strategy but follow an increasing betting sequence of nine, 14 and 21 units – then start right at the beginning again.  
You can of course shorten or lengthen the betting sequence based on the size of you bankroll and how much you are willing to risk at the table.  A key point to remember is that roulette is a game of fortune and chance, so you can expect the game to deliver wins and losses – and sometimes, the losses far outweigh the positive results.  This a prime reason why trying the various roulette betting strategies to see which one yields the best results can be so beneficial.
Play Roulette in the Fun Mode at Springbok Mobile Casino South Africa
Once you have signed up at Springbok Casino, we suggest you test drive our column betting strategies in the fun mode.  That way you can keep track of your 'wins and losses' but without the associated risk of depleting the cash in your casino account.  When you have found the system that works best for you, you can level up to the real money mode with just one-tap. Go on, unlock the gambling genie on your tablet or phone at our mobile casino South Africa and watch as the winning numbers come rolling in!