5 Top Tips for Online Roulette Beginners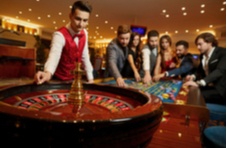 Online roulette may be a game of chance but if you play cerebrally, you can bump up the balance in your online casino account… albeit sporadically and ever so slightly!  Here are few best practice roulette tips for beginners to set on the path to moderate success!
Roulette, like so many of the other online casino games at Springbok Casino, is fun and easy to play.  All you have to do is predict the outcome of a spin of the wheel.  If you are right, you can bank a bit of cash.  If you are not, you lose your bet or bets… but more about that later!
The more complex part of the game is the myriad of different bet types that you can make on each game round, either singly or as a combination of several bets.  All the bet types are displayed in the layout adjacent to wheel on the gaming interface and should be studied long before you hit the spin button.
Understand the Odds in Online Roulette 
Once you have gotten to grips with the bets, a more important aspect that you must focus on are the odds, as some bets have much higher odds than others.  Here's the kicker, the higher the odds, the less likely it is that the bet will pay off.  Conversely, the lower the odds, the higher probability is of a win.
If you are smart – and we know you are – you will go for the outside bets on the layout; red/black, odd/even and high/low.  Why?  Those bets pay at odds of 1:1 but, more importantly, they have a 48.6% probability of occurring… and that is as close to a coin toss as you can get. 
Compare that to the 35:1 odds of a straight numbers bet and you may feel cheated but in reality, there is only a 2.7% chance of your number coming in – and that is the plain truth of the matter.
Tip #1 – Be satisfied with accumulating lots of small wins by playing the outside bets in roulette.
Choose Your Roulette Game with Care
As with so many online casino games, online roulette is available in a range of different variants, some more outlandish than others.  At Springbok Casino we are gambling purists, so you only have a choice of the traditional roulette games – European Roulette or American Roulette.
Both have exactly the same mechanics, bet types and game rules with one exception.  American Roulette has one extra pocket on the wheel – 00 – and by extension, 38 numbers rather than 37.  How does that affect your chances of winning? 
Well by adding just that one extra number, the house edge or in-built advantage to Springbok Casino rises from 2.7% in European Roulette to 5.26% in American Roulette. The higher the edge, the lower the average payout rate is over time and that, of course, has a material impact on your long-term chances of winning ZAR when you play roulette online at Springbok Casino.
Tip #2 – Only play low edge European Roulette at the online casino.
Experiment with Combination Bets
We have mentioned that the outside bets have the lowest odds but the highest probability of winning.  One way to boost the value of your winnings is to play a combination of betsrather than just red or black, high or low or odd or even.
Ideally you want to cover as much of the layout as possible as that maximises the win probability.  Column or dozen bets that consist of numbers that are not covered by one or more of the outside bets can be a good choice.  It is, however, up to you to play around with combinations until you find the bets that work for you.
Tip #3 – Hedge your bets and play a combination of bets in roulette rather than just one bet per spin.
Adopt a Roulette Betting System
Although there is no way of lowering the edge in online roulette, you can generate plenty to excitement when you bet according to a defined betting system – be the Martingale, Fibonacci or Labouchere.
There are a host of progressive and regressive betting systems featured on our roulette betting tips page that you can try out in the course of your gaming sessions at the online casino.  Provided you keep your stakes low and don't get carried away, you really have nothing to lose and everything to gain!
Tips #4 – Give a roulette betting system a go for a more exciting and immersive online casino experience.
Play for Free at Springbok Casino
If you have never played roulette before, we strongly suggest you practice in the fun mode first.  At Springbok Online Casino all the games on our instant play and mobilegambling platforms are available in two modes – the free-play and real money modes.
As a result, you can load European Roulette or American Roulette onto your PC or phone and try out a few combination bets and roulette betting systems in a zero-risk environment.  Take your time and get comfortable with your skill levels and have a better understanding of the bet types and respective odds.
Once you feel you're ready, you can register an account at Springbok Casino, claim a welcome bonus and migrate to the real money mode with a few clicks of the mouse or taps of the screen!
Tips #5 – Play roulette in the fun mode at Springbok Online Casino until you are ready for the real money action.