What are the Advantages of the 12-Number Bet in Roulette?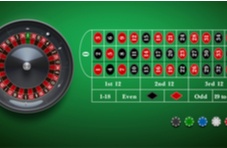 Roulette may be a game of chance but there are easy ways of enhancing the win to loss ratio.  If you want to convert chips into hard cash, you have to adopt strategic outcome-based betting tactics.  What is the key to success when you play roulette at the online casino?  12 numbers… and exactly the same ones at that!
Why Dozen or Column Bets are Hot
What is a 12-number bet?  In reality, it isn't a single bet at all.  It is a reference to the column and dozen bets found on the layout of both the American and European variants of roulette featured right here at Springbok Casino.  These bets consist of six sets of 12 numbers that collectively tally up to 36.
The dozen bets are arranged in three blocks.  They are indicated by the 1st 12, 2nd 12 and 3rd 12 on the layout and lie adjacent to the following outside betting compartments – 1 to 18 and Even; Red and Black and Odd and 19 to 36.
The column bets are arranged in three vertical columns displayed under the 0, each with the 2 to 1 odds denoting the columns.  All the bets consisting of 12 numbers pay out at odds of 2 to 1.
A Third of the Roulette Wheel is Covered
What is the significance of 12 numbers?  When you take the zero out of the equation, each of these bets covers a third of the roulette wheel.  What is more, the numbers are reasonably well spread out around the wheel.  With a large percentage of the wheel covered by a dozen or column bet, there is a reasonably high probability of hitting a winner.
In addition to the wide spread and covering more bases, the 2 to 1 payout associated with the bets means when you win, you walk away with two chips profit for every one chip wagered.  You only lose one chip when none of the 12 numbers comes in though – and that is the kind of risk and reward you want when you play real money games at Springbok Casino!
Choose 12 Numbers and Stand
The trick to exploiting the 12-number bet is to choose a particular dozen or column and play the same bet for the entire session at the online casino.  There are two reasons for sticking with the precise 12-number bet.
The first is a quick turnover of rounds.  By hitting the rebet button, you allow yourself more time to do what all good roulette players at Springbok Casino do…. and that is to win rands and cents.  The second reason is simply the fact that it is easier to identify any patterns or streaks – hot and cold – when you play the same 12 numbers over and over again.
When you don't have to worry about picking a different set of numbers each time, you can focus on the more important aspects of online casino roulette – optimum money management and adjusting the wagers according to a defined betting system, which we will discuss a little further down in more detail!
Keep Tabs of the Outcome of Each Round
The best way of getting a reasonable return from online roulette is to record the outcome of each round, together with the winning number.  That way you will be able to discern whether there are any patterns to the wins and losses.
One of the great aspects of playing roulette at Springbok Online Casino is the functionality of the Real Time Gaming software.  Besides zooming in on the ball as it lands in a pocket, all the winning numbers in a session are automatically recorded and displayed in a separate 'history' window.
Who knows?  You may pick up that wins occur after three and then four and then five losses or the same number frequently comes up or consecutive wins occur after a defined number of losses.
How is this information helpful?  You can adjust your bets up or down or change your 12-number bet to reflect the particular dozen or column that contains the frequently occurring number.  With the game statistics as a guide, you are better placed to make the kind of decisions that have the best possible chance of paying off.
Adopt a Simple Roulette Betting System
As we've mentioned before, money management matters, and being armed with a strategy can help.  Once you have analysed the betting outcomes over at least 10 to 15 game rounds, it is time to adopt an online roulette betting system.  It need not be a fancy or complex betting system and here is why…
Unlike an online casino game strategy devised for the likes of Blackjack or Jacks or Better video poker or Caribbean Hold'em Poker, the best roulette betting system in the world does not guarantee wins.  Moreover, it has no impact whatsoever on the advantage to the house.  All it can do is maximise the probability of winning over losing and give you a better chance of preserving your bankroll.
The Outcome-Based Roulette Betting System
Why not give the following roulette betting system a try?  Here is how to works.  Start off betting one chip with the lowest available value, which is R2 at Springbok Casino.  This is essentially your standard betting stake and one that you should revert to under certain circumstances.
Continue betting the standard stake until such time as you win two back-to-back spins.  When that happens, double your wager by playing two R2 chips or R4 altogether on the same column or dozen bet.  The idea is to capitalise on what could be a third consecutive win.
According to this roulette betting system, you lose only one extra chip to the value of R2 to generate a total loss of R4.  If you win, however, you bank four R2 chips to go with your R4 wager to give you a total payout of R12!
When you lose three times in a row, it is time to reduce your wager from two R2 chips to one – in other words, revert back to your standard stake.  Then it is simply a matter of following the same system for the remainder of the online casino gambling session or until you are in positive territory – and by that we mean approximately six to eight chips ahead.  When that happens, you hang up your gambling gloves for the day!
Test Your Online Roulette Betting Tactics for Free
The most sensible way of determining whether the 12-number bet and associated betting system works for you is to try it out while your play the game.  As there is risk involved, you will obviously want to mitigate your losses – but at Springbok Casino you don't even have to worry about that!
One of the standout features of our online casino is the fact that select games, including European Roulette, are available in the fun mode.  That of course means you can pop through to our instant play casino platform right now and have a few dummy runs before signing up for the real money action!