Is There a Winning Strategy When Playing Roulette at an Online Casino?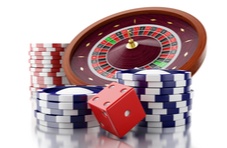 Ask any player at the online casino and they will agree – there is nothing more evocative than the click of the ball on the roulette wheel!  It is the quintessential sound of real money gaming… and one that makes the heart beat faster in anticipation of a win.
The problem is, you can't enhance the payout probability when you play roulette – online at Springbok casino, or at the plush gaming halls in Downtown Las Vegas.
No Way to Manipulate a Game of Chance
The truth of the matter is roulette, in all its iterations – European, French and American Roulette, etc – is a pure game of chance.   It is like our independently certified RTG random online slots. There is nothing you can do to influence the outcome.
With that in mind, why do so many players login at the online casino and play roulette – or slots for that matter?  If you can't improve the odds, you are essentially relying on fate to intervene, be it positively or negatively.
Gambling Online is Premier Entertainment
The answer lies with why we do anything much in life… it's the enjoyment factor!  We enjoy betting on our favourite boxer, athlete, racing horse or rugby team – even though we know deep down inside they are up against much better competition.
Similarly, we enjoy the thrill of pumping virtual money into an online slot machine, even with the knowledge that the reels only spin out a winning combination every once in a while.  Even then, a win of nominal value is delivered most of the time.
It is the anticipation that gets the endorphins coursing through the brain, leading to that thrilling feeling that may or may not be fortified by a positive outcome – big or small.
How to Mitigate Risk Playing Online Roulette
Although it is theoretically impossible to beat the edge in online roulette, you can play the game in a more considered way.  How do you do that?  It is really all about mitigating risk.
Rather than betting 'all-in' on a single number – as we are pretty sure fictional characters like James Bond, Charlie Harper and Randle McMurphy would do – clicking on the lowest available chip value and hedging your bets is a smart.  It is the savviest way to go about mitigating the risk when playing roulette at the online casino!
Up the Ante When the Circumstances Dictate
That does not mean you always have to be boring and one dimensional in your gameplay.  There are times when you can afford to throw caution to the wind and allow serendipity to weave its magic, or not.  What times are these?  When you have accumulated a decent profit in your low-roller hat, it is a good time to up the ante... literally!
Now, you can pick a number and go for broke with a high chip value in-play, or you can play the combination bets with the trendy French names – Voisins du Zero, Orphans and Tiers du Cylindre.  You will find these special online roulette bets on the oval racetrack above the conventional layout.
Why the Combination Bets in Online Roulette Are Hot
Although the combination bets in online roulette cost more in cash terms, you can cover a whole heap of numbers that pay out a great odds.  Why do combination bets pay more?  They consist of one or more patterns of numbers incorporating straight up numbers, split, street and/or corner bets.  Odds range from 5:1 to 35:1!
What the combination bets do is heighten the risk but the potential rewards are hiked up too.  If you are lucky and hit a hot winning streak playing the combination bets, there is a good chance your bankroll will be brimming with banknotes.
The good news is that you'll be playing with winnings you've accumulated, and not your own cash that you deposited, which means you really do have nothing to lose!
Don't Chase Wins at the Online Casino
What you must guard against is a tendency to chase the wins… and chase and chase until your Springbok Casino account is fresh out of funds.  All you will achieve by doing that is sow the seeds of a problem gambler.
At our online casino, we actively discourage any activities that may lead to irresponsible gaming, so leave chasing down the wins in roulette to the mugs!
Springbok Casino's Golden Rules of Roulette
Here is how you can play online casino games like roulette with a risk-averse attitude and come away with both your original bankroll and dignity intact:
Only gamble with the profits.  Once they have been depleted, it is time to step back, take a break and try your luck another time.
Set a 

realistic limit of how much you want to win

 playing the profit-funded combination bets.  When you have reached the magical target, stick to the goal and end your gaming session right there.
A Betting System – Not a Strategy
When you follow our golden rules, you really can win money playing roulette at the online casino.  At this point, it is important to emphasise we are not suggesting combination betting as a strategy.  Rather, it is a betting system you can adopt when the circumstances dictate.
The whole idea behind increasing the total value of your bet or bets when you are showing a profit is the fact it carries no real risk at all – and that is a 'considered' way of playing online roulette at Springbok casino.
How to Gain a Profit Playing Online Roulette
That is how you play online roulette when you have a bit of extra loot to show for your efforts.  What are the best tactics to employ up to that point?  In other words, what is the best way to bet and play in order to gain money over a two- or three-hour gaming session at Springbok Online Casino?
As all good gamblers will tell you, the best way to build a positive balance playing online roulette is to only bet on the outside, even money bets… and on that score, we concur.  You may not pick up anything remotely like a jackpot prize – but it is the safest way to accumulate a self-sustaining streak of nominal wins.
Login to Springbok Online Casino and Play Roulette NOW!
When that happens and your online casino account is back in the proverbial 'black', you can unleash the high roller hidden deep within all of us!  Sign up, login into Springbok Casino, and try your luck with the little wheel – you may be in line for an adrenalin fuelled gaming session online!