We Look at Popular Online Casino Roulette FAQs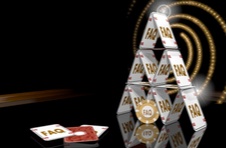 What are the benefits of playing roulette at an online casino?  Do roulette betting systems work?  Are there hot and cold numbers?  These are a few of the frequently asked questions pertaining to the age-old game of roulette.  Keep reading below as we answer these questions, and more, right here at Springbok Casino.
How FAQs Can Improve the Gains at Springbok Casino?
Most of us play online casino games in the hopes of making a profit.  Achieving gains – albeit small gains – at Springbok Casino can take more than simply hitting the spin button.  It takes patience, preparation and a fair bit of luck.
When you have a deeper understanding of online roulette, you have a better chance of winning.  Similarly, it is important to recognise facts over fiction.  That is where FAQs – asked and answered – can prove invaluable in your quest for long-term gains.
A Few Roulette Facts Before We Get Started!
Before we get into the FAQs, here is what you need to know about online roulette.  Firstly, it is categorised as a game of chance.  What that effectively means is there is no scientific way of influencing the outcome.  When you play roulette at Springbok Casino, you'll either find it under the "Specialty" or "Table Games" tabs – depending on the platform you're playing on.  It is, for all intents and purposes, a table game at its core.
Secondly, the online casino set-up is exclusively powered by random number generator software.  There is no human input and consequently no bias – intended or unintended.  All the actions you see on the gaming interface are as a result of an infinitely occurring algorithm, with no discernible beginning or end.
Online roulette is the antithesis of casino games like online blackjack and online video poker.  It is a generic match to online slots.  The only difference is the hardware is a wheel and the gameplay consists of numbers, rather than symbols.  It is for this reason that we often list it as a specialty game – as most table games have a solid strategic element to them.
When you are aware of the 'limitations' of the game, you will appreciate winning and losing is essentially out of your hands.  That said, there are tactics, rather strategies, that you can apply to enhance the long-term payout rate at Springbok Casino.  You can find all the info you need in our FAQs!
Online Roulette FAQs – Asked and Answered
Without further ado, lt's delve into the most popular frequently asked questions about online roulette at Springbok Casino!
Q: Is there a strategy for online roulette?
A: No, there is no theoretically correct strategy applicable to roulette.  The outcome of the game is completely unpredictable and determined by the spin of the ball, in juxtaposition to the spin of the wheel.  Unlike card games, like blackjack, where there are calculable ways of playing specific combinations of cards, there is no way of predicting where the ball will come to rest on the wheel.
Q: Are there discernible patterns in the outcome of online roulette?
A: No, due to the combination of RNG software and virtual hardware, each spin of the wheel is unique.  Results are not programmed – they are determined only by the random number generator.  The RNG uses mathematical algorithms to produce long sequences of numbers.  These sequences have no patterns – hence the winning numbers cannot be reasonably predicted.
Q: Are there benefits to playing roulette online?
A: Yes, there are multiple benefits.  Apart from obvious factors like convenience, comfort and access to the best Real Time Gaming (RTG) casino games 24/7, the speed of play at Springbok Casino is significantly faster.  As a result, you can get in many more betting rounds.  Whether that is a good or bad thing depends on the win-to-loss ratio!
Q: Do betting systems work for online roulette?
A: Yes and no.  Betting systems do not enhance the long-term payout rate of online roulette.  That said, systems like the D'Alembert, Fibonacci, Paroli and James Bond inject an element of fun and excitement into gameplay.  Since the majority of these betting systems focus on covering most possible outcomes, they could return more frequent wins.
Q: Can I play online roulette for free?
A: Yes, all the Springbok Casino games are available in the real money and free play modes.  All you have to do is visit the instant play platform and navigate to the lobby.  When you hit the Speciality tab and hover the mouse over European Roulette, there are two options – 'Play' and 'Try It'.
Click on the latter and the game loads in your device's browser at the speed of light.  You are also allocated free credits to fund the wheel action.  What is more, you do not have to be a registered member of Springbok online casino to play online roulette for free!
Q: What are the best bets in online roulette?
A: Statistically the best bets are the outside bets – red/black, high/low, odd/even and 1st, 2nd and 3rd 12.  These bets pay out at odds of 1:1.  That is the closest you will get to betting on the equivalent of a coin toss at an online casino.
Q: Do bets on online roulette count towards fulfilling bonus wagering requirements?
A: No, online roulette is excluded from contributing towards the playthrough at Springbok Casino.  Only bets on the following online casino games count – 7 Stud Poker, European Slot Poker, Pai Gow Poker, Keno, bingo, scratch cards and online slots.
Q: Are there hot and cold numbers in online roulette?
A: Contrary to popular opinion, there are no numbers that occur more or less frequently than others.  As we have already explained, the outcome of each spin is unpredictable and random.  If the same numbers do happen to crop up, that is by pure accident, and not design.
Q: Are there betting limits in roulette online?
A: At Springbok Casino, we impose a minimum betting limit of R2 on both the inside and outside bets.  That is the lowest available chip denomination.  The highest stake per spin we'll accept is R1,000.  Note that since this is effectively a game of chance, wagering R1000 per spin is more suitable for our online casino high-roller whales!
Sign Up at Springbok Casino for the Best Roulette Gameplay Around!
Are you ready to play European Roulette at our online casino?  If you are, we advise you to visit our gambling tips page dedicated to online roulette.  You will find heaps of inside information that you can use to maximise your time at the 'little wheel'.  Register an account at Springbok Casino and enjoy top-rated RTG-developed online casino games, 24/7, all in one place!