Springbok Casino No Deposit Bonus Codes & Online Roulette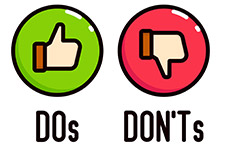 Springbok Casino no deposit bonus codes are, as we all know, highly desirable. That said, when it comes to online roulette, they fall into the 'don'ts' category. Bear with us, we have a solid reason for saying this. Here is a guide to what you should and shouldn't do when you play roulette at Springbok Online Casino!
Do Springbok Casino No Deposit Bonus Codes Unlock Free Roulette Gameplay?
As a newcomer to our gaming portal, you are entitled to one of our more famous Springbok Casino no deposit bonus codes. It is a precursor to the welcome bonus and designed as a free cash teaser. When you sign up at Springbok Online Casino and enter the code at the cashier, you are the beaming beneficiary of a R250 complimentary bankroll.
The good news is there is more to come. By more, we mean more 'free stuff'. In fact, throughout your time with us, you have access to an unlimited supply of Springbok Casino no deposit bonus codes. Some are in the form of free bets and free spins and others are birthday bonuses, freeroll tournament winnings and more!
That said, when your online casino game of choice is roulette, your modus operandi isn't as clear cut. As we've hinted before, redeeming Springbok Casino no deposit bonus codes is out of the question. The reason for this is simple – the bonus-supported bets on both European Roulette and American Roulette are invalid.
What that in effect means is if you use the largesse generated by Springbok Casino no deposit bonus codes – and deposit bonus codes, for that matter – two things happen:
The bonus is declared null and void and withdrawn from your online casino account.
Winnings generated by the bonus are forfeited to the casino.
That does not mean you can't enjoy the myriad benefits of our bonuses. Bets on online slots, bingo, scratch cards and some poker games are happily accepted. Payouts released by these wagers are consequently legit and you thus stand to win really money when you use our Springbok Casino no deposit bonus codes with these games.
Now you know why online roulette and Springbok Casino no deposit bonus codes are not a happy combination. Let's move on to some of the other dos and don'ts associated with the popular online casino game:
The Dos of Playing Roulette at Springbok Online Casino
Do play online roulette – and any other real money casino games – at a regulated gaming platform. Springbok Online Casino is a reputable gambling provider with a gaming license issued by Curacao eGaming.
Do choose the online roulette game with the lowest advantage to the house. The edge for Real Time Gaming (RTG) developed European and American Roulette is 2.78% and 5.26%, respectively. What that tells you is the European version of the game offers a much higher long term payback percentage.
Do base your gaming tactics on the even-money outside bets, like red or black, high or low, odd or even. These wagers are as close to 50/50 bets as you can get at Springbok Online Casino. They are the best bets in terms of win rate.
Do play at the lowest available stake. At Springbok Casino, the lowest chip value is $2 and the minimum table limit is one chip. Once you have a better appreciation of the game, you can increase the stakes.
Do include high-risk inside bets, like straight-up numbers bets and split bets, when you are fortunate enough to gain a profit. These bets payout at odds of 35:1 and 17:1, respectively. Street, corner and six number bets also offer tidy returns at 11:1, 8:1 and 5:1 apiece.
The Don'ts of Online Roulette Gameplay
Don't use the free cash derived from our Springbok Casino no deposit bonus codes to fund your online roulette bets. As we have mentioned ad nauseum, all variations of online roulette are excluded from bonus gameplay. What is more, they do not contribute towards the wagering requirement or playthrough.
Don't make multiple bets in an attempt to cover the entire wheel or layout. Only the most experienced players are prepared to embrace high-risk gambling tactics, such as those.
Don't play the same number or numbers over and over again. The probability of hitting a favourite number is slim. If it does happen, there is a snowball's chance of it happening several times in a single real money gaming session.
Don't assume a hot streak will continue. Rather, quit while you are still ahead. Knowing when to cash out is a critical part of gambling online.
Don't be suckered into believing losing streaks are always followed by winning streaks. There is nothing at all predictable about where the ball will land on the wheel or which number is due up next. The spin of the wheel, as with the deal of the cards and toss of the dice, is completely random - dictated by the random number generator. Do not, even for a second, entertain anything else.
Don't have any expectations of winning… and you may just be pleasantly surprised!
Why Claim Springbok Casino No Deposit Bonus Codes
Springbok Casino no deposit bonus codes may not be viable for online roulette. That said, they are the best possible way of exploring what Springbok Online Casino has to offer. The standout feature is the ease and speed at which they are available.
When you redeem a no deposit bonus code onsite, the bonus is instantly active. As the name suggests, you don't have to fund your online casino account with any of your own cash first in order to be in line for a gift from us – to you!
Why not register an account, login to Springbok Casino and claim what is rightfully yours? The Test-Springbok bonus is the first of an infinite selection of Springbok Casino no deposit bonus codes. It is also the gateway to our three-part welcome offer – here's a hint, it involves a whopping R11,500.00, FREE!