Tips to Improve your Roulette Odds - Play European!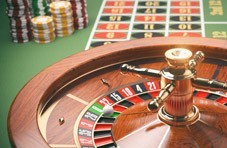 At Springbok Online Casino, we offer both European and American roulette.  Here we will discuss both of them and let you choose which one you prefer playing.
Some players love playing American roulette even though the odds are not nearly as good as the odds in European roulette. In this article, we'll give you some tips about both forms so you can choose the best roulette for you.
America Roulette
Before we get to the talk about European roulette, we need to say a few words about American roulette.  If you have read our tips on roulette in the past, you know that in American roulette there are both 0 and 00.  The 00 increases the house edge a great deal.  We would not even offer American roulette but there are some players who prefer it over European roulette - go figure....
European Roulette
European has far better odds for players than American roulette. The sole reason for this is that European roulette has only 0 whilst American roulette has both 0 and 00. By taking out the 00 slot, the house edge goes down by half in European roulette.
By eliminating the 00, European roulette gives the gamers about half again chances to win back all the money they put in as bets as in American roulette.  The return to player rate in European roulette is about 97-98%.  At this rate, it takes just a little luck to break even.  Some players seem to have a lot of luck at roulette and often end a gaming session a little bit in the black.
By the way, this is also one of the big advantages an online casino has over land based casinos in roulette or in any other game.  When you play at an online casino, it's a lot easier to end a gaming session.  Since you're usually already at home when you play, you have many things to do.  Very few people put off all the things they have to do when they are gaming at home; you play a little and then you do stuff.
When you're at a land based casino, there is really very little else to do aside from gaming.  You can go to the buffet but if you eat a lot for lunch, you won't be hungry again for a very long time.  Very few of us look at a buffet in the same way that the late, great comedian John Pinette did.
You can go to a show.  These are really expensive.  You can go to a bar.  You can go to sleep.  At home, you have a lot more options.
A Game of Chance
Roulette is truly a great game of chance.  Most players find the fun of the game in letting their luck determine their ultimate winning or losing. The sound of the ball clanging against the wheel is a big draw for many gamers.  Whilst some prefer playing at a land based casino, most roulette players prefer playing online.  We touched upon a few of the reasons above.  Here are a few more.
At an online casino, you can play for free.  This is actually a very important advantage of playing at an online casino in general.  Many players enjoy playing for a short period of time as they take a break from working on the project with a deadline.  Many of these players make small bets; for them the important point is to clear their minds and take a break.  When you play online, you rarely have buyer's remorse.  This comes about when a gamer travels to a faraway land based casino and runs out of money quickly.  This rarely happens to online casino gamers because it is so much easier to get away from the casino when you are having a losing streak.  There are so many everyday things to do that you don't really "need" the casino if your luck is running dry that day.
When you play online, you can play fast or you can play slow.  There are some players who prefer playing all the casino games slowly and other players who prefer playing fast.  At a land based casino, you play at the pace the casino sets.  They train the croupiers to play at a specific pace because they rely on bets to cover their massive overhead.  
Land based casinos are often very crowded.  You might have to wait for a place around the roulette table if the casino is very crowded.  At a land based casino, the European roulette area may be full and you might be tempted to go to the American roulette table just to get some roulette action.  If you do this, you give up about 2.5% extra in the higher house edge.  At Springbok Online Casino, you never have to wait for a place at the European roulette table.
At a land based casino, you have to give up your place at the table if you want to sample any other game.  At an online casino like Springbok, you never have to give up your "seat" if you want to try your luck at a different game.
Finally, at our casino, you earn comp points for every bet you make.  These points are worth casino credits so they are very valuable indeed.
Actually, we have one final tip about playing online but please don't tell the mangers that we told you.  Shhh!  When you play at Springbok Casino online, you can also play at other online casinos as well.  We have hundreds of games; yet there are thousands of games in cyberspace.  At Springbok, we feel that by making gaming available at other casinos as well as ours, we are performing a great public service to our clientele.
Roulette and Numbers
As numbers are the essence of roulette, the game has some similarity to lotteries.  One of the big advantages of roulette in this context is that you get to choose new numbers every spin.  You don't have to wait for the next lottery drawing to place your bet.
In lotteries, you can choose any numbers and bet on those.  In roulette, you are restricted to making bets that are accessible on the table.  However, in a lottery you are restricted by the absolute number of number combinations you can make whilst in roulette you have a lot more flexibility.
All in all, roulette especially European roulette is one of the great online casino games.