Into the Future With Skill Based Slots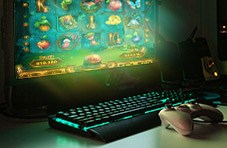 Games like online gambling for real money roulette and poker have always included elements of skill with the main component of luck but now the online casino and land-based casinos are bringing in skill-based slots in the belief that players want games that include more challenges and more interactive experiences.
Such games combine the best elements of video gaming with the higher levels of engagement. Now that such games have been out on the market for a few years, casino operators are assessing how this is impacting on the casino industry.
Slot Machines
There has never been any level of skill involved in playing a traditional slot machine. You basically choose your game, select your betting level and hit the "spin" button to tell the machine when to spin. Then, you hope that it's your lucky day.
This is the way that slot machines were created over 120 years ago and although the game has changed over the years – more reels, more realistic graphics, the addition of game themes and storylines, inclusion of introductory video clips, added paylines, elements and features – there's never been any element of skill involved. This gaming style has carried over from the earliest lever-type "one-armed bandits" of pub and salon machines to today's high-tech video slots.
Slots are one of the most popular forms of online gambling in the world and game developers want to see them continue to develop. Over the last 20 years, as the slot machines have become available online as well as at land-based casinos, the games have evolved. Game developers have added bonus rounds, compelling graphic imagery, audio effects, animations, and other features in order to make slots gambling as exciting as possible. Now the designers are examining even more innovative ways of boosting player engagement. 
Making Money
Game Developers have to keep their eye on two factors when they consider how to create a new game. On the one hand, they must ensure that the casino will make a profit on the machine. On the other hand, they have to capture the gamer's attention and retain it. Skill based slot machines meet both of these criteria. 
Slots have a built-in house edge that is set at machine or game level. The casino needs people to play the machines to make money. Casino operators believe that, by introducing skill-based elements, engagement will skyrocket as players try to compete with friends or to improve their own score. The challenge of skill-based gambling combines with elements of competition to make skill-based games an attractive model for players and a win-win for the industry. 
Additionally, skill-based games help gaming operators meet compliance standards. In the US, especially, there are many restrictive laws that make it difficult to run slot machines – as opposed to other areas of the world where gambling is welcomed as a legitimate entertainment pursuit. 
Through skill-based machines, many of the objections to gambling are circumvented at the state level. This, operators believe, could serve to further open the US gambling market. There's never been a better time to create slots games with a greater degree of skill involved. 
Millennials
Finally, game developers want to attract millennials. That's the generation that will populate the casinos in the decades to come. Millennials seem to be less inclined to head to casinos as their parents and grandparents. Their preference seems to be sports betting. This, some analysts argue, is due to the skill and challenge elements of sports betting. As proof, they point to the growing popularity of video games within the millennial demographic. 
Some analysts have suggested that cross-sells from sportsbooks to slot machines may be the most effective ways to engage these crowds in slots but others say that simply changing the slots to include more skill-based challenges will be enough. A growing percentage of casinos seem convinced. They are starting to invest in such skill-based slot machines to bridge the gap. 
Early Reports
Skill based slots have been making their way onto the casino floors for several years but they haven't yet made their mark. Chris Grove, managing director at Eilers & Krejcik Gaming said: "The hype around skills-based gaming was so significant that I think it created a proportionate backlash." 
Nevada Gaming Control Board Chairwoman Sandra Morgan is optimistic about these games. She said that she is confident that skill-based slots will become popular with a new generation and will attract those who are looking for an element of challenge in their slots gaming entertainment. "Skill-based slot machines have not gained significant popularity on the casino floor but there are still innovators developing these types of games to gain better traction with a younger demographic," she said. 
Regulators say that they haven't seen a spike in applications for the approval of new skill-based games but anticipate their arrival. GameCo, a new Las Vegas-based GameCo, is focusing on a games lobby that focuses on skill-based games. They believe it takes time for consumers to become familiar with a product, especially when you're talking about a whole new genre of an old, familiar product. 
Grove pointed out games like electronic blackjack "are something that took a while to catch on, and are now prominent in a variety of casinos." And Morgan noted that esports — competitions on video games that viewers can bet on — were initially slow to find an audience but have begun to come into their own this year.