Garbage Slots Take Center Stage?!?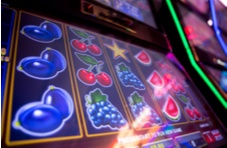 We take tremendous pride in the slot games we promote here at Springbok.  We chose the best software provider out there - Real Time Gaming - and strive to bring the best of the best to our loyal players.  But, unfortunately, there are others out there who are willing to go public with a junky product, just to make a buck. 
Here's one example:
Would you play "Garbage Slots?"  A surprising number of people are willing to play lousy online gambling for real money slot machines which are free to play but delivered a windfall to 2 young entrepreneurs who wanted to experiment with a new online casino design strategy that flies in the face of convention game design wisdom.  
The basis of slots development has been, for many years, to create games that "listen" to players and publishers so that the games will attract more players through good reviews. Two game developers created an experiment that determined that there's no need to put much effort into many elements of slot games since Garbage Slots work quite well - in their opinion.  
Early Games
The two video game makers had been trying to make it in the mobile games field for years. Alex Schwartz was responsible for getting the action game Jack Lumber off the ground while Ziba Scott had designed the mobile-friendly puzzle game, Girls Like Robots.  Both games had good reviews and were well-received in the gaming community. They operated in a play-forever, pay-once model without microtransactions. Both Jack Lumber and Girls Like Robots garnered awards, good expo showings, recognition and attention from publishers but both failed to take off.
Schwartz and Scott wondered why designing games the "right" way wasn't earning them a good income.  When they looked at Google Play and the iOS marketplaces they saw that it was the clones, freewares and junk that were dominating the general selection and making those developers good money.
Schwartz and Scott came to the conclusion that they could "do better... at doing worse." They let robots take over in a free-to-play "garbage" game-making machine that was meant to alert the industry that the old model of slots development is outdated.
Global Game Jam
During the 2013 Global Game Jam the pair teamed up to create something that resembled the "race to the bottom"  that they saw on mobile platforms which was displayed at a game-jam event.  They opted to buy a 3D slot machine asset from the Unity Store because of the time-restricted nature of the game jam.  Unity store is a marketplace that allows game makers to pay $15 to animators and modelers and receive unrestricted use of various 2D and 3D assets.
Then they spent the rest of the jam creating a system that would automatically generate the remainder of the skinning so that the basic virtual slot machine would be just unique enough to be published as a smartphone app of its own.
Customization
Schwartz said "Let's customize these like other slot machine companies do. They made themed slots. What's the minimum set of things to change to make a different slot machine? Let's change the title. Change the one image on the reel that might be relevant to your topic. So, like, a dolphin slot: put a dolphin in there [as the jackpot slot logo] with a special icon. Then the background is a scrolling dolphin image."
The partners hand-curated the original word list-based elements that were interesting, generic and safe-for-work. They called the app "3D Sexy Librarian Slots." They then added custom music to the visuals.  Schwartz described the process. "A crappy song would play, then use text-to-speech to sing the word 'dolphin' in the Google Translate monotone voice. It'd play that every time you won. It'd say the name of your game in the music."
Now a Unity script would put those steps together which auto-generated hundreds of "custom" slot machines. Scott and Schwartz acknowledged one unexpected result – exceeding the rate limit caused the Google Image Search to throw up errors. Schwartz explained, "We found a use for Bing." Its image search had a number of things that were looser. I'm not trying to knock them, but they have a reputation for being second class. That felt like a kindred spirit for what we were trying to achieve here."
App
Now that the slot-creation template was in place the partners could automate the process of feeding information to Google Play. With this, they created publicly available freeware slot machine apps with ads. One single slot machine keyword could be fed into the combined scripts and the game could then be monitored on a "ghost monitor". The system faked like a human, clicked all the appropriate checkboxes, agreed to all terms-of-service agreements, picked countries correctly, filled in the appropriate text box and then uploaded the auto-generated slot machine for anyone to play. 
Since there was never any intention to take money from users who would download their apps, Schwartz and Scott attached mobile ad network Playhaven to the whole thing. After 2 months they checked to find that people were downloading the apps. Of those downloads, 27% of the downloaders were clicking the ads, creating approximately $211 in revenue every day.
Scott and Schwartz believe that they found a market through horrible content. "We think the quality was so low in our shit that the ads were a portal to a better world."
It's hard to imagine that players would play at a site where the ads were a welcome relief from the games - shocking!  Our advice....stick with the GOOD guys (us), who bring you a GOOD product and you're sure to have a GOOD time.