New Release: Guaranteed Winning Slots Discovery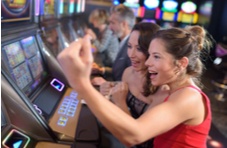 Robert Napert's New Book "Guaranteed Winning Slots Discovery" gives online gambling for real money slots aficionados a practical resource that allows them to maximize the machines' features to secure more and higher payouts.
Napert wrote "Benefits of the Winning Slots Discovery" with the goal of sharing tips and tricks that he learned about how to win at slots with fellow gamers.
Napert's book focuses on elements of successful slots gaming such as: 
How to play longer on winning payouts
Why players should cash out all winnings on all machines played
How to establish win goals and loss limits
Why it's a good technique to bet up to 50% more than the starting bankroll
The advantages of doubling a bankroll without worrying about losing that bankroll
How to ensure that at least 50% of the starting bankroll will be in the player's account after the final spin
How to generate additional spins
How to secure jackpot wins 
Robert Napert
Robert Napert served in the U.S. Army for 10 years. After he was honorably discharged he pursued a career in computer consulting. During this time he used his expertise in computer skills to explore the secrets of slots gaming. That research became the basis of his book  "Guaranteed Winning Slots Discovery." Casino observers are already calling the book "an invaluable resource for aspiring casino jackpot winners."
Robert's goal in publishing the book was to ensure that players learn how to maximize their time on their favorite machines and optimize winning strategies. Napert promises readers that they can discover the tricks to cashing out all of the winnings on any slot machine played through exploring how slot machines really work. 
He writes "By……. utilizing the discovery, you will no longer play slot machines and go home broke. This book guarantees that you will cash out all of your winnings on any slot machine you play. In addition, you will learn everything you will ever need to know about how slot machines actually work."
"Your only obstacle to achieving your goal of leaving with all of your winnings is known as discipline. Once you have all of your winnings in hand, your brain will try to convince you to keep playing. This is a tough decision to make if you only visit a casino once or twice a year. It will tell you to stay and play because you will not be coming back again for a long time."
Optimizing the Machines
Napert's theory is that, in such a case, it's easy to choose. If the gamer decides to stay and play, he needs to keep using the discovery. He would lose only half of his winnings in the worst case scenario.  But, in the best case scenario, he would win more than half of what he already won.
The guarantee means that, by using the discovery, players pay themselves back for the price of the book EVERY TIME they play slot machines, while they also enjoy all of the additional winnings.
The book covers:
Things that you should know about slot machines
Player Odds
Players Club Cards
Discovery Intrinsic Benefits
How to Use Discovery Parameters
Player Actions that Do Not Work
Ten Dollar Bills vs. Twenty Dollar Bills
Sample three-reel slot machine payout tables
The Random Number Generator
Discovery Play Options  
Session options
Possible problems that may be encountered
Best and worst games to play in a casino
Multi-Bet Players
More
The book is a worthwhile investment for slots gamers worldwide.
Look online for more information on the book, or to buy the book.