Casino Bonuses for Slots Gamers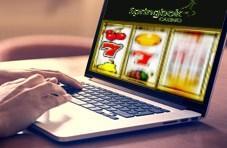 Players are often enthralled by the attractive online gambling for real money bonuses that online casinos offer but these offers may not be as good as they seem.  If the land-based or online casino in which you want to play is a regulated, licensed casino, the bonuses would be legitimate. Yet, they may come with some terms and conditions that make those extra give-aways less valuable than you would think.   
What are Casino Bonuses?
Let's be honest – the primary intention of a casino bonus is to entice people into playing at a specific casino – at either a land-based casino or an online casino. The bonuses offer something for free. Sometimes that involves free spins on a slot game or matching credits on one of the other casino games. 
Some of these offers seem quite generous. For example, you might receive an automatic match of hundreds of dollars on your initial deposits at an online casino. All you have to do is to sign up to play at the casino and the Welcome Bonus credits will be immediately credited to your account.
Other bonus offers include extra free cash for playing at a specific time of the day or day of the week and free spins on new games so you can test the games out for the casino. There are also loyalty points that you accrue, based on the number of games that you play and the types of games that you play. As you accumulate more and more points you'll be able to trade them in for bigger and better casino prizes.
So, is all this too good to be true? Yes and no. The bonuses are real and authentic but there's more to these offers than meets the eye.
The Catch
The goal of the casino is to make money for the casino operator. Therefore, it shouldn't come as a surprise that the casino isn't planning to give anything away for free. The casino wants to entice you to visit their casino site where, they hope, you'll become comfortable with the games and with the casino amenities, and will stay to play over and over again.
But the casino isn't planning on losing money while you make that determination. They've crafted their bonus offers in a way that adds some kind of additional requirement associated with each bonus offer. The requirements generally involve wagering obligations. You have to commit to a minimum wager in order to access to bonus prize. 
Wagering Requirements
Free spins, matching bonus credit and other types of "give-aways" generally involve a wagering requirement. You have to place a minimum wager in order to take advantage of the bonus.
For instance, if you win a jackpot using the payouts that you collected from your welcome bonus, you won't be able to collect the jackpot unless you placed the minimum required bet on the spin that hit the jackpot. The casino will indicate the required wager requirement with terms like 10x or 20x requirement. So, if, for instance, you receive a $200 Welcome Bonus with a 10x wagering requirement you'll need to wager $2000 before you can withdraw any winnings that you won with your Welcome Bonus.  
You can see that the casino has carefully considered how it is presenting its bonus. It's a high enough bonus that grabs your attention but they are intent on holding to the bottom line so that they don't lose any money. Due to such wagering requirements, players often spend more at the casino than they intended, thanks to the alluring bonus offers.
Advice
Casino experts say that, if you plan to use a bonus offer on your games, you should check out the terms and conditions of the bonus carefully. You'll usually find the positive aspects of the bonus offer displayed prominently on the casino's website but the aspects that might make you stop and think for a minute can be hidden – in a smaller font or, sometimes, on another page entirely.
It's easy to get excited about a bonus offer, especially if it sounds  like you'll be coming out ahead, money-wise. But before you start playing using a bonus offer, you need to establish exactly what the terms are. There's always a chance you could win a jackpot and come out ahead. 
Games
Another condition of the bonus often involves the games to which the bonus applies. Many bonuses are applicable to specific games and if you don't play those games, you won't fulfill the requirements necessary to obtain the bonus reward. Often, people just play any game that they like because they think that the bonus applies to all of the games, and they discover later that some of the games they played did not actually count towards the requirement.
Once again, if you read the terms of the bonus before you take your first spin, you won't get caught up in – what could be an expensive – misunderstanding.
Easy Does It
If you don't take the time to do your research and read the terms and conditions, you'll simply be adding to the casino's profits. Remember, bonus offers are designed to give players more playing time for their money. To make a killing from a bonus offer, take the time to understand the offer's terms and conditions and then go ahead and enjoy the bonus adventures.