Penny Slots Can Add Up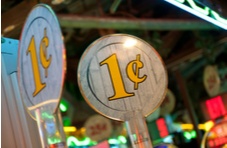 Many players who like to online gamble on real money slots believe that the only way to achieve significant wins is to bet big. It's true, the more that you place on a winning payline, the bigger you chances become of collecting major wins on your completed lines.
However, some players have proven that slow and steady also works.
Penny Slots
These days, most casino slots involve larger bets but there are still some penny slot machines around which you can play for only one cent per line.  Most players pass these games by since, they think, it's a waste of time to bother. But the wins from penny slots may be easier to achieve than those on the higher-minimum machines. In addition, they often add up more quickly to make those penny slot machines worth your time and effort.
A few things to remember: in a penny slot machine you don't spin the reels for a penny. You have to play a fixed number of paylines, so even at a penny-per-line, you're betting .50 per spin. In addition, some penny slots require that you play up to 300 credits which can amount to $3 per spin if you're going for bonuses and/or the jackpot. In summary, when you pick a penny slot machine you should check out the guidelines before you start betting.
Another feature of penny slots is almost always a large number of paylines. Since the minimum bet per line is low, there are a lot of paylines. What you lose by small bets per line, you make up by having more lines on which to bet. Every payline that's in play gives you a chance to win. One of the advantages to penny slots is that it's fun to know that you have 50 or more chances to complete a match on every spin.
Penny slots are often viewed as the Walmart of the gambling world. The value from online penny slot machines doesn't only come from how cheap they are, but also because, since so many lines are in play, there are more opportunities to complete winning combinations. That in itself, regardless of the payout, is a plus for many players.
Despite the low bets and the low payouts-per-payline, there have been several big penny slots winners over the past year. They include:
San Diego - $1.6 MILLION
A San Diego man recently won more than $1.6 million when he played a penny slot machine in Valley Center, California. The man, a frequent visitor to the casino, played a penny slot and hit the jackpot which gave him his $1,664,509.91 win.
The man, who had been accustomed to winning small amounts, was in shock. He said "I couldn't sleep for two days. I was up tossing and turning and thought they would call me and say the machine malfunctioned."
The man had been a regular customer at the Valley View Casino & Hotel for about five years. He said that he never imagined his penny slots could turn him into a millionaire. He plans to invest the money and retire. The manager of the casino was pleased.  "It's an amazing experience when luck strikes," he said.
Las Vegas - 1 in 250,000 Chances!
St. Patrick's Day turned into a day that celebrated the luck of the Irish for one lucky visitor who was playing at the Wynn Resorts Casino. The Hawaii native won $10,777,270 on a penny slot to enjoy the 1 in 250,000 chance less than 5 minutes after arriving at the casino.
The guest, visiting from Hawaii, was playing the penny machine in $3 wagers. The jackpot hit and she suddenly found herself with another $10 million plus  to add to her bank account.
Wynn celebrated with the patron, writing a press release titled "How would you celebrate if you were the lucky winner of a $10.7 million jackpot on one of our slot machines?"