How Technology has Impacted the Springbok Casino Slots Industry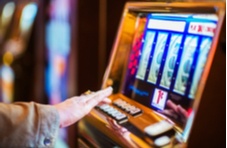 Technology has changed our entire world but few industries have been impacted as much by technology as the online casino slots industry - right from variety of games, to features, to graphics, and all the way to making possible our fantastic Springbok Casino no deposit bonus codes.  Today's technology has made slots a completely different entertainment experience than what it was even three decades ago.  Designers work hard to keep up with the gaming public's expectations regarding audio and video quality, themes and storylines, gameplay, interactivity and more. 
Here are just some of the ways that technology has impacted the gaming industry. 
User-Friendly
Whereas slots players once needed to find a venue that featured slots machines, today, it's an online experience where gamers can open their favorite slots on their PC or mobile gaming device.
The online platforms allow for 24/7 access and easy connectivity, including via mobile. The gaming experience has migrated from an event that could be enjoyed on rare occasions during a casino visit to one that is accessible at any time and from any location.
Community
The gaming community is more of a community now than ever. The shift to the online gaming mode is responsible for enabling slots players to become part of a global gaming community where they interact online, not only with friends and neighbors that they know personally but with slots enthusiasts located on the other side of the world.
Experienced Springbok Casino players compete alongside novice gamers and all players can join any of the slots tournaments or progressive jackpot games in which participants vie against one another for the ultimate prize.
Slots are also available on social media sites, allowing for an even more social experience in which players communicate with other gamers on the social media platform as they play their games. Players are able to give each other advice, make suggestions and offer feedback that would have never happened even a decade ago.
Player Safety
The rise of the global gambling industry has meant that governments are getting into the act.  Player protection monitoring agencies license and supervise both on-site and online casinos to ensure proper protections for gamers throughout the world.
The scrutiny ensures players that international, recognized agencies monitor the casinos' random number generators, house edges, banking platforms and other elements so that it's possible to play the games without worrying about  fraud, identity theft or other criminal activities.
Continuous Innovation
Slots technology is continuously being reinvented.  There's research going on all the time, new opportunities for new design, control elements, features and expansion.  Innovators collaborate and learn from each other to the benefit of the entire industry.
All of these elements allow the game development companies to create more user-friendly platforms and enhance the player experience.
Marketing
Gambling companies are able to better market their wares thanks to online advertising and social media. The game has changed so gambling companies have freedoms that they didn't enjoy with traditional advertising.
Today, gaming companies can publish relevant content quickly, build player communities and interact directly with their customer base on a regular basis. Player reviews also give the game developers the information that they need so that they know what works and what doesn't.
Slots gaming will continue to change in the coming years.  Developers are already looking at how they can integrate Virtual Reality and Artificial Reality into the slots. The slot machine continues to evolve and adapt. Every new innovation brings a better gaming experience to the player.
Bigger revenues, more games and an ever expanding community mean that the world can look forward to more positive changes for slots entertainment in the immediate future.