Tips for Beginning Springbok Casino No Deposit Bonus Codes Slots Players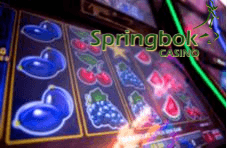 Many new casino visitors head to the slot machines.  Slots are easy to play, offer a fun-filled gaming adventure and provide a nice prize for a small investment.
There are a few things that new online casino players can do to improve their slots experience and enjoy more prize winnings.  First and foremost, before we even get started, redeem your Springbok Casino no deposit bonus codes to get started playing with some free cash.
Rules
Even though slot machines are relatively similar to one another, there are some differences between them as well. Each machine has its own high-payout symbols, bonus rounds, jackpot options and more. 
That's why it's a good idea to read the rules of the game before you start to play.  Reading the rules can give you a better overall picture of how many lines to activate on your specific machine, how much you should be on each line, which symbols you should aim to match and more.
Practice
Practice doesn't exactly make perfect in slots…..after all, it's a game of luck, not skill.  But it's a good idea to practice the game in the free mode before you start playing in the real mode.
Once the reels start to spin, the game goes fast, meaning that you don't have a lot of time to consider where and how you want to bet or other dilemmas that may come up.  If you practice you'll have a chance to get the game down pat so once you do start to play for real money, everything will move faster.
Jackpots  
There's a higher house edge for slots than for most other casino games.  That's the amount that the casino takes in from the wagers.  For instance, a slot machine with a house edge of 3%  (which is typical) offers a return-to-player percentage of 97%. In the long run the casino keeps $3 for its profit and pays back $97 out of every $100 wagered on the machine to the players.
If you think about it logically, you'll realize that the longer you play the slots, the more money the casino collects from your bankroll. This goes to cover the payouts - of which you'll have plenty too.  And aren't we all going for the big win? Many knowledgeable gamers prefer playing progressive or jackpot slot machines. It's especially exciting to know that there's a chance to win a big jackpot in a progressive game that helps you beat the odds.
Treat the slot machines like the lottery. This way, you risk a set amount of money for the chance to win big. Some people are OK with a small jackpot prize but others only put their efforts on a game that offers a significant prize.  Some jackpots are $100,000 and over but if you're happy with a jackpot of  $10,000 or $20,000, go for it.
Additionally, when you play for a jackpot instead of going for small wins, you don't have to worry about trying to beat a game that you can't win. From there you can combine a bonus and join the slot's club to play longer, earn nice prizes, and increase your chances of hitting a big win. 
Focus on this fun and  forgo the idea that you'll beat the slot machine so you can go all out for the big win. 
Land-Based or Online
The slot machines themselves are pretty much the same regardless of whether you play at a land-based casino or an online casino but if you play online, you have the chance to collect additional casino bonuses. Those bonuses, such as a Welcome Bonus for new players and special bonus points for games played at a specific time of the day or day of the week, are added on to the bonuses that you get from the machine.
At some online casinos, if you deposit $500, you can collect another $500 or even more.  So you have twice as many chances to hit a jackpot. 
Here is one of the examples of why it's important to read the rules of the game – most bonuses don't have a limit but you should read the rules to verify that that's the case on the machine on which you want to play.
By the way, many land-based casinos have bonuses but those bonuses are generally casino-based – meals at the casino restaurants or discounts on accommodations at the casino hotel.  Online bonuses are casino cash, points or credits that you can use to play more and win more.
Player's Club
Experts suggest that you sign up for the player's club or slots club before you start your first game. There's no cost to sign up and once you've joined, you'll earn comp points and special offers that you can use for your gaming event.
Again, the land-based player's clubs give you casino give-aways but the online casino's clubs give you the opportunity to earn extra bonuses and other free goodies.
Spins
Slot machines are designed for fun with tons of special features, lights and whistles. Most machines are set up in such a way that allows you to play a fast game simply by hitting the spin button.  There's often an auto-spin so the machine more or less goes on automatic while you sit back and watch the wins!
Spinning fast causes you to wager more money in a shorter amount of time.  That's true regardless of whether you're betting a lot of money or a small amount per spin.
Be aware of how fast you are spinning and how much you are betting.  Set your bankroll before you start playing and stick to your pre-determined budget.
And most importantly, above all, have fun!!!