How to Choose the Best Slot Casino Games for You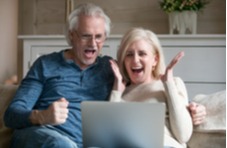 It's challenging to choose the right casino games slot machine. Today's online casino offers a wide range of slots, each with its own theme, elements, gameplay, bonus features, betting options and graphic interface. When you enter the Springbok online casino and sign into your account you'll be presented with a games lobby that gives you dozens – even hundreds – of options.  How do you choose the slot machine that's right for you?
Slots
Real slot machines were first introduced in the late 1800s in the United States when a three-reel, one-payline machine became a popular feature in salons and candy shops. The machine was operated with a lever, giving it the name "one-armed bandit." Players would pull the lever to try to line up symbols – on the early machines, the symbols were images of fruit so many people also referred to the machine as a "fruit machine." "Payouts" were generally sticks of gum or pieces of candy.
Over the years the slot machines evolved and became more sophisticated. The images started to include alternative types of pictures and the mechanism became more complex. The lever gave way to buttons that the player would push to spin the reels. More reels were added and the inclusion of different types of storylines and game plots made the games more engaging and interactive.
The mechanics of the games also evolved. Casinos devoted entire rooms to the slot machines to allow gamers to play in comfort. In the 1990s, online casinos opened and game manufacturers quickly adapted the machines to the online venues. The same machines that people once played on their trips to their local casino were now available to anyone, 24/7, via Internet connectivity. When mobile devices started to become popular, those same games were re-adapted for mobile gaming use so players could connect and play whenever they had WiFi or cellular connectivity.
Today you can find any type of slot machine with any type of gaming and betting option. Today's slots are suitable to high-rollers and low-budget gamers alike since each player can place either a high, medium or low bet, as they wish. Some games have only a few paylines but others have dozens of paylines. This also opens up options because when you play a slot machine, you're not obligated to activate all of the paylines with a deposit – just those paylines on which you want to bet.
You can play at a fast pace or you can slot down your gaming adventure, as you wish. Today's games also come with bonus rounds so there are plenty of spins that will deliver real money payouts without adding extra deposits.
With all of these choices, how do you choose the slot machine that will best meet your needs and expectations?
Choosing
It's not easy to select the slot that you want from among the possibilities. You need to decide whether you want to play a classic three-reel slot with simple spin-and-win gameplay or a more complex, multi-line machine that features bonus games, special elements and different betting options.
Today's newest slot machines offer 3D selections as well as games with themes that range from holidays, adventure and mysticism to science fiction, suspense, romance, magic, intrigue, culture, travel, history and mythology, plus much more.
There are also different types of slot machines. In addition to the choice between video slots and classic slots you have your choice of bonus slots, 243 Ways to Win slots,  multi-payline slots, , mega-spin slots and slot machines with an added progressive jackpot prize.
If you choose one of the three-reel classic slots you probably don't want to engage in a game that keeps you on your toes. You want something that's simple and fun. But if you want to have a bit more of a challenge, you can pick a slot that features special elements such as wild symbols, scatters, rolling reels, exploding symbols, expanding wilds, retriggering free spins, bonus respins, gambles or any of the other interactive game components.
Multipliers are another choice. Not all of the slot machines offer multipliers but those that do give you an extra bounce for your buck. Multipliers are simply automatic add-ons that multiply your payout. So, for instance, if you achieve a matching combination and your payout is $3, if the multiplier on the spin is a x3 you get $3 times the multiplier of 3, or $9.  Definitely a worthwhile feature to look for when you're choosing your game!
Penny Slots
One of the most popular types of slot machines is the penny slots. If you're playing on a budget you might want to give penny slots a try. Playing penny slots allows you to play for real money without risking large funds. It also gives you the chance to play a game with all paylines activated (in all slots, you activate only those paylines that you want to enable but you collect wins only on those combinations that appear on activated lines) without blowing your gaming entertainment budget.
Penny slots are available for PC and mobile gaming action. You can play penny slots – or any of the slots, for that matter – for free in the Free Mode without risking any deposit money for as long as you want. Most players prefer to do a game run-through in the free mode to learn the game's rules and become familiar with the various options.
In all ways, the choice is yours. You can play a high-betting game and bet on fewer lines, a penny slots where you wager on only some of the lines, or anything in-between. As we mentioned, there are games with games for every level and interest including progressive jackpot games in which players join a competition with other gamers from around the world to see who will spin the spin that triggers the lucrative progressive jackpot prize.
Tournaments
Springbok online casino also sponsors slots tournaments where you enjoy a more entertaining and virtually social gaming event by competing against one another for the tournament prize.
Do your research before you pick your game so you'll have all the information that you need to have the best gaming event possible.