Pick a Winning Mobile Casino South Africa Slot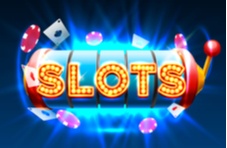 Results of each and every slots spin, and each and every slots game, are completely random. The mobile casino South Africa slots are run by a random number generator that ensures that there's no rhyme or reason to the results. You can't rely on a method, develop a strategy or crack a code to secure a win.
Games of luck are just that – events in which no one can predict the outcome. But…..some slots gamers believe that, with some understanding and a lot of luck, you can pick a winning Springbok casino slot.
What are Slots?
Slots are gambling machines in which the player makes a deposit and pulls a lever or presses a button to match a set of symbols. Simple slot machines feature images of fruit as symbols while more advanced slots have animated characters, decorative figures and other letters and numbers. Once the wheel of the slot machine stops spinning, the final alignment of the symbols determines the payout. 
Each symbol has its own payout value. So, for instance, if you're playing a culinary-themed slot machine, a combination of cake symbols may bring you 2 coins, a combination of macaroni and cheese may deliver 3 coins, a combination with matching pizza symbols may get you 4 coins and so on. 
In addition, while the minimum number of symbols for a win is three, if you get four or five symbols in a matching combination, you'll realize a larger payout. 
Pick a Winning Machine
Every slot enthusiast has his or her own criteria for choosing a slot machine. Some slots players base their choice on the storyline of the machine – you can find slots with plots that include mystery, magic, suspense, adventure, animals, humor, history and other interesting themes.
Other players look at the machine's graphic images and make their choice based on the machine that most appeals to them visually with compelling graphic designs, alluring layouts and appealing characters.
Still other players look at the machine's elements. Every machine has its own elements, ranging from simple wild and scatter symbols to multipliers, rolling reels, progressive jackpots and respins.
In short, it's best for slots aficionados to be content with playing the game for fun. Yet, there are some practices that a gamer can follow to minimize losses or achieve more payouts.
RTP
Check the Return to Player Percentage for the machine. Return to Player (RTP) involves the ratio of returns that the machine pays out. The higher the RTP, the higher the chances of achieving wins. For example, if you make a hundred $1 bets on a slot machine where the RTP is 90%, you could expect to receive approximately $90 in wins. 
Most slots RTPs are, on average, 97.5%.  That means that if you find a machine with even a slight percentage over that, you're already on your way to a better-than-average payout percentage. To determine a slot RTP, look up the manufacturer's specs on the slot machine at the manufacturer's website. 
Spinning for Free
Games that come with free spins bonus rounds allow you to spin the reels without adding additional deposits and take home the resulting payouts. Those are the games to choose –- games with free spins, and the more free spins in the game, the more you can win on such spins.
So when you check out a game, it's not enough to see whether or not the game features free spins. You need to look at the number of free spins. If the free spins round offers a single digit number of free spins, that's very nice. But if you find yourself looking at a game that give you double-digit free spins, or even two different free spins bonus rounds, that's the best!
Multipliers
It's nice to get a payout for a winning payline but it should come as no surprise that getting a payout that's multiplied is even better! Sometimes there is no multiplier, sometimes there's a x2 or x3 multiplier and sometimes you get a game with multipliers that can run up to x10. In addition, there are sometimes multipliers on regular game wins, sometimes on bonus game wins and sometimes on both.
You do the math and figure out which are the games that will be the most rewarding!
Progressive Jackpots
At every online casino there are a select few games with progressive jackpots. Those games have all of the features of a regular slot machine PLUS a special jackpot with an extra jackpot prize.
To play the jackpot game in addition to the regular game, you add a small additional deposit to your regular game bet. That makes you eligible to compete for the jackpot payout. As you play your regular game, you watch to see whether you trigger the jackpot. Simultaneously, players from around the world, each of whom added their own jackpot deposit to the kitty, will be vying for that same jackpot prize. When one player, somewhere in the world, spins the spin that triggers the jackpot, s/he wins the entire pot. 
Jackpots add up as more and more people play and more and more people add their own jackpot bet. The jackpot bet is pretty low but the potential for a big win makes it worth the extra investment. 
There aren't really a lot of "techniques" to use when playing slots to win big. But there are ways that you can carefully choose your machine in a way that maximizes your chances of walking away with some serious money.  And at Springbok Casino we love seeing our players win BIG!