Smart Slots Strategies for Online Casino Games Gurus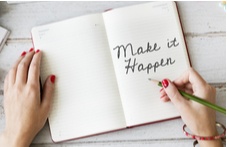 You will be pleased to know that you do not have to be a rocket scientist to beat the virtual slot machines.  What you do need is a game plan… and a good one at that.
Whether you like to tinker around with small bets or prefer to 'go all in' in the hopes of hitting the jackpot, it is crucial to include three core elements in your online casino gamesstrategy – prepare, practice and execute.
Prepare: ID Online Casino Games You Want to Play, Tailor Tactics Accordingly 
What is the key to good preparation?  Firstly, you must identify the kind of slots you want to play right here at Springbok Casino.  Are they low, medium or high variance online casino games?  Is there a jackpot in-play? If there is deal-sweetener on the side, is it a local or network funded pot?
Why is pre-determining 'type' so important?  Well, different kinds of slots require different tactics.  One would think that it is simply about choosing your wager and spinning the reels, right?  Nope.  There's actually a bit more to it…
Bet High on Low Variance Slots 
Take low variance slots as an example.  With these online casino games, the probability of hitting paying symbol combinations is high.  On the downside, the average payout in rands and cents is comparatively low.
In this case, your game plan should probably be to bet high in order to capitalize on the favourable hit frequency.  That way it won't take a month of Sundays to build a positive balance in your online casino games account!
Bet Max on Progressive Jackpot Slots 
Similarly, when you play a progressive jackpot slot like Megasaur or Spirit of the Inca, your modus operandi should automatically be to hit the bet max button.
With progressives it is not so much the variance or volatility of the game that determines your betting tactics. It is the fact that you can only qualify for the jackpot prize once you have activated all the available paylines.
Wager with the Major Random Jackpot in Mind
Moreover, Real Time Gaming (RTG) – the software developers that create our dazzling selection of online casino games – is renowned for its randomly activated mini, minor and mega jackpot slots.  Games like 5 Wishes, Count Spectacular, Trigger Happy and Gemtopia slots are among a series of titles that fall into this category.
In these online casino games, it's the size of your wager that determines which jackpot you'll win when you are fortunate to get the proverbial nod from the random number generator (RNG).  The more you bet, the more you win… it's as simple as that.
Knowing exactly which slots you are going to play allows you to customise your game plan accordingly – and that can mean your average win rate soars – into the galaxy and far, far beyond!
Find Low Playthrough Online Casino Bonuses to Exploit
The second, equally important, part of the pre-play preparation is to ascertain whether there are any Springbok Casino bonuses you can exploit.
Remember, it is not only the monetary value of the bonus or the number of free spins that is crucial to your game plan.  It is the playthrough rules or wagering requirements that should determine whether you redeem the bonus… or not.
It is not unheard of for casinos to impose playthroughs of 70 x or 80 x the bonus and to cap the cashable winnings to boot.  What that effectively means is there zero chance of you ever getting your hands on the slots payouts you do manage to achieve via the 'free' bonus!
Practice: Choose One of Two No-Risk Environments 
Now to the practice part of your smart online casino games strategy.  You have identified which slots you want to play.  Now it is time to put your tactics to the test… in a no-risk environment.
There are two ways to do this.  You can claim one of our low playthrough Springbok Casino bonuses and use the casino's own money to tip the scales in your favour – or you can play the slots that best match your game plan in the fun mode.
Either way, the free play allows you to iron out any glitches, try out slightly different betting tactics and get a good idea of the win rate.  The beauty of this risk-free play time is that you can do it without busting your bankroll before you have even started on your real money quest!
Execute: Play the Best RTG Slots for Real 
Right, you have prepared adequately for the big occasion and you have given your game plan a dry run.  You are also feeling lucky.  It's is time to execute your slots strategy in the real money mode.
Top Tips for the Avid Slots Players Online 
However, before you ignite the game engines of the best ever RTG slots right here at Springbok Online Casino to give your game plan a genuine rev, here are few tips to help you get your tactics just right:
Don't overlook the paying power of the multipliers in online slots, they have the potential to bump up the win rate… big time
Bear in mind that higher denomination online casino games have higher payout rates… but they do have a higher risk factor too
Always read the rules of the game or you may miss out on the major money prize – and when it's a network funded progressive jackpot that can be around R26 million or more!
Progressive jackpots may be eye-popping in value but you'll be going head-to-head with thousands of other players - and that means the odds are not in your favour!  Gunning for the local jackpots instead may just be the best tactic of all!
If you're not yet a member of the ever-increasing Springbok Casino Community, you are welcome to join in the fun!  Head over to our site where you can easily register an account – and there's even a welcome bonus in it for you to get you started!