3 Best Mobile Casino South Africa Slots for June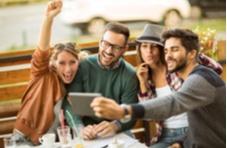 The June solstice will be upon us and gaming enthusiasts are looking forward to taking advantage of the auspicious time to test their luck at our Springbok online casino. The solstice will dawn this year on June 20th and, for the southern hemisphere, marks the day with the shortest time between sunrise and sunset.
According to the horoscope, June 2020 is a time for introspection and personal transformation. It's a time when you should ignore outside distractions and focus on home and family. Astrologers say that there will be six planets in retrograde in June and that that's the perfect time to re-evaluate personal priorities and goals as well as your needs and desires. As Venus moves towards a direct station, you'll be pulled forward to experience newfound understandings.  
This time of exploration gives you the chance to aim town a top level of performance in all your endeavors – in your relationships with friends and family, in your work and in your online gaming activities.
The mobile casino South Africa is highlighting a group of new slots to welcome this auspicious time.  Some of the best:
Plentiful Treasure
Plentiful Treasure isn't your traditional frivolous big wins slot. It involves ancient Chinese culture with historical action.  In this slot machine, Chinese gods combine with Asian treasures to bring the player into a mysterious world of  power and intrigue in a visit to the famous Chinese emperors' storehouses which were once filled with jewels and gold. 
Over the years, Chinese archaeologists have been digging up these treasures. Now you too can collect your portion of the priceless artifacts and riches as you spin the reels and aim for the jackpot prizes.  Priceless Treasure is a 243 Ways to Win game, meaning that each and every spin offers 243 possible options to achieve a win. You don't bet on individual paylines in a 243 Ways to Win Game. Rather, each and every winning combination delivers a win.
Main symbols include teapots, rings, Ming vases and other icons that summon up imagery of China's imperial past. The game's two wilds are the Bao – the treasure – and the Pearl.  The Pearl appears on third reel and when it emerges to complete a payline, that payout multiplies by x5. The second Wild, the Bao, displays on the second, third and fourth reels to substitute for other game symbols and complete paylines.
The game scatter is the Tripod. The Tripod creates scatter combination payouts which are paid out together with regular game wins. When three or more Tripod Scatters appear the Free Games are triggered. In each of the free spins games the player will receive 8 free spins. Wins from the free spins are added onto regular game wins.
In addition to the other game symbols, the reels display 4 god symbols. If any of these gods symbols appear, the player can collect his jackpot prize.
Wild Wizards
If you're looking for some wizardly fun and entertainment, check out the Wild Wizards slots. Wild Wizards combines wizard magic with cash prizes so you're not just "spinning your wheels" when you play. Every time you line up owls, wizard hats,  towers, spells and potions you collect a payout. Help the wizard line up his combinations and he'll reward you with magic spells that will keep your win meter running. 
Wild Wizards is perfect for low-budget playerss and high-rolling slots aficionados alike. The machine allows you to bet as little as .01 coins per spin or, if you want to increase your cash rewards, raise your bet. There are both low payout symbols in this game such as the  magic spells' letters and numbers, as well as high payout symbols. If you get a potion combination you earn 200 coins and you get 300 coins for matching wizard's hats. The biggest payout symbols are the wizard towers (500 coins per win) and the owls (750 coins for each owl combination).
Wizards become wild on reels two and five. When they appear on those reels they expand and cover the entire reel. That increases your chances of achieving a payout. There are also scatter symbols in the game – spellbooks – which deliver as much as a 50x multiplier on your your total bet for a scatter symbol combination.
There are four Wizards Wild bonus features. They include the Wizard's Tower Feature, the Mad Magic Feature, the Fireball Feature and the Polymorph Feature. If you spin a spellbook on the first reel and a Wild Wizard on the fifth reel you'll enter the Wizards Towers bonus feature where you move through the sub-features.
In the Mad Magic feature you are given five free spins with a 5x multiplier for a two symbol combination. Mad Magic bonus includes a 50x multiplier on 3 symbol win and a 500x multiplier on 4 symbol wins.
In the Wizard's Tower Feature, 8 free spins with an expanded Wild Wizard on the third reel are activated. The Fireball bonus feature includes six free spins with Wild Wizards who turn wild on the second and fourth reel. Finally, the Polymorph Feature comes with 7 free spins plus a wizard's spell which turns symbols into wilds.
Wild Wizards includes a progressive jackpot where, for a small additional deposit, you can join the jackpot competition to see which of the thousands of participating players from around the world will take home the jackpot prize.
Ghost Ships
Ghost Ships slot machine delivers wealth and riches as you travel through the sea to find the legendary mystery ships. Symbols include all the artifacts found on ghost ships including treasure chests, ship's bells, cannons, fallen figureheads and more. 
As you spin the reels you'll line up symbols on the paylines. Figureheads will bring you  250 coins per win, 500 coins for cannon matches, 1000 coins for matching treasure chests across the same payline and 1250 coins for paylines that are populated by the Flying Dutchman's bell. Throughout the spins, scattered ghost ships and wild ghost captains add payouts. The Wild Ghost Captain substitutes for other symbols. He expands when he appears to cover he reels and create additional wins. You can bet as little as 0.01 per payline or up to 6.25, making this a great game for budget gamers and high rollers alike.  
If your spin results in the appearance of 5 Ghost Ships scatters you get a 100x multiplier. Three or more ghost ship scatters activate the scatter payout and also trigger the Free Spins Bonus Game when you can get extra free spins if the ship or the captain emerge on a free spin.
Ghost Ships is a Progressive Jackpot game. The progressive jackpot can activate after any spin and be triggered by any regular game spin. For a small additional progressive jackpot deposit, you have the opportunity to win anywhere from several thousand dollars to millions!