It's a Steal: Play Cash Bandits Online Slots and Plunder the Vault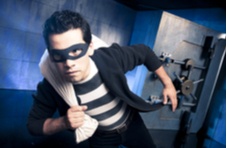 Springbok Casino may not be a bank, a finance provider or a loan shark – but when you know where to look, there are safes to crack, vaults to plunder and sack-loads of cash at your disposal.  The trick is to find the online slots that hold the key to potential riches, riches that are neatly stashed away out of the public eye.  As we have always maintained our legions of customers come first, here is a heads-up as to exactly where you can plan and execute your next cash heist simply by lining up matching symbols on the reels.
Cash Bandits - When Playing Online Slots is Daylight Robbery 
If you are serious about banking ZAR right there at Springbok Casino, there is a duo of misfits who can show you the ropes.  We are of course referring to the slack-jawed felons who make a living out of robbing banks blind.  Power up the first of two online slots in the gangster pack – the game succinctly dubbed Cash Bandits – and you have got the potential to net a small fortune thanks to the game features that keep on giving.  
What is the most you can win in the base game of the 25 payline Cash Bandit slot?  Well, if 2,500 x the stake is not enough to get your eyes popping and knees knocking, maybe the fact that the symbol responsible for the largesse is none other than the wild – a symbol that appears remarkably frequently on the reels!
Crack the Code to Play for FREE 
That is just the real money pickings available in standard game play.  Chase down the villain, trap him on three or more spots anywhere on the gaming interface and you are one step closer to a genuine cash bonanza.  Here is how it works. 
Firstly, our creepy crook pays out up to 200 x the line bet.  Secondly, he unlocks the vault bonus game where you are given a head start of five free games and all winnings are doubled.  Here is where it really gets interesting.  When you crack the multi-digit code to the vault, you can bag up to 60 free games with – wait for it – 6 x win multipliers.  Now that is a steal!
Random Jackpots to Sweeten the Online Slots Experience 
Hold up; the free games are not fully representative of where the big money is.  In fact, there is a secret cache of bank notes stashed away in two randomly activated progressive jackpots.  That effectively means you can walk away with thousands of Randelas when you play the first of two criminally inclined online slots. 
Ooops… we almost forgot to mention that you can reactivate the fabulous free spins feature.  When you do that, there are up to 90 free spins up for grabs.  What is more, in this maximised configuration all payouts are instantly multiplied by 12.  Wow, imagine that?  Online slots that literally spew out cash?
What are the Key Game Features in Cash Bandit Slot?
Pay outs of up to 2,500 x the stake in the base game
Scatter wins of 200 x the line bet
A standard five free spins with 2 x multipliers
Escalating vault bonus games prizes of up to 60 free spins with 6 x multipliers
RTG's world famous random jackpots 
Cash Bandits 2 - Bigger Wins and Better Bonus Prizes 
Now for the big cheese of infamy and in the context of online slots that of course means Cash Bandits 2.  The follow-up of the high hit rate RTG game was two years in the making but when it did eventually hit the reels right here at Springbok Casino, it took our breath away.  It is not so much the graphics that evoked an ooh and an aah – they are utilitarian at best – but rather the hard cash stitched into the narrative.  In this version of the game everything is richer.  In financial terms it is a bit like comparing JPMorgan Chase with Capitec!
Oh My - It's a Free Spins and Multiplier Free-for-All! 
First off, the maximum payout in the base game is doubled to 5,000 x the stake.  In this cash generating epic of online slots the big paying symbol is, however, a stacked wild – and that of course means the possibility of multiple payout permutations on every spin of the reels.  
The nefarious scatter is the oddball in the pack as he pays just 50 x for a fifer.  He does however make up for his tight-fistedness in the vault bonus game where the standardised five free games with 2 x multipliers can skyrocket to 100 free spins with up to 5 x multipliers.  Factor in the ever-ready reactivation feature and that means you can exploit as many as 190 free spins where payouts are multiplied by 17! 
How about the progressive jackpots?  You know, those randomly activated cash donations that have made RTG online slots so darn legendary?  Well, as can be expected there is a minor and major jackpot waiting in the wings in Cash Bandits 2 – and you could be the lucky recipient of one or both of the money prizes!
Why Play Cash Bandits 2 at Springbok Casino NOW?
A top prize of 5,000 x the stake in standard play
Minor and Major random jackpots
Up to 190 free spins with 17 x multipliers
Fixed paylines
Grab the Keys to the Vault - Sign Up at Springbok Casino, Play Online Slots for Free
The only way you can capitalise on our Cash Bandits online slots is to formalise your relationship with Springbok Casino.  That of course means registering an account and when you do that, you can claim the first of an infinite number of bonuses. 
How about a R250 free no deposit bonus?  If that doesn't quite shake it, maybe our three-part Welcome Bonus will.  When you enter the corresponding code on the cashier page, you are essentially grabbing the keys to the vault – and we are so OK with that!