Classic, Video or Progressive Jackpot Slots? Which Category is Best?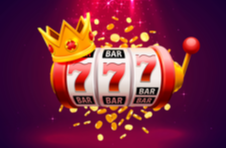 Who is the Big Daddy at the #1 online casino South Africa?  Slots, of course… rows and rows of classic, 5 reel and progressive jackpot slots - slots are king!  These are the casino games that attract more players at more casinos than Bill Gates, Elon Musk and Jeff Bezos attract hundred dollars bills.  Slots are for all intents and purposes the face of the casino – whether it is in Las Vegas, Sun City or right here in cyberspace.
The Casino Games Category That Attracts Mass R&D!
Slots are the quintessential gambling games and because of their status, there are more studios, creatives and rands and cents directed at developing online slots than any other gambling opportunity on earth.  The question is; which type of slot is the best to play at Springbok Online Casino South Africa?  Is it the 3 reel classics with limited bet lines or is it the 5 reel or 6 reel slots that are so cinematic and alluring, they are more extreme animation that anything else?  
There is one more candidate we can slip into the best ever player pack at Springbok Casino and that is the progressive jackpot slots… you know those terrific titles that are stacked and packed with million and more money pots?
Playability? Video Slots Win Hands Down
When it comes to playability it is the multi-reel casino games in the video slots category that really come out tops.  These are the slots that are graphically out of this world.  The ones with a post-production finish of an Academy Award winning slice of celluloid that has been snipped and tucked for its debut on small screen Springbok Casino.  How do they stack up in terms of odds, edge, payout rate and all that statistical stuff that basically determines whether you win more frequently than you lose? 
The quick answer is; what you gain in creativity, entertainment and wow factor, you lose in money generating capabilities.  Why?  Well, with loads of variable paylines – or in some cases hundreds of 'always active' payways – in play, together with dozens of symbols flashing across the gaming interface, the odds of matching three, four or five symbols is not easy and that means the odds of winning are slightly depleted.
That does not mean you can't win lots of loot when you play the best 5 reel video slots featured right here at our online casino South Africa.  It simply means the probability of winning regularly is not as high as what you will find in other types of slots.  That said, if you are looking for insane entertainment that pays out in hard cash, the video slots genre is your gambling friend.
Prodigious Single Wins? Progressives are King
With that firmly in mind, which type of slot is red-hot at Springbok Online Casino South Africa?  If it isn't video slots, then is it 3 reel slots or progressive jackpot slots?  If you are gauging 'hot' in terms of mouth-watering single wins, wins that effectively allow you to pay off your entire home loan in one go… and have money over for a holiday to the moon, then there really is only one contender – and that is the Real Time Gaming progressive jackpot slots that you can play right here and right now.
Top Progressive Jackpot Slots Totals at Springbok 
If you think we are exaggerating about the sheer scope of the potential payouts, just take a squizz at the latest progressive jackpot totals at Springbok Casino… and we have rounded them off on the downside:
Aztec's Millions - R25 million and counting
Megasaur - R13 million plus
Spirit of the Incas - R2 million and up, up and away!
The Odds? Classic 3 Reel Slots Claim the Prize
Right, we all agree that 5 reel and 6 reel video slots are the creative crowning glory at our star rated online casino South Africa.  We also agree that progressive jackpot slots offer payout potential par excellence. Seriously, who wouldn't play slots for a multi-million rand payday?  I know I do… every day!  That leaves just one slots genre to claim the kudos when we weigh up the odds, and that, of course, is the classic 3 reel variety...  
These little beauties may be the Cinderellas of the casino – but the probability of winning hard cash every time you load a 3-reeler onto your desktop, tablet or phone is pretty darn high.  The reason for this is because of the structure of the game – just three reels, an average of one up to five bet lines, and a severely curtailed number of symbols to match on the reels.  As the game mechanics are pared down to a bare minimum, the odds of capturing line wins are clearly in your favour.
From Cinderella to Feature-Rich Queen 
Hold up!  There is more to this story than the line that classic slots are limited in terms of game features and entertainment.  At Springbok Casino we feature 3 reel slots that may be rigid in structure but are booming in x-factor.  Take Double Ya Luck for instance.  It may only have three variable bet lines but there is a free spins bonus round capable of delivering up to 40 free spins at 1 x up to 4x the stake, a particularly generous Board Game bonus game that is literally packed with instant win prizes and a randomly triggered progressive jackpot!  Now that is most certainly no boring classic casino game – it is a 3-reeler slot on steroids.
Exploit the Odds - Play Bonus Classic Slots at Springbok Online Casino South Africa!
Double Ya Luck is not a one-off anomaly at the best online casino South Africa.  There are quite a few games sorted under the 3 reel slots category that are hot to handle.  One of our personal favourites is The Three Stooges III slot with its three reels, three bet lines and three comedic characters in the form of Moe, Larry and Curly.  
Along with the standard pays, there are three different free spins rounds to cheer you up.  Best of all, when you win less than 10 x your stake during the free spins round you automatically bank a consolation prize of up to 1,000 x the bet, all thanks to a Guaranteed Win feature.  If that doesn't prove our point that classic slots can be veritable treasure chests that you can crack open at will, there is a random progressive jackpot in play too!
The Verdict 
Now to our verdict.  The consensus is that if you are on a quest of sizzling entertainment defined by spectacular imagery, audio and game themes, video slots are for you.  If, however, you are after the slots that provide the best theoretical probability of winning – classic slots are the go-to casino games at Springbok Online Casino South Africa.  That leaves the progressive jackpot slots… and these are the high variance gambling opportunities tailor made for high risk high rollers.
Why not sign up at Springbok Casino right away and play the slots category that matches your gambling requirements?  There are a few casino bonuses to help you on your way!