What's the Best Cash Creator? The Feature Guarantee or Win-Win Feature in Slots?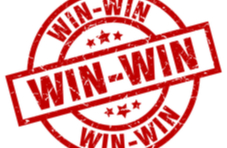 Do you want your online gambling sessions at Springbok Casino to pay off?  If your intention is to win money playing online slots, it is time to up your game.  That means getting to grips with the kinds of features that have the potential to pump up the win rate.  You are undoubtedly familiar with the conventional stuff like wilds, scatters and multipliers but there are two hypothetical cash cows that are often overlooked…
Cutting Edge Features Encapsulate What's Hot at Springbok Casino
There are an infinite number of reasons why Springbok Casino is rated as one of the best.  Our support services are first class and our bonuses are kick-ass.  However, it is the quality and versatility of our online gambling software that really gets chins wagging.  Along with the seamless functionality of our online and mobile platform, the RTG developed casino games are core components that deserve a standing ovation.
The slot games that you can play right here at Springbok Online Casino are representative of everything that is excellent about the RTG development brand.  They are the first to integrate multiple randomly awarded progressive jackpots into play.  They are also the first to introduce the concept of storyline slots in their now legendary Real Series of Slots.  
In this article we are focussing on two unique features that encapsulate the cutting-edge innovation of the RTG brand.  Both have the capabilities to deliver wads of bonus cash and both are exclusive to RTG slots.  We are of course referring to the Feature Guarantee and the Win-Win Feature aka the Guaranteed Win Feature. 
What is the Feature Guarantee in RTG Slots?
The Feature Guarantee is basically a side bet in online slots that buys access to the free spins bonus feature.  It is only active when all paylines are in-play and costs the equivalent of 10 x the line bet.  Unlike many other popular online gambling side bets that are optional and predominantly found in casino card games like Blackjack and Perfect Pairs and Suit Em Up Blackjack, this side bet is compulsory.  
In fact, the gaming software enforces the Feature Guarantee side bet by automatically deducting the additional wager from your credit balance.
Why Pay More for an Existing Feature?
Why would you pay extra to gain access to an existing online gambling feature?  Well just because there is a bonus feature in an online slot, there is no way of knowing whether you will ever hit the symbol combination required to trigger the treat.  
What the Feature Guarantee does is unlocks the free games within a specified number of spins whether the activating scatters show up on the reels or not.  In some cases, the rewards are richer in the features that have been side bet activated.  That means you not only get a chance to accumulate winnings in the free spins feature but the winnings you do accumulate could be much higher as a result.
Get Guaranteed Access Plus Mind-Blowing Multipliers
Take Vulcan slot as an example.  Along with a top prize of 3,000 x the bet in the base game, a wild that trebles all wins and a random minor and major random jackpot, there is a Feature Guarantee side bet in play.  Take the wager and you are guaranteed access to 15 free games within 26 to 250 spins of the reels.  Retrigger the feature more than once and you could be in line for retrigger multipliers of up to 500 x rather than the 300 x multipliers had you waited for the scatters to do their thing.
Which Online Slots Offer the Feature Guarantee Side Bet at Springbok Casino?
The Feature Guarantee is a pretty exclusive online gambling feature.  As a result, it is limited to just a few of the online slots that you can play right now at Springbok Casino.  If you are willing to make a small side bet that has the capacity to unlock the bonus money vault, here are the RTG online slots with the Feature Guarantee in play:
Aztec's Treasure
Dream Run
Hairway to Heaven
Megasaur 
Polar Explorer
The Elf Wars
Vulcan Clan
What is the Win-Win Feature in Online Slots?
Right, we now know that the Feature Guarantee is the ticket to the good time.  How about the Win-Win feature?  How does that work?  Well first off, this super-cool online gambling bonus feature is free.  You don't have to cough up an obligatory side bet… in fact you don't have to do that much at all.  It is basically a consolation prize that is awarded to players who don't cash in during the free spins feature.  
The cut off point for the win-win feature is 10 x the activating bet and below.  In other words, if you only bank 10 x the value of the original triggering bet - or less - during the free spins, you are the automatic beneficiary of bet multiplier bonuses of up to 100 x!  At some online gambling destinations powered by RTG software, the Win-Win feature is known as the Guaranteed Win feature - and that can be a tad confusing when you take the Feature Guarantee into account! 
Exploit the Slots with the Win-Win Feature Right Here at Springbok
The Win-Win feature really does improve the odds of winning and for this reason it is as rare as hen's teeth.  If you want to boost your bankroll ever so slightly, here are the online gambling slots that you should focus your attentions on at Springbok Online and Mobile Casino:
Loch Ness Loot
Lucky 8
Megasaur
Triple Twister 
Sign Up at Springbok Casino and Cash In on the Cash Cows… Moo Money to You!
As I am sure you have noticed Megasaur slot has both a Feature Guarantee and Win-Win feature.  It has also got a network linked progressive jackpot as the main prize - a jackpot currently valued at over R13 million!  If you are as smart as we know you are, you will take the opportunity to sign up at Springbok Casino right away.
Once you have deposited money into your casino account, you can claim the first of three welcome bonuses. That effectively means you can use the casino's own cash to help you fund your online gambling sessions.  What's more, we strongly recommend you start your online gambling journey with us playing the RTG slots that offer that little bit more than most – and we have even listed them on this page for your convenience!