How to Find the Best Casino Games in the Slots Category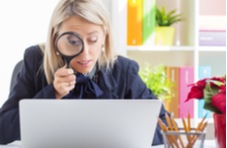 It takes a little more than guesswork to find the best casino games in terms of payouts and bonus features.  Ideally you want to play the slots - and video poker and table games - that offer a veritable treasure trove of opportunities.  At Springbok Casino we will show you how to find the information you need to make the smart choice.  When you do that, there is a better than average chance you will win more frequently than most.
Focus on the Game Mechanics 
When selecting which casino games to play at Springbok Online Casino, you may be tempted to go for creativity over common sense.  Although the titles, themes, animations and graphics of our featured Realtime Gaming (RTG) developed slots may be alluring, it is not technically what makes a good slot great.  What you should be more focused on are the game mechanics and that means determining things like whether:
the paylines are fixed or variable,
the game pays both ways or only from left to right and
what sort of volatility you can expect in terms of cold and hot streaks.  
Once you have got a better understanding of how the various slots actually work, you can find the real money games that best match your risk profile.  You will then have a broad category of slots that you can delve through in search of the most lucrative pay tables and bonus features.  When it comes to gambling online at Springbok Casino South Africa, it really pays to take the pragmatic approach.
Use the Thumbnails as a Starting Point 
Your first step to success is to use the resources we have integrated into the thumbnails of all our casino games.  When you click or tap on the red down arrow embedded in the thumbnail, the key features of the game are revealed - features such as volatility, game theme, number and configuration of paylines, jackpots and in-game bonus features.  It is essentially a basic synopsis of the mechanics and highlights contained in each video slot.  
The most important snippet of information you can find relating to all the online and mobile slots right here at Springbok Casino is arguably the volatility, a term that is also referred to as variance.  What is volatility?  It is a reference to how much risk is involved in playing a particular casino game.  High volatility equates to high risk.
If, for example, you have a large bankroll at your disposal and are the kind of player who thrives on risk, the games with a very high volatility are what you should be after - slots like Panda's Gold, Vulcan, Rudolph's Revenge, PayDirt and Nova 7s.  Conversely, if you are risk averse and only have limited funds to spend at Springbok Online Casino, the slots with a low volatility are the ideal match - Pulsar, Dr Winmore, Halloween Treasures and Popiñata, to name but a few. 
The casino games listed above obviously represent a sample of the two extremes of volatility.  You will discover there are plenty of medium and high variance slots listed at Springbok Casino too!
Hit the Help Icon on the Gaming Interface
Once you have narrowed down your selection to a few casino games, it is time to get more detailed information.  You can do this by opening a slot in your browser and clicking on the three horizontal lines denoting the menu tab.  The menu is usually found on the left hand of the screen.  In older slots you may have to click on the help tab or a standalone information icon to gain access to the data you want.
Along with the payouts generated by matching symbols on the reels, you will be presented with the game rules, the game controls and the configurations of all the paylines.  You will also find a description of each bonus feature and how you can potentially benefit from each feature.
In Wild Hog Luau slot for instance there is a wild, scatter and respin feature that automatically kicks in after every line win.  During respins the winning symbols are kept in place and the feature continues for as long as there are paying permutations on the reels.  The scatter pays anywhere on screen and activates up to 50 free games where the respisn feature is enriched with random multipliers up to 10 x! 
Now that is the kind of information you should be familiar with prior to betting your hard-earned cash on our sizzling selection of casino games sorted under the slots tab!
Read Independent Reviews of the Online Slots You Intend to Play
If you want a more independent account of our RTG casino slots, we suggest you read reviews by other players posted on the internet.  That way you can get a good idea of the frequency of payouts, how long it takes to trigger a particular feature and how often the game delivers the so-called 'big wins.  There are literally hundreds of affiliate websites that publish reviews of the best slots, video poker and table games online. 
There are also sites that specialise in using statistical and analytical business intelligence tools to rank casino games online, including online and mobile slots.  Why not make use of the free resources available on the internet?  They are designed to help players - just like you - win more money right here at Springbok Online Casino.  It really is the smart thing to do!
Sign Up at Springbok Casino and Play the Games for Free
Last but not least, you are more than welcome to play all the Springbok Casino games in the fun mode.  You are given a generous amount of free credits and all the time in the world to test drive our seriously large selection of RTG slots, video poker variants and table games. 
Once you have got the hang of the games and taken the time to mine the kind of information you need to play the best slots and win, you can sign up at the number one online casino in Africa and give the reels a go in the real money mode!  Besides the wads of ZAR you can win in-game, there is a promotions page packed with great perks, bonuses and incentives - check it out now!