Does the Number of Reels Affect the Win Rate in Slots?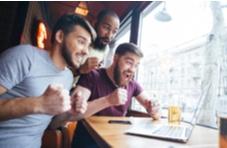 Springbok Casino is the best online casino for a number of reasons.  Our selection of games is unsurpassed, our bonuses are great and we have invested in the most sophisticated security measures to keep your data safe.  We have also gone out of our way to offer slots with a variety of reel sets.  The question is how does the number of reels impact the payout frequency in slots?
Modern Slots Feature an Infinite Combination of Game Mechanics 
Gone are the days when slot machines were limited to the classic 3 reel variety.  Now days there is a wide selection of RTG slots featuring an infinite combination of game mechanics.  There are 3 reel slots with wild symbols and multiple bet lines.  There are also 5 reel slots.  These casino games are high-end gambling opportunities.  They are synonymous with an eclectic array of bonus features and numerous paylines that are either variable or fixed.
An Increased Number of Reels Equates to More Symbols  
Search through the long list of virtual slot machines featured at Springbok Casino and you will find All Ways Pays (AWP) slots that pay left to right and right to left.  One of the newer additions to the games menu at the best online casino are 6 reel slots… yup, 6 reels. 
What that of course means is along with the reels, the number of symbols also increases.  In the case of the perennially popular and always rewarding Super 6 slots, for instance, there are precisely 66 symbols capable of creating any number of unique combinations on the reels.
Reel Sets and Probability in Slots 
According to all that complex stuff like mathematical probability and the law of averages, the more reels there are in play, the lower the probability is of hitting paying combinations.  That is essentially why classic 3 reel slots with their single paylines and limited array of symbols have some of the best odds at the casino.  
Having said that, when you play classic slots you lose out on the wow factor that is intrinsically part of the multiline video slots experience.  Why, you may ask?   
Classic Slots are Tops in Terms of Odds
To compensate for the favourable odds, classic slots are by nature one dimensional.  There are rarely bonus features in-play and the hype and entertainment associated with animated multiline video slots is not part of the gambling equation.  That does not mean you should avoid playing classic slots.  It simply means that if you are a recreational gambler you are more than likely playing slots for the fun factor rather than the pay out rate.   On that score alone, it is the 5 reel or 6 reel multiline video slots at the best online casino ZA that take top billing!
Variance Linked to Diminished Probability 
There is another clue that points to a link between the number of reels and diminished probability… and that is variance or volatility.  As you are probably aware, variance is basically a term used to describe the frequency of wins in a particular slot game.  A low variance slot typically generates plenty of low value payout combinations on the reels.  A high or very high variance slot produces only occasional payline wins but they are usually impressive in value.
The Best Online Casino for 6 Reel Slots 
Take a look at the 6 reel slots featured at the best online casino - and that of course is Springbok Casino by a country mile - and you will notice that all of them are categorised as high or very high in volatility.  That essentially tells us that winning combinations are hard to come by.  What is notable is the 6 reel slot with the lowest number of symbols has a hit frequency that is noticeably higher than that of all the others. 
What is the Number of Symbols Per 6 Reel Slot at Springbok Casino?
Here is a breakdown of the 6 reel slots you can play right now at Springbok Casino, together with the number of symbols in each.  We have based that number on the premise that all the symbols are in sets of six:
Lucky 6 slot - 66 symbols
Super 6 slot - 66 symbols
Big Blooper slot - 54 symbols
Richie Valens La Bamba - 48 symbols
When you think about it logically, the number of reels - and by association the number of symbols on those reels - obviously has an impact on the achievable hit rate.  The more symbols there are in a game, the greater the number of unique combinations they can form on the reels.  
Notwithstanding the fact that it is a random computer code that generates a particular sequence of symbols on the reels, the fact that there are more symbols effectively means there is a lower probability of hitting the combinations that pay out according to the pay table.
What are the Best 6 Reel Slots at Springbok Casino?
When it boils down to key indicators like variance, pay ways and reel sets, there is not much that separates one game from the other.  The one exception is Lucky 6 slot that has 10 variable paylines rather than the 729 AWP pay ways that are standard across the remaining four slots. 
Sign Up at the Best Online Casino… and See for Yourself!
That essentially means it is up to you to discover the best 6 reel slot in terms of hit frequency and payout rate.  You can sign up at the best online casino for South Africans, claim a free cash bonus and "spin dem reels".  Or you can play our RTG casino games - including our fabulously entertaining multiline video slots - in the fun mode but the money you win is Monopoly money rather than real rands and cents!