How Free Social Casino Slots are Deceiving and Why Online Gambling Ranks #1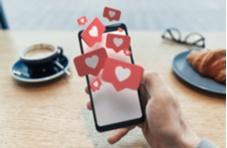 Online gambling, like pretty much everything else on the planet, has been influenced by social media.  If it's not political Twitter wars that are getting us riled up, it is false news infused Facebook that has given new meaning to the phrase 'falling down the rabbit hole' in 2020.  How does the 'social' in casino slots pose a danger to players?
What are Social Casinos?
Social casinos appear to be the sharing and caring equivalent of digital online gambling platforms like Springbok Casino.  Well, that's how they describe themselves in any event.  Whether in the form of iOS or Android apps, via social media sites - or as dedicated online and mobile gaming sites, social casinos use 'free play' as their core marketing strategy.
That effectively means that playing the actual casino games is free, right?  Wrong.  Here is the kicker…  Although you can play cross-category casino games in bold technicolour, you can't win anything of material value - with a few exceptions here and there. 
Here is another point to stash away in your memory bank.  The games may ostensibly be free, but they aren't… not really!  You're duped into thinking they are totally free, yet when you are well and truly hooked and run out of virtual currency, that is when the operators deliver the coup de grace.  How?  Well, by effectively forcing virtual currency top-up purchases.  No matter how you look at it, that hardly makes these games free at all.
Key Attractions at Social Casinos Mirror Conventional Online Gambling Sites
In virtually every other respect, social casinos are mirror images of online gambling sites.  Games are developed and supplied by third party casino game developers which, in the case of Springbok Casino, is RealTime Gaming, of course. 
You will find the usual suspects listed on the social casino games page, with lots and lots of social casino slots leading the player pack, together with a handful of true-blue online gambling classics in the blackjack, poker and roulette genres. 
Discounted Virtual Currency as a One-Off Welcome Bonus 
As with conventional online gambling platforms, new players who sign up at social casinos are eligible for welcome bonuses.  Here is another factor to consider.  Rather than getting free spins, free bets or free cash, the 'free' bonuses at social casinos are usually in the form of discounted virtual currency packages!
Now that is hardly free online gambling in anyone's books.  Where Springbok Casino rewards players with free no deposit bonuses, three-part welcome bonuses, cashback bonuses and comp points, social casinos make you pay for your welcome bonus, whether it is discounted or not. 
Pay Real Money for Extra Casino Chips and Levelling Up
To be absolutely fair, the vast majority of social casinos basically bankroll new players.  How do they do that? By giving them a limited amount of free chips to get them going.  The best social casinos also tend to allocate free chips to players based on their login frequency and the time spent spinning the reels. 
Once the virtual currency cache has been depleted, however, the only way to continue playing the game is to buy more.  As there is nothing virtual about the cash you have to spend in order to play the game, this is one of the few areas of the social casino that is firmly couched in reality! 
Besides buying chips to bet on slots, blackjack, roulette and video poker, you can effectively buy your way deeper into a game by paying to unlock new levels… and with the new levels, 'bigger bonuses'.  Now how bourgeois is that?
Quality and Quantity: Social Casino Games Fail on Both Counts
Springbok Casino is rated the best online gambling platform for South Africans for a number of reasons, not least of which is the quality of our gaming software.  As we have already mentioned, our casino games are developed by one of the giants of the industry and that is none other than Real Time Gaming or RTG.  
Besides the smooth functionality and rich and immersive graphics that are standard in all our games, the quality of the audio and animations is unmatched.  Visit a social casino and hit the 'play now' button and you will be bombarded with a small selection of casino games that are mediocre at best.  You will find that they load more slowly on your desktop, laptop or phone, have average graphics, audio and game play - and are not quite perfect when it comes to overall performance.  
Besides the average quality of the social casino games, the quantity of available titles is much lower than what you will find at top ranked online casino destinations.  Where you can play 20 to 30 games at the social casino, you have access to more than 280 unique gaming titles right here at Springbok Casino!
A Festival of Real Money Fun or 'Gratis' Gameplay with No Cash Wins?
To conclude - why are social casinos so dangerous?  When it comes to deceit, these gambling destinations take first prize.  Although they advertise free casino games, the reality is that if you want to progress through the different levels of the game and go head to head with the top players, you have to spend money to make money. 
In this iteration of gambling however, it is only the money you spend at the social casino that is real. The winnings that you do manage to accrue are virtual in every way.  There is no opportunity to cash out any real winnings that will line your pocket with actual cash.
Enjoy Online Gambling at Springbok Casino where Free-Play & Money Wins are Real!
Sign up at Springbok Casino and you really do have a festival of real money fun available at your fingertips.  We also offer free play bonuses that are genuinely free, whilst still having the potential to generate real money payouts. 
As for our multi-part R11,500 welcome bonus whopper – although it requires money deposits on your part, it gives you a good chance of winning real cash that you can spend on anything your heart desires.  It is safe to say that there is no comparing social casinos to the truly rewarding experience that online gambling offers!