Remembering Maradona: It's Football Frenzy Time at Springbok Casino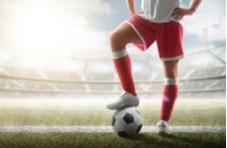 What does Diego Maradona have in common with online gambling?  Not much… other than football, a game front and centre in our Football Frenzy slot.  What better way of keeping the spirit of Maradona alive than by spinning the reels for instant cash wins?  It may not be the Hand of God that intervenes but if you're lucky and the striker is on form there is money to be made playing football online!
A Wizard on the Football Pitch
Diego Maradona was a wizard on the football pitch.  He was also an eccentric nonconformist who loved the finer things in life.  As an attacking midfielder and second striker for Barcelona, Napoli and later, Sevilla he was simply unmatched.  Despite all the titles, trophies and honours he racked up over his career, Maradona will be best remembered for his solo heroics in the 1986 World Cup quarter final win against England.
It Was Always a Frenzy of Football When Diego Maradona was Involved
Now that the final whistle has blown on the Argentinian superstar, it is time to rev up the reels at Springbok Casino.  Which of our online gambling games would have appealed to the great man himself?  Truth be told, there is really only one possibility and that is our high hit rate football themed slot appropriately named Football Frenzy.
Benefit from a Wide Array of Bonus Features 
What makes this sporty RTG slot such a great prospect?  The graphics aren't necessarily comparable to some of the rest of the HD, 3D slots on the menu – but that is not what this football-themed slot is all about.  When you pare down the game to its fundamentals, you will find an extraordinary array of bonus features that are up there with the best in online gambling.
All the unique extras are designed to enhance the probability of winning and winning substantial amounts of cash.  Who doesn't have that firmly in mind when they load Springbok Casino onto their PC, tablet or phone? 
A Choice of Two Game Modes
One of the many standout features of the high variance 50 payline slot is the ability to play in one of two game modes – Striker Mode or Lucky Mode.  The key difference between the two modes is:
all winnings in the free games are trebled in Striker Mode
a second, randomly activated Lucky Feature consisting of 8 free games is enabled in the Lucky mode. 
Grab Up to 100 Free Games
The traditional scatter activated free games feature, available in both the modes, is pretty impressive.  In fact, there are up to 100 free games up for grabs – and that is a lot of gratis online gambling even if we say so ourselves!  Factor in grouped wilds that can appear on the third reel and there is always the possibility that you'll bank a small fortune on the reels.
The Wild Striker Doubles All Wins
In addition to the dual game modes, the striker who looks like he plays for Liverpool or Manchester United is wild.  He also doubles all payline wins.  It is, however, the penalty kick bonus that really adds pizazz to the gaming experience.  During the free game time you will notice bonus black and white footballs randomly popping up on and above the reels. 
Play an Interactive Bonus Game with a Guaranteed Win
When all of the reels contain at least one bonus ball, you will be transported to a second screen where an interactive bonus game plays out.  Your job is to select a target in goal for the striker to kick at.  If he hits, you are awarded a bet multiplier that increases with every goal scored.  If he misses, no worries, as you are still guaranteed a prize.
When the striker has scored eight goals – and you have banked the maximum 100 x multiplier – or missed two, the conventional football is swopped for a gold bonus ball.  Score a golden goal with the special ball and the existing winnings are trebled.  Score again and the prize is trebled once again! 
Bank Up to 900 x the Stake at Springbok Casino
What is the most you can win during the bonus game?  A jaw dropping 900 x the stake!  That may seem like small fry when compared to Maradona's record-breaking transfer fees but when you are enjoying a bit of casual online gambling at Springbok Casino, it could just make your day! 
Then of course there is that little matter of the extensive betting range – and we do mean e-x-t-e-n-s-i-v-e.  Play Football Frenzy slot at Springbok Casino online and you can juice the reels for R0.50 up to a massive R250 a pop!  When you do the sums, that effectively means you can win up to R225k in the bonus game alone!
The Online Gambling Bonanza – RTG's Random Jackpots!
Have we mentioned the fact that there are RTG's legendary random jackpots in play?  No?  Well, there are… and they can be randomly triggered at the end of any game round.  There is a minor and major jackpot ticking away at the top of the gaming interface, one of which could be yours.
What is left for you to do?  Sign up at Springbok Casino, of course.  Once you join and claim your free welcome bonus that will fund your brand-new casino account, it is time for some fun… and by that we mean it is time to indulge in some serious online gambling!  When you do that, you can remember Diego Maradona, a great footballer but a fallible man by playing Football Frenzy slot!