What are Boiling Point Jackpots?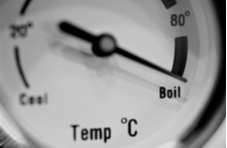 As a regular at Springbok Casino, you will know all about our jackpot slots.  They are the online gambling opportunities that can pay out plenty of cash.  Besides the RTG random jackpots and a posse of progressives, there is one category that deserves your attention – the boiling point jackpots!
How to Blow Your Stack and Win!
You are no doubt aware that the odds of blowing your stack at the casino are quite high.  When you choose to play at an online gambling platform powered by Real Time Gaming (RTG), however, blowing your stack takes on a whole new meaning.  Here is why:
Rather than frittering away your bankroll on any old game, you could be in line for an explosive cash prize thanks to one of several boiling point jackpots.  If you are wondering exactly what makes boiling point jackpots so special, here's a thing.  The actual value at which they are automatically triggered is posted for all to see.
Keep an Eye on the Jackpot Meters
What is more, the jackpot meters that display rolling tallies of each prize as it gets progressively bigger, start puffing out plumes of smoke.  The smoke gets steadily thicker as one or more meters rise to boiling point.  When the indicated maximum value of jackpot coincides with the tally on the meter, it is pay day for some lucky player in the RTG network… and it could be you!
The thing about boiling point jackpot slots is the multiplicity of jackpots.  In other words, there are several boiling point jackpots linked to just one game.  The indicated maximum value of each jackpot can vary from a low of around R100k to a high of R300k – or more!
Now that is worth a few minutes of your time as you register an account at Springbok Casino.  We are, after all, rated the best online gambling platform for South Africans by several independent affiliate sites.
Boiling Point Jackpot Tips
If you are serious about bagging a boiling point jackpot, we recommend you bet max on every spin.  When you do that, all the jackpots are active and funded by a small percentage of your stake.   If betting max is beyond your budget, one or more of the higher paying pots are disabled based on the value of your wager.
When you play boiling point slots at Springbok Casino, there is always a chance of hitting an online gambling bonanza provided you are prepared to play the high stakes game.
How to Hit a Boiling Point Jackpot at Springbok Casino
What do you have to do in order to hit one or more of the boiling point jackpots?  Other than betting max, nothing at all.  You are not expected to line up five symbols in a row or hit a defined pattern on the reels.
All you have to do is time your online gambling sessions at Springbok Casino in the hope they coincide with at least one major money blast off!
Sign Up at an RTG Online Gambling Platform
Where can you find boiling point jackpot slots?  As the guaranteed jackpots are exclusive to Real Time Gaming, you have to sign up at an RTG online gambling platform – and Springbok Casino is precisely that!
As a registered member, you have access to our mobile, instant play and download casino, all of which feature a compressive selection of slots.
Play Spirit of the Inca Slot – It's Red-Hot!
You can find our high hit rate boiling jackpots slot, Spirit of the Inca, under the progressives tab.  Not only are there five – yes five – boiling point jackpots in play, you can bank up to 2,000 x your stake in the base game.
Take Your Chance to Win 5 Boiling Point Jackpots
How are the progressive jackpots configured in Spirit of the Inca slot?  As we have already mentioned, boiling point jackpots are random jackpots that can pay out after any spin.  The only caveat is they have to reach the value posted under their respective jackpot meters first.
Spirit of the Inca Jackpot Values
Here are the five Spirit of the Inca progressive jackpots, together with their indicated maximum values and the current values at the time of writing this article:
| | | |
| --- | --- | --- |
| Boiling point jackpot | Indicated value | Current value |
| Mini | R100,000 | R71,434 |
| Minor | R150,000 | R102,361 |
| Major | R200,00 | R165,650 |
| Maxi | R250,000 | R215,125 |
| Grand | R300,000 | R264,450 |
There's a Beast of a Bonus Feature In-Play
Besides a potential R1m in jackpot prize money, Spirit of the Inca slot has an awesome bonus feature.  It is a conventional pick me feature where you have to pick five of 15 icons on a second screen gaming board.
Depending on your choice of icons, you can be awarded up to 75 free spins, boost the complimentary payline wins with multipliers that max out at 10 x and even get a few extra wilds or wild reels thrown into the gratis game time.  It doesn't take a genius to figure out that Spirit of the Inca slot is an online gambling gimme!
Find the Best Online Gambling Here
Now that you know all about our cutting-edge boiling point jackpots, it is time to check out the rest of our superb selection of games. There are more than 300 individual slots titles, all of which are available on-demand.
In between whiles, you can monitor the value of the Spirit of the Inca jackpots.  When you think one or more are about to blow, you can head right over to play this bonus-packed jackpot slot at Springbok Casino with a wad of cash in tow.  Who knows?  It may be a day to remember!