Gods of Nature, Wealth or Ancient Gods Slots – which One is a Winner?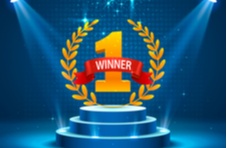 If in-game rewards are anything to go by… the gods MUST be crazy!  The question is, which online casino games take podium place and why?  Is it God of Wealth, Gods of Nature or Ancient Gods that grabs slots gold at Springbok Casino?
What is Our Rating Criteria for Online Casino Games?
How do we rate god-themed online casino games?  Like any other gambling opportunity, of course.  What really matters to our rapidly growing player base at Springbok Casino is three-fold, in other words:  How much can I win?  How easy it is to win?  What features are there to drive up the payout rate?
Which Elements Define a Top-Performing Online Slot?
When you break online casino games down based on the three key questions listed above, picking the winner is a cinch.  If you are lucky – and in this case you most certainly are – the top performing RTG online slot in terms of rands and cents is also the most functional and aesthetically pleasing.
In order to furnish all the relevant facts, we have provided a brief synopsis of each slot, highlighting key elements like top payouts, betting range and bonus features.  Are the gambling gods equally rewarding across all three online casino games?  Or is there one slot that towers above the rest?
Contestant #1: God of Wealth Slot
The god of wealth may be portrayed as a giggling, guffawing character, capable of gobbling large-bodied beasts whole, but the game mechanics in this Springbok Casino online slot is pretty mundane.  It is a virtual replica of a conventional slot machine – from the graphics right down to the sound effects.
Wild Multiplier
That said, the god himself is wild and doubles all payline wins.  He also displaces all dragons, tigers and oxen on the reels during the free games feature to create the potential for a veritable posse of payouts.  Consider a top prize of 5,000 x the line bet for five fearsome dragons in a row, throw the wild into the mix and 10,000 x is the bankable result!
How Much Money Can You Win Playing God of Wealth Slot?
How do the line bet payouts stack up in the context of real money?  When you take into account 25 variable paylines and a betting range of R0.01 to R5.00 per line, the dragon pays R50 up to R25,000 for five of a kind.  With the wild in the equation, the max payout soars to a very respectable R50k!
That is the dragon.  How about the rest of the symbols?  Well, apart from the tiger, which pays up to 5,000 x and 2,500 x, with and without the wild, respectively, the rest of the symbols generate top wins ranging from a high of 500 x to a low of 125 x the line bet.
The Scatter is the Mega-Money Generator
The scatter is another special game symbol that can give the bankroll a significant boost.  Not only does the gold ingot pay anywhere on the gaming interface, it pays up to 500 x the total stake.  With the maximum R125 bet per spin is in-play, that is a cool R62,500!
In addition to the moolah, the scatter unlocks a pick me feature capable of awarding up to 10 free games.  Last but not least, there is a random progressive jackpot waiting to pounce.
Patience and Perseverance Required
With the wild dominating the action in God of Wealth slot, it is during the gratis game time you can expect to scoop up the filthy lucre.  The only prerequisite here is patience… unlocking the free games is by no means and easy feat!
Contestant #2: Ancient Gods Slot
If your preference is basic, medium variance online casino games, Ancient Gods slot hits the mark.  It, too, is a conventional 5 reel and 25 payline slot in every sense – design, features, variable paylines and betting range.  It is, for all intents and purposes, an exact replica of God of Wealth slot… but with one major difference.
Replicating Wild
In this Springbok Casino slot, the wild plays a slightly different role.  It is represented by the fire-spewing red and gold dragon and pays up to 2,500 x the line bet.  That is R12,500 on a max bet.  The wild doesn't double the prizes but it can replicate to fill more positions on the same reel.
The gold and jade medallion scatter is the potential game changer.  It generates prizes of up to 200 x the stake – that is a tantalising R25,000 on a maximum R125 wager.  It also triggers the only feature in the game; the free games feature.
Free Games with the Possibility of Double or Treble Pays
In this RTG online slot, free games are awarded at a rate of two for every scatter and wild on the gaming interface.  When four or five triggering scatters activate the feature, all prizes are doubled or trebled, respectively.
Prepare for Sporadic Activation
Again, entering the potentially cash-rich free games feature is not easy.  It can take hundreds of spins to unlock the bonus feature.  When you are fortunate enough to hit the scatter, three matching icons are typically the norm.
In the meantime, you have to make do with low value payline wins that range from 500 x to 100 x the line bet… with a few matching firebirds, paying up to 1,000 x, thrown in.
Contestant #3: Gods of Nature slot
When it comes to the core components that create the best online casino games, Gods of Nature slot has it all.  It is a beautifully designed online slot with colourful graphics, a gorgeous rural mountain setting and a pantheon of male and female gods who are more eye candy than anything else.
The Wild Drives the Win Rate
The wild Spirit of the Sun doubles all prizes and pays up to 10,000 x the line bet.  Unlike the vast majority of online casino games, the wild is a regular visitor on the reels of this Springbok Casino slot.  So much so, it is integral to the better than average win rate.
The Spirit of the Moon scatter is equally sociable and generous.  It delivers a top win of 500 x the stake which, at a max bet of R150 a spin, is a jaw dropping R75k – and you don't have to line up the scatter, from left to right, in order to bank the big wins!
Fabulous Free Games Feature
Hit three or more scatters and you are instantly awarded 8 free games where all prizes are doubled.  Before you enter the gratis game time, there is another exceedingly generous feature in store for you.  It is a second screen pick me feature consisting of five power balls representing the elements of nature – earth, water, fire, wood and metal.  Here's how it works…
Eye-Popping Pick Me Feature
Depending on the number of triggering scatters, you are awarded two, three or four power ball picks. Concealed prizes vary from 5 x and 8 x multipliers and 7, 10 or 15 free games.  All the prizes revealed are totalled together and added to the initial free games tally – 8 free games with 2 x multipliers.
Get Up to 40 Free Games with 10 x Multipliers!
That essentially means there is a maximum of 40 free games and 10 x – yes, 10 x – multipliers in play!  Now that is what we call a bonus with a capital B!  What is even more remarkable is the frequency at which the free games feature is activated.
Why Gods of Nature Slot Takes Gold
During our online casino games test run at Springbok Casino, we managed to trigger the feature twice in less than 120 spins.  We accumulated 15 free games with 10 x multipliers and 18 free games with 7 x multipliers, generating a total of R193 and R392.30 respectively – and that is playing at a stake of R3.00 per spin!