Bubble Bubble 3 Slot: Online Gambling Showcasing More Witches and Bonus Features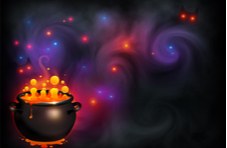 What is the online gambling equivalent of blockbuster movie franchises like Middle Earth, Harry Potter and Marvel Cinematic Universe?  A three-part online slots series headlining curvaceous cartoon-style witches with a gamut of creepy paraphernalia!
Play the RTG Bubble Bubble Online Slots Series at Springbok Casino Now
The enormously popular Bubble Bubble video slots series has recently expanded to three dynamic, aesthetically pleasing – and potentially rewarding online gambling games.  Best of all, all three titles are available right here at Springbok Casino!
Explore a Scaled-Up Version of Games 1 and 2
As a frequent visitor to our download, instant play and mobile gaming platform, you will already have immersed yourself in Bubble Bubble slot and its fantastically evolved follow-up, Bubble Bubble 2 slot.  Now, there is a third title to delight fans and, in terms of game play, Bubble Bubble 3 slot is a scaled-up version of its predecessors.
Three Witches on the Reels Equate to More Bonus Magic
Why scaled up?  Well, the coven has systematically grown from Winni the witch in the first game to Winni and Wanda witches in the second.  Load the third online casino game into the series onto your desktop or phone and you will encounter a record three witches – Willow, Wanda and Winni!
Along with more witches, all of which are imbued with magical powers, the bonus features have evolved at pace too.  In fact, they haven't so much evolved as masterfully multiplied!
Top Takeaways from Bubble Bubble 3 Online Slot
What can you expect when you unleash the latest edition in the Bubble Bubble online gambling series on your device?  How about a generous paytable, easily activated bonus features and more wild multipliers than ever before?  Yup… that is precisely what is in store for you right now at Springbok Casino!
Let us take a closer look at the key components in the game, one by one:
A Cash-Rich Paytable that can Liberally Skyrocket in Value
A standout feature of all the Bubble Bubble slots by Real Time Gaming (RTG) is the paytable.  Besides a couple of tweaks here and there, the payouts in all three games are ultimately essentially the same.
In fact, you can bank up to 1,000 x the payline bet in all three slots in the series.  Considering the 50 fixed paylines and a betting range of R0.50 to R250 a spin, that effectively means you can win up to R5,000 in the base game… and that is across the board.
Wild Multipliers Catapult Payouts into Super-Rich Territory
When you throw the wild multipliers into the equation, the posted payouts in Bubble Bubble 3 slot are automatically doubled.  When both witches are involved in the same symbol combination, the prize multiplier value soars to 4 x!
As a consequence, there is actually a top cash prize of R20,000 available on the reels… but only when the maximum R250 wager per spin is in-play.  If you prefer erring on the side of caution with smaller bets, no problem – there's still a tidy profit to be made!
Here's a spoiler alert – the multiplier values ascribed to the wilds in the second online gambling option are the best of the Bubble Bubble online slots series.
Win Up to R4,000 x the Line Bet in the Bubble Bubble 3 Base Game
In this tribute to online gambling, the witches' cauldron and spell book pay up to 4,000 x the payline bet when both the wild witches are in-play.  Thereafter, the potion bottle, witches' pointy hat and toadstool pay 300 x, 200 x and 200 x, respectively, payouts that instantly double or even quadruple when Willow and/or Wanda complete the payout permutation.
Jack-o-lanterns, from nine through ace, generate either 60 x and 75 x the line bet, apiece.  Again, the actual payouts can be much more than that!
No Way! Scatter-Substituting Wilds?
What is arguably more significant is the wild witches substitute for all gaming symbols, including the feature-triggering scatter symbol.  The upshot is more rapid bonus feature activation than ever before – and that is essentially where the money lies in Bubble Bubble 3 slot… and all the other online slots at Springbok Casino.
Besides unlocking an in-game bonus bonanza, the scatter pays up to 33 x the stake.  When betting max, that can lead to a cash win of R8,250.  This prize pool can soar in value to R16,500, or even a whopping R33k when Willow and/or Wanda make a welcome appearance on the reels!
A Choice of Three Scatter-Activated Bonus Features
We have mentioned the payouts, the expanding wild multipliers and the consistently rewarding scatter symbol which, by the way, only pays from left to right on an active payline.  Now to the online gambling showpieces, the big paying bonus features.
In Bubble Bubble 3 slot, three or more scatters on the gaming interface provide you with the opportunity to pick one of three features, namely:
Winni Returns – 20 free games with up to nine additional wilds on the reels
Wilder Witches – 9 free games with expanding wild reels.  When both witches appear simultaneously, you are awarded one of two extra features – 33 supplementary free games or a wild central reel.  If it is your lucky day, you'll get both!
Crystal Ball Respins – 3 reel respins with sticky scatters and wilds that transform into scatters.
Watch Out for Winni's Randomly Generated Magic
That is not the only online gambling bonus action to anticipate when you play Bubble Bubble 3 slot at Springbok Casino.  Winni the witch occasionally transforms low paying symbols into higher paying symbols and standard symbols into scatters.  This all whilst she's floating effortlessly on her broomstick to the left of the playing area!
Guaranteed Win-Win Feature to Spice Up the Online Gambling Action
To top off what can only be called one of the more splendid online gambling opportunities at Springbok Casino, there is a Win-Win feature.  It is only active during the Wilder Witches features.  As the name suggests, the feature awards a guaranteed bonus prize of up to 100 x the bet if you fail to bank a defined value during the free play!
A Quick Comparison of Bubble Bubble Online Slots 1, 2 and 3
Here is how Bubble Bubble 3 slot compares to the earlier games in terms of core features.
| | | | | | | | | |
| --- | --- | --- | --- | --- | --- | --- | --- | --- |
| Game | Reels | Paylines | Top Pay | Wild X Value | Top Cash Prize with Wild X | Bonus Features | Bets | Win-Win Feature |
| 1 | 3 x 5 | 50 fixed | 1,000 x | 3 x | R15,000 | 20, 9 or 7 free games with added features | R0.50 to R250 | Yes |
| 2 | 3 x 5 | 50 fixed | 1,000 x | 3 x up to 9 x | R45,000 | As above | R0.50 to R250 | Yes |
| 3 | 3 x 5 | 50 fixed | 1,000 x | 2 x up to 4 x | R20,000 | As above + Winni's random magic features | R0.50 to R250 | Yes |
Now do you see why this particular RTG series of video slots are so darn hot?  If you recognise a genuinely lucrative online gambling opportunity, you'll login to Springbok Casino now and give all three games a go!