Deluxe Slots at Our Online Casino South Africa: Achilles vs Asgard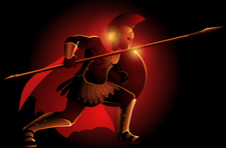 Greek and Norse mythology.  Theme aside, which is tops in terms of payouts and features?
No Frills RTG Online Casino Slots
Where Achilles Deluxe slot is a homage to the Battle of Troy, Asgard Deluxe gives the nod to the iconic gods of the Vikings and their quest for immortality.  Both online casino games are graphically enticing and feature the rousing soundtracks characteristic of the battle-hardened epochs they represent.
In short, Achilles Deluxe and Asgard Deluxe are typical RTG developed online slots.  By that we mean the focus is on important stuff like top-notch gameplay and optimal performance.  That is over and above character animations and the like.
In both instances the end product is what it professes to be – a no frills Springbok Casino slot.  That said, the simplicity of design does not detract from the overall gaming experience.  In fact, it's quite the contrary.  It allows players, like you, to concentrate on the important elements of the game.  Available bet levels, specials symbols and bonus games spring to mind!
That said, let us take a closer look at each of online casino slots before doing a tabular analysis of the key game features.  We want you to be fully informed when you wager real money at our online casino South Africa.  That way, you will have the best possible chance of winning a few bucks here and there.
Achilles Deluxe Slot
The first factor to take note of has to do with the paytable as it can make a material difference to the value of your winnings.  In Achilles Deluxe slot, the core characters in the game pay out from two matching symbols and up.
What is the significance of the partially extended paytable?  It enhances the average payout rate… and who wouldn't want a slice of that?  Let's face it.  Hitting two matching symbols is a high probability outcome.  Frequent payline wins, no matter the value, can limit your exposure at any online casino South Africa.
What are the Top Payouts in the Game?
Who are the primary characters in Achilles Deluxe slot?  Well, for one, Achilles – the warrior.  As the titular character, he pays the most of all the standard gaming icons.  Hit five helmeted Achilles on a demarcated payline and you will bank a sweet 5,000 x the payline bet.
The beautiful Helen, 'she who launched a thousand ships', is the second two-pay-and-up symbol in the cast.  Helen provides a tidy 1,250 x the line bet as the top prize.  Thereafter, the protagonists, Paris and Hector, deliver wins from two and up, with a five-for pegged at 800 x.
The low paying symbols – 9 through ace – are less generous on both counts.  Prizes start at three-symbol combinations and vary from 200 x to 400x the payline wager.  Don't let that fool you, regular hits at these payout values can mean a frequent account balance boost.
How much can you win in rands and cents playing Achilles Deluxe slot at the best online casino South Africa?  Well, that all depends on the selected bet level.  In this Springbok Casino slot, available wagers extend from R0.20 to R100 per spin.
When you take the 20 fixed paylines into account, the equation is pared down to R0.01 to R5 per payline.  As a result, you can win up to R50 through to R25,000 thanks to our intrepid warrior, Achilles!
A Versatile Wild Symbol
Yet another notable feature of Achilles Deluxe slot is the wild symbol.  It too pays from two and above and boasts a 10,000 x maximum return.  In cash terms, that is a potentially life changing R50k when betting max.  Why is this particular wild one of the more unique icons you are likely to find at the online casino South Africa?
The clue is in the additional role assigned to the wild.  Other than acting as a conventional symbol substitute, it unlocks up to 25 free games.  During this complimentary game time, scatters can morph into wilds – or the highest paying standard symbol in the game!
What is more, the scatter is capable of triggering 10 free games with 2 x prize multipliers.  That's not all folks.  There are two randomly activated progressive jackpots in the mix – one or both of which could be yours.
Asgard Deluxe Slot
When it comes to gameplay and bonus features, Asgard Deluxe slot is prolific on both counts.  It has single-handedly ramped up the gaming experience at Springbok Casino, the number one online casino South Africa.  Here is how…
Paylines have been replaced by 243 permanently active payways.  Wilds are not only conventional symbols substitutes – they are morphing wilds, wild multipliers and cascading wilds.  There are even random wild reels to bump up the above average payout rate.
Rev up the game engines of Asgard Deluxe slot at Springbok Online Casino South Africa and you are literally in for a wild ride.  Besides the sheer volume of wilds, you have a hand in selecting which options you want in play.  All you have to do is select one of the free games' features, activated by the scatter, to make your choice.
Scatter Wins Up to 7,500 x the Stake
Whilst we're on the topic of the scatter, you'll be pleased to know it pays from two to five symbols, and up to 7,500 x the stake.  What is that in currency terms?  As the betting range extends from R0.30 to R150 per spin, you can bank an eye watering R1,125 million on a maximum wager.
Thereafter, the morphing blue wild and the god Odin pay up to 500 x the payline bet. Thor, Loki and Freya generate up to 450 x, 400 x and 350 x, respectively.  Asgard and the Wiking ship offer 300 x and 250x apiece. The low paying playing card symbols, 9 through ace, deliver a max of between 100 x and 150 x.
A Tabular Comparison of Key Features
How do the big-ticket items in the games compare?  Here is a snapshot of all the important elements of Achilles Deluxe versus Asgard Deluxe online slots, such as the top prize per line bet.  Note that the scatter too pays x your stake:
| | | | | | | | |
| --- | --- | --- | --- | --- | --- | --- | --- |
| Game | Paylines | Betting Range | Top Prize | Wild | Scatter Pays | Free Games | Prog. Jackpot |
| Achilles Deluxe | 20 | 0.20 – 100 | 5,000 x | 10,000 x | 500 x | Up to 25 | Yes x 2 |
| Asgard Deluxe | 243 | 0.30 – 150 | 500 x | 500 x | 7,500 x | Free games + pick me bonus | No |
Sign Up at the Best Online Casino South Africa
Now that you know precisely how the respective 'deluxe' Springbok Casino slots are constructed, you can take your pick.  If you are not a registered player, you can easily remedy that by tapping the 'Sign Up' button at the top of the page.  Once you're registered, you can login to our online casino South Africa and play our high-paying mythology-themed slots!