What are Cascading Wins in Springbok Casino Online Slots?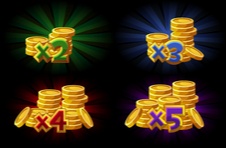 Cascading wins are one of the most desirable features at the online casino South Africa.  When they are on a roll, there is literally no limit to the gains you can make playing slots at Springbok Casino.  Here is what you need to know about the instrument of desire and how best to exploit it.
The Advantage of Playing Online Slots with Cascading Wins
When you play real money slots online at Springbok Online Casino South Africa, your objective is to match symbols on the reels.  When you do that, you are paid the cash equivalent of the corresponding payout – or payouts – posted on the paytable.  It is a once-off gratuity per spin than can consist of one or more winning combinations.
That is what happens during the normal course of events when playing the base games, i.e., the 'normal mode' of regular online slots.  You bet, the reels spin and you win one or more prizes based on the payout permutations on the game board.  That is, of course, if you manage to bag a win.
When it comes to games with cascading wins as built-in game mechanisms, all that changes… and to your advantage.  Rather than having only one chance to win per spin, the payout opportunities are literally endless.  Here is how cascading wins function at the online casino South Africa.
How Cascading Wins Work
When you hit a paying combination, you are awarded the corresponding prize.  This time, however, the winning symbols explode, burst, dissolve or simply disappear – and a new set of game icons drop into their place.  If there happens to be a paying combination generated by the new symbols set, the gameplay recurs – and continues to recure until there are no matching symbols to pump up the payout rate.
In some of the best Real Time Gaming (RTG) developed slots available at Springbok Casino, cascading wins are integrated across the board.  In other words, the feature is part of gameplay in both the base game and the additional bonus features!
In this configuration, cascading wins are invaluable.  Every time you achieve multiple symbols on an active payline, it is open season in terms of banking wads of genuine South African currency!
What are Cascading Multiplying Wins?
That is one way cascading wins are structured.  Another equally lucrative format of the feature is the so-called 'cascading multiplying wins'.  As the name suggests, there are prize multipliers integrated into the action.  You read right!
In some Springbok Casino slots, the multiplier is fixed at a certain value.  That is notwithstanding the number of back-to-back wins racked up in the same paid spin.  In other RTG online casino games, the multiplier values increase incrementally along with the number of recurring payouts.
When you play slots with cascading multiplying wins and hit two, three or four successive combinations, the multiplier value allotted to each of the payouts can be 2 x, 3 x or 4 x the total prize.
Are cascading wins unique to the RTG powered online casino South Africa?  The answer is yes and no.  When it comes to the term itself, cascading wins are instantly associated with RTG gaming platforms like Springbok Casino.  That said, there are other ways of describing similar features, such as infinireels and infinity wins.
Where to Find Cascading Wins at Springbok Online Casino South Africa
Although this is not an exhaustive list of all the RTG online slots featuring cascading wins, we have highlighted a few fabulously entertaining online casino games.  Each slot offers endless ways of winning… on a single spin.
Here is a shortened list of the online casino games with the highest potential ROI at Springbok Casino:
Frog Fortunes slot
Lil Red slot
Pulsar slot
Asgard Deluxe slot
Frog Fortunes Slot
Frog Fortunes is a 243 pay ways game with an amphibious theme and hexagonally shaped reel set.  Along with the usual standard symbols and wilds, this Springbok Online Casino South Africa slot features an exploding symbol.  It is represented by a heavily pitted bright red hand grenade and can randomly appear during any spin.
When it does, it explodes, and consequently triggers the endlessly lucrative cascading reels feature.  Any adjacent symbols affected by that particular blast pattern disappear.  New symbols automatically slot into place to deliver a repetitive pattern of play… or not!
Lil Red Slot
Lil Red is a high hit rate 243 ways to win slot featured at our top ranked online casino South Africa.  It is based on Little Red Riding Hood – the famous European fairy tale written in the 17th Century by Charles Perrault.
It too has a cascading bonus feature.  This time however the feature is only active during the free games.  It is also juiced up by a constantly increasing prize multiplier.
Wins continue to recur – or morph – until there are no more matching combos on the reels.  The prize multiplier which is displayed on an indicator on the gameboard increases from 2 x up to a max of 5 x for a fourth recurring win or better!
Pulsar Slot
Pulsar slot is set deep in the cosmos, where dwarf planets, asteroids, pulsars and neutron stars move swiftly through space.  It is a 20 fixed payline game with – yup, you have guessed it – cascading wins.
What makes Pulsar one of the more creative gaming opportunities at the online casino South Africa is the exploding neutron stars.  One or more of the stars can randomly appear on the gameboard with any number from 1 to 3 displayed within.  With each subsequent spin, the number counts down to zero.
When that happens, the star explodes in one of eight defined blast patterns.  Adjacent symbols in the firing line of the blast pattern are replaced with the same randomly selected symbol to generate the first of, hopefully, several consecutive real money wins!
Asgard Deluxe Slot
Based on Norse mythology and featuring the likes of Loki, Freya, Thor and the legendary Yggdrasil tree, Asgard Deluxe offers cascading multiplier wins as a sweetener.  This time, the money generating component of the game is found in one of four scatter activated free games options.
During the 'Free Games with Cascading Multiplying Wins' option, you are awarded 30 free games.  The complimentary game time is further enriched by recurring morphing wins and up to 5 x escalating prize multipliers.
To add to the x-factor of this standout slot at the number one online casino South Africa, there is a progressive jackpot as the main prize!
Join the Best Online Casino South Africa and Exploit our Cascading Wins Slots!
Do you want to revel in the possibility of hitting reams of recurring real money wins?  If you do, sign up at our top ranked online casino South Africa, login to Springbok Casino and play one of our popular cascading wins slots right away!  Besides the handful of slots with the feature we listed, there are plenty others with intriguing themes and loads of additional ways to win more ZAR!