How to Clear Springbok Casino No Deposit Bonus Codes Smartly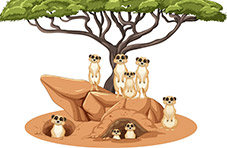 How do you convert Springbok Casino no deposit bonus codes into cold hard cash?  You play online slots with prize multipliers in the mix.  That way, you fulfil the wagering requirement and get a shot at ramping up your Springbok Online Casino account!
All About Springbok Casino No Deposit Bonus Codes
Who wouldn't want to leverage the value embedded in Springbok Casino no deposit bonus codes?  It is the kind of thing smart players do all the time.  If you want a bit of direction in this regard, you have come to the right place.
Here we break the terms and conditions of our Springbok Casino no deposit bonus codes down into easy-to-understand language.  We furthermore refer you to a brand-new Real Time Gaming (RTG) online slot that has multiplying wild action on the reels – the perfect companion to your no deposit bonus code!
If you are a novice gamer, you probably do not know too much about the Springbok Casino no deposit bonus codes.  Firstly, they are free bonuses that you can use to fund your gaming soirees.  Secondly, you don't have to deposit money into your Springbok Online Casino account first in order to qualify for the comp cash.
All you need to do is fulfil the playthrough attached to the respective Springbok Casino no deposit bonus codes in order to reap real ZAR rewards.  What do we mean by that?
How to Playthrough a Bonus Sharp-Sharp
All bonuses at all online casinos are subject to what is known as a wagering requirement.  It can also be referred to as the bonus rules or Ts & Cs – or the playthrough requirement.  This is essentially the number of times you have to bet the equivalent of the bonus at Springbok Casino.
Once you have fulfilled the requirement, you are free to withdraw whatever winnings you may or may not have accrued in your Springbok Online Casino account.  Simply put – if you fail to clear the bonus, you can't cash out.  What is more, you can't request any of the other perks attached to our Springbok Casino no deposit bonus codes.
What that fundamentally means is that if you want to enjoy a full-on gaming extravaganza at Springbok Casino, you must adhere to the playthrough conditions.  Luckily, we're here to guide you on how to do precisely that – and in record time!
No Deposit Bonus Wagering Requirement at Springbok Online Casino
What is the wagering requirement for our free cash bonuses?  That is the easy part.  It is 60 x.  The more difficult part falls squarely on your shoulders.  You have to bet the equivalent of 60 x the cash value of the particular bonus.  You also have to fund the action from your own betting bankroll.
Here is something to bear in mind – not all bets on all online casino games count towards the wagering requirement.  There is one category of games that is a shoo-in for the bonus playthrough.  That, my friends, is online slots.
When you play any of our RTG slots in the real money mode, you are automatically whittling down the playthrough – and in double-quick time.  All bets on all Springbok Online Casino slots count 100% toward the wagering requirement.  That means you can clear Springbok Casino no deposit bonus codes chop-chop.
Clearing a bonus is unavoidable.  Winning a bit of money as you fulfil your side of the bargain is obviously an overriding aim.  That is where our newly launched RTG slot fits in, as it happens to be a game with a high payout potential!
The online slot we are referring to features a mob of marauding meerkats.  These dudes might be causing chaos in the bush… but on the reels, it is a different story.
Why Play Meerkat Misfits Slot to Clear a Bonus
In our recommended online casino game, Individual meerkats are wild.  They are also multiplying wilds… and that is where the bucks are embedded in the game.
What we particularly like about Meerkat Misfits slot is the:
paytable
multi-stage free games feature
commando style wilds with prize multipliers up to 4 x
When the wild multipliers and free games feature combine, it is gas up and go time in terms of the payout rate. Here is how the feature works.
The free games feature in Meerkat Misfits slot consists of four standalone stages:
Stage 1 – 7 free games with the 1 x wild prize multiplier
Stage 2 – 8 free games with the 2 x wild prize multiplier
Stage 3 – 9 free games with the 3 x wild multiplier
Stage 4 – 10 free games with the 4 x wild prize multiplier
Each time you trigger the feature, you progress to the next stage.  At each stage, free games can be retriggered umpteen times in a single round.  As an example, you may initially be awarded nine free games but end up getting 27 unpaid spins instead.
What is arguably more significant is this.  All combinations featuring the wild multiplier allotted to that particular stage, pay out more cash.  Reach the fourth stage and you will get quadruple the posted payout. The only proviso is the wild multiplier must be part of the permutation.
What You Can Win Play Meerkat Misfits at Springbok Casino
As for the payouts, they are fair to middling.  You may not win enough in one spin to sponsor a fully paid African Safari, but it can give you a healthy head start!  In standard play, you can win up to 500 x the payline bet.  Since there are 30 fixed paylines and the betting range is R0.30 to R150 per spin, the top base game payout in rands and cents is R2,500.
When you take the scatter into account – which pays up to 100 x the stake – there is major money to be made.  In fact, the free games scatter offers up to R15,000 for five of a kind.  That is not a bad return considering you are using one of our Springbok Casino no deposit bonus codes to juice the action!
With Springbok Casino no deposit bonuses always being thrown into the mix – and a free cash bonus being part of our welcome offer – it makes perfect sense to join now!  As a signed-up patron at Springbok Online Casino, you can log in, claim your free cash bonus and head directly for the slots tab for quick ways to clear your bonus and win cash, in one go!