How to Win at Online Slot Tournaments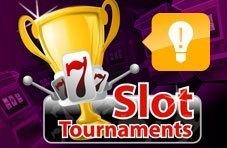 If playing your favourite slot games against the house doesn't deliver the same level of excitement it once used to, you should really consider participating in one of the online slot tournaments and competing against other fellow gamers. Not only will the contest element provide an additional adrenalin rush, but you'll also have a chance to collect hefty wins as the result of a relatively small investment. Have you considered giving our mobile version a go? To ensure the ease of playing virtually wherever you go.
The prize pool can be fixed or determined by the number of participating players and buy-in value. Springbok freerolls, for example, come with a guaranteed prize pool which can further grow depending on the number of optional buy-ins.
Whether you win or not, tournaments give you a chance to perfect your skills, and as we all know, practice makes perfect. You'll likely to be much happier ending up one of the winners, though, and for this to happen you'll need to find the right tournament strategy. This is where we come in, offering a few pointers and tips which can help you have fun and collect a prize at the same time.
Understand the Type of Tournament You're About to Join
There are several types of tournaments you can join, and at the very least you should understand the basic differences. Freerolls are, as the name implies, free to enter, and while they normally offer smaller prizes, it's not uncommon to also find those which reward more generously, as is the case with our monthly freerolls. Pay-To-Enter tournaments require you to pay a fee in order to join in on the action. Re-buy tournaments will allow you to buy back in after your first attempt, but will normally reset your score, while Add-On tournaments offer you to continue where you left off, with your previous score intact. Survivor Tournaments come with no add-ons nor re-buys and you play in a knockout type of structure.
While tournaments can be daily, weekly or monthly, allowing you to choose when you'll play during a defined time period, Sit and Go Tournaments kick off once the minimum number or participants are registered and normally last for a short period of time, such as thirty minutes to an hour.

Before you sign in, get informed about the type of tournament you're about to join. Is it free, and if so, does it allow add-ons? If you need to pay, what is the fee? How long does the tournament last and is it important to show up the minute it starts?
Understand the Slot
If the slot you'll need to play in the tournament is one you're not already familiar with, take time to get to know it. You don't necessarily need to invest cash in order to do it, just use the free play option. It's obviously better to know what to expect before the tournament starts, rather than having to learn about min/max bets, payline flexibility and various options and features while you're already in the competition.
Be Fast
Sometimes there is a short time limit within which you have to complete your turn, and not managing to use up all your available chips is a wasted opportunity. Don't be over cautious with your bet size just to make the money last longer, and keep your finger on the spin button to spin the reels as fast as you can.
Concentrate
It's not necessarily easy to be fast and focused at the same time, but losing your concentration might have a negative impact when you trigger a bonus round which prompts you to perform some sort of action. Some games come with features which give you a choice, such as a larger number of free spins with a smaller multiplier, or fewer spins with a high multiplier. Making a smart choice in such situations could decide whether or not you end up among the winners, so make sure to remove all potential distractions from your environment while you play. Surely you can survive a couple of hours without checking your email or having a look at what's new on Facebook.
Play Every Payline
Whatever you normally do, consider playing each and every payline while participating in a tournament. By playing less than max, you might miss out on lucrative combinations formed on the lines you chose not to play. Additionally, certain bonus rounds will require that all paylines are active in order to be triggered.
Use Add-Ons or Not?
If you are after the main prize and you're playing in a tournament which allows re-buys or add-ons, play aggressively and take advantage of additional chips offered. Making use of re-buys will let you get back into the game for a relatively low buy-in, and add-ons can give you an upper hand vs your competitors.
There's Time to Play, and There's Time to Celebrate
If you win big, keep cool and keep playing. Don't waste time enjoying fancy animations or phoning up your friends to share the good news. There'll be plenty of time for that later, once your name is safely recorder high up on the final leaderboard.
You are probably well aware that slot machines are a game of chance and there's no way you can influence the outcome of your next spin. However, there are certain elements which can give you an advantage, so why not use the opportunity to increase your chances of winning? The thrill of being the best is a powerful one, not to mention getting to collect cash prizes without risking large sums of your own cash.