Everything You Need to Know About Comp Points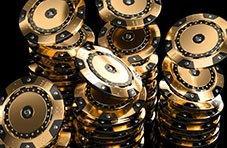 What is gambling?  At first glance, it may seem like a cut-and-dry answer.  Buy credits, bet credits, win or lose credits.  But it's really about a lot more than that.  It's about developing a relationship with your choice of online casino.  Do you have fun there?  Are there perks - bonuses and promotions?  Does the staff treat you well?  Are the logistics clear and simple?  Is banking safe and secure?  Do you feel valued by the casino staff?
Unless you're a resident of a restricted country which an online casino is unable to serve, you'll be receiving plenty of gifts as a thank you for your membership and loyalty. And when it comes to the latter, the mechanism which is often employed uses loyalty points called Comps. Different gaming sites have different rules as to how you accumulate them and feature different prizes your Comps can be exchanged for.
Your loyalty matters, and gracing a gambling venue with your presence (and your cash!) should be appropriately recognised and valued. That's why we want to share important elements you should take into consideration when deciding who to be loyal to. 
What Counts: Deposits or Wagers?
The majority of online casinos will give you Comps for real money wagers. You place your bet, you earn points – and that's exactly how it should be! Some, however, provide points based on your deposits. That might be good for the casino, but it's not such an attractive proposition for a player. Why? When wagers count, your "recycled" cash, or the amount you win, keeps earning points whenever you use it to place bets. Theoretically, you could continue to accumulate them without having to make a single additional deposit. When points are given only when you top up your account, you could be playing 24/7 and still get zero recognition.
Cash or Gifts?
Some online casinos offer that you simply redeem collected points for cash. It's not only easy and straightforward but really the best way to know for sure how much each Euro or Rand wagered brings back. The money you earn through point conversion is yours and yours alone. You can decide to let it pile up, use it to play, or withdraw immediately. That's the way Springbok does it! Each time you wager R10 you'll earn 1 Comp Point, and every batch of 100 Points will bring back R1 in cash.
Alternative options such as bonuses and free spins are also rewards with measurable values, though in a way they take the decision out of your hands. It's no longer the case of "my money, my choice" and you certainly won't be able to take it home instantly. If you don't have an issue with someone else deciding, freebies which allow you to play for free will surely be a welcome gift.
Other gaming venues will invite you  to use your points for "purchasing" gadgets and various physical prizes. It's possible that you'll find one you've been pining for and use this opportunity to treat yourself, though make sure you're not actually paying top retail price. More often than not, items on the list will be either mildly interesting or not interesting at all, simply because no one can provide the choice big enough to satisfy everybody's taste.
Cash-to-Points Ratio
There are two sides to this equation: how much real cash do you need to wager to earn 1 Comp Point, and what's each of them worth? Eventually what you're calculating is the return on your investment. If, for example, Casino A asks you to spend R10 for 1 Point, and pays R1 for 100 Points, and Casino B "charges" R7 per point and redeems them at the rate of R1 for 200 Points, which would you choose? Is option B better because you earn points faster, or should you go for option A because it pays for 100 Points instead of 200? Let's do the math! With the first, you'll be investing R1,000 (100x R10) to get back R1, and with the second you'll have to wager R1,400 (200x R7) to receive R1 in cash. Clearly reward cash in Casino B comes at a higher price. 
Is There an Expiry Date?
In some cases, Comps are perishable goods. In the event that you don't use them during a certain period of time, or you're absent from the casino for a while, they'll vanish into thin air. This is another element to be checked when evaluating a Comp Point scheme. At the very least, make sure to know how fast you need to exploit them so you can spare yourself the disappointment of seeing them wasted.
Can You Earn Points Faster?
Some gaming sites will give you a chance to earn Comps faster than the regular rules would allow. This is frequently done by naming the game of the month which, when played during that particular month, awards points for half the value of the wager, or gives twice as many points for same bet size. Springbok uses this mechanism to treat you to Points for only R5 each, instead of the regular R10. The faster you collect them, the sooner you'll be able to withdraw or use for further gaming. 
What Else is There?
Finally, a word of caution: don't let Comp Points scheme be the most important deciding factor when choosing where to play. We fully support joining a casino where your loyalty earns you tangible rewards, and there's hardly any mechanism which does it as well as point collection. However, would the most generous gifts make you happy when faced with a poor choice of games? Would free cash feel as rewarding if it takes forever to get the money transferred into your bank account? How much value does a gift have when it's being offered by a dishonest party and might never actually reach your hands? The winning formula always involves a trustable partner, great selection of games, attractive promotional offers and fast cash-outs. And if this partner is happy to show their appreciation for your frequent visits through Comp Point program, you're probably looking at the love of your (gaming) life.