Online Casinos – Instant Play or Download?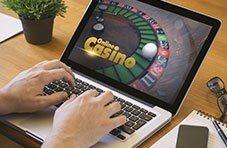 If you've just discovered the benefits of playing casino games online, you might still be confused when it comes to two options online gaming venues provide – instant play or download. Which is better? Which should you go for? The truth is that each option has its own advantages, so to try to help you make the right decision, we'll quickly explore both. 
Download Casinos
A download casino requires that you download free software with all the games on to the hard drive of your computer. This doesn't mean you'll have no need for an internet connection. If you want to play for real cash, game outcome (including financials) still has to be recorded on the casino's server which you can only connect to via the internet.
In the beginning (we're talking mid-1990s), gaming sites have operated exclusively on the download basis. The main reason was inadequate internet speed which couldn't support video movements such as spinning of the reels. Because of this, there are still more downloadable games today, and many of the original ones are not available in instant-play format. Consequently, when an online casino offers both, you'll normally find significantly bigger choice available through the download version. You'll also frequently see additional  options and features available only if you download the software, such as, for example, opportunity to participate in tournaments and freerolls.
Since graphics and sounds are the "heavy" part of the game, downloadable games often feature better visuals/animations and more realistic sound effects ( because these are stored directly on your computer) and smoother gaming experience than "light" Flash versions (because the system responds quicker). This is however changing as the internet speed improves.
Obviously, installing additional piece of software onto your computer inevitably takes up your hard drive space. You will not experience a big issue if you've got only one or two, but it could become a hassle if you've chosen to play at dozen different download casinos. But the main disadvantage is probably the fact that they are only compatible with Windows and no other operating system, which is bad news for users of  Mac or Linux. 
Instant Play Casinos
Also referred to as Flash casinos, Instant play casinos need no software to be downloaded. All you have to do is select a game from the casino's website (having logged in if intending to place real money bets), launch it, and it will open in your internet browser (such as Internet Explorer) using the software from the operator's server. Clearly, internet connection is a must, and Flash plug-in has to be installed and working. Therefore one of the main advantages of instant-play casinos is that your hard disc space remains uncluttered no matter many how many different gaming sites you play at. Additionally, if you get tired of or dissatisfied with the operator, you won't have to uninstall the software; just leave the website and move on to another. 
Which is Better: Download or Instant Play?
This question doesn't come with one right answer, it all depends on your preferences. To know which is best for you, ask yourself these questions: Where are you playing from (e.g. personal or company's computer, what is the internet speed etc.)? How many and which games do you want to be able to access? Are the functionalities offered only via download version important enough to justify installing a piece of software?
If you want to have the biggest choice possible and exploit all options an online casino provides, than software download is the right way to go. Just make sure to choose one or two of your favourites so that it doesn't take up too much of your hard drive space. If you're looking for flexibility, want to play at many different gaming sites, and/or work with the system which is not more than a few years old,  Instant-play option might be the way to go. In the end, why not exploit the best of both worlds? Download the casinos you like the best, and use instant-play to try out new ones. 
Because we understand different players have different preferences, Springbok offers their members both options via the same site. The choice in the end is yours, and that's just how it should be.