Slot Games With "Feature Guarantee"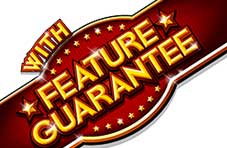 Fans of Springbok Casino titles will know that many of their slots, especially those from the Reel Series, come with an abundance of bonus rounds and randomly triggered progressive jackpots. How much you manage to benefit from them is mostly a question of luck. However, some slot games come with a unique element called "feature guarantee". The name itself might be a giveaway, but let's have a closer look at how it functions and why it's appreciated by fans everywhere. 
What Is "Feature Guarantee"?
To start with, you have the regular features triggered by landing a required number of Scatters or Bonus symbols. Sometimes you'll get very lucky and activate them multiple times in a short period of time, other times it might feel as if lady luck has left your side forever. The latter is exactly when you'll benefit from Feature Guarantee. What it does is that, should you fail to trigger the feature in a certain number of rounds, it will be launched automatically. Slots offering this benefit come with a meter showing how many more non-triggering spins you'll have to play before Feature Guarantee kicks in. To put it in simplest possible terms, this is an insurance that sooner or later special feature will become accessible, no matter what. 
RTG Slots With Feature Guarantee
Naughty or Nice Spring Break
In the sequel to hugely popular Naughty or Nice, Santa takes his lovely assistants for a holiday in Florida where they'll be enjoying  cocktails on the beach and you'll benefit from 2 Wild girls and 2 special features. Naughty Girl feature awards 10 free games during which Wild triples the prizes and Naughty Girl awards one of 3 bonus games – additional Wild icons, Wilds acting as Scatters, or Wild reels. Nice Girl feature launches 10 free spins, doubles the wins and also offers one of 3 bonus rounds – either cumulative doubling of the rewards, grouped Wilds, or instant cash prizes of up to 500x your bet.
In this slot Feature Guarantee game comes with an optional side bet which lowers the number of spins needed to automatically activate the feature. Feature Guarantee meter will be displayed once there are 25 spins remaining before the automatic trigger kicks in. Each time you manage to activate it yourself, the counter resets to between 50 and 500 spins (without Extra Bet), or between 26 and 250 rounds (with Extra Bet). You can also attempt to trigger Feature Guarantee at any point while meter is displayed by getting a green slot to appear in the indicator window of the feature reel. 
Megasaur
Megasaur slot takes you millions of years into the past to chase long-extinct creatures across 5 reels and 25 paylines. Red and Green ones are your two grouped Wilds, while Scattered Volcano launches Megasaur feature and awards up to 10 free games. Should green or red Megasaurs appear during the feature, they'll replace any other dinosaurs by eating them. Win-win feature guarantees you won't be leaving free games round with zero profits; in case you should be extremely unlucky and score no winning combos, it will award 250x your bet.
If you don't manage to activate Megasaur feature by landing the required number of Scatters, Feature Guarantee will trigger it within 26 to 250 spins and award between 6 and 50 free games. Whenever the Feature Guarantee meter is displayed (which is as of 25 remaining spins), Instant Trigger allows you to try to launch it yourself. 
The Elf Wars
Rudolph turns nasty and takes a group of rogue elves into a war against Santa and nice elves – how's that for a creative storyline? Elf Wars video slot comes with 5 reels, 50 paylines, and a portion of your bet going towards the Feature Guarantee (which means in this game side bet is compulsory rather than optional). Santa and Rudolph act as substitutes, while both good and bad elves take on the role of Scatters.
Grouped with their mates, elves will trigger a re-spin or launch the Pick feature which in turn triggers one of four other features. Santa Strikes Back launches free games with an increasing multiplier, while Jackpot Spins feature reveals a wheel which you'll get to spin 3 times to activate Santa Strikes Back feature, or win instant prizes or the progressive jackpot.  Rudolph's Revenge launches free spins with additional Wild icons and all prizes multiplied, and Rudolph's Rampage reveals Santa's ransacked toy factory and prompts you to find missing elves to collect up to 50 free spins with extra Wilds, quadrupled prizes or expanding Wilds.
Feature Guarantee ensures that one of the four features gets automatically triggered should you not manage to do it yourself within 150 spins. This slot also includes Instant Trigger Chance allowing an attempt to trigger Feature Guarantee before 150 spins have been played. 
Summary
If you've ever experienced frustration when, having played thousands of rounds, the elusive special feature simply refuses to activate, you'll surely appreciate Feature Guarantee. It makes sure that, no matter how unlucky you turn out to be, it will never take more than a few hundred spins to benefit from lucrative bonus rounds. If you like how this sounds, feel free to try some of the other RTG slots such as Aztec Treasure, Bulls & Bears, Dream Run, Hairway to Heaven, It's a Mystery, Mice Dice and Polar Explorer.