Win-Win Feature in RTG Slots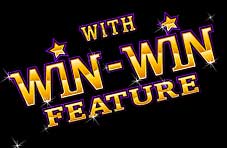 Can you remember how many times you've struggled to trigger a free spins round, and following the initial excitement having finally launched it, ended up disappointed with the resulting wins? You're not alone, the same has happened to each and every slots fan out there. Spinning the reels should be fun rather than frustration, which is why Realtime Gaming have invented something called Win-Win feature. Read on to find out what it is and how you as a player can benefit.
What is Win-Win Feature?
Win-Win feature serves as a kind of compensation for unsatisfactory wins achieved while spinning for free. The "unsatisfactory" element is defined as the free games win equaling 10 times your triggering bet or less, and once that condition gets met, the feature will automatically activate. Depending on how much you managed to score while spinning for free, the Win-Win feature will award between 2x and 250x the triggering bet. Respective prizes tend to vary from one slot to another, and in some feature activation requires that you play with all available paylines. Let's have a look at a few RTG slots to further explain how exactly Win-Win operates.
RTG Slots With Win-Win Feature
Bubble Bubble
Enter a scary graveyard and you'll come across reels populated by black cats, ravens, and various other animals and objects commonly associated with witches. Vinni the Witch is Wild and will only appear on reel 3 to help you land winning combos and triple the prize. Scatters trigger one of 3 features – either Great Ghosts, Wild Witches, or Bewitched. The first launches free games with Wild Ghosts flying onto the reels after each Scatter win, the second will let you spin for free while Vinnie casts her spell to turn entire reels Wild, and the third awards free games with Vinnie taking over the middle reel. Win-Win feature comes in play during the Wild Witches bonus round and will pay a bonus if your overall free spins win is 10x the triggering bet or less. A win of zero awards a prize of 100x your stake, and any other amount will deliver between 5 and 10x your bet.
Triple Twister
As approaching twister makes farm owners panic, their stock runs across 5 reels and 50 paylines in search of a hiding place. Twister is the substitute which will only land on reel 3 and triple the win each time it helps create it. Scattered Weather Vanes trigger the Triple Twister feature and launch free spins with Wild icon replicating itself to 1 or 2 additional reels. As with Bubble Bubble, should you be unlucky enough to score no wins while spinning for free, Win-Win feature will award 100x your bet. Scoring a win bigger than zero but less than or equal to 2x your stake, pays out 8x the triggering bet, that which is bigger than x2 but less or equal x5 triples your bet, and a win greater than 5x the bet doubles it.
Basketbull
Bulls playing basketball? Well why not, in the world of online slots anything is possible. Join the unusual crowd on the basketball court and test your shooting skills. Basketbull himself is your Wild icon, substituting for all except Scattered Balls which trigger Free Throw feature and award up to 96 free games with all prizes tripled. Each triggering icon will give you one chance to throw the ball, and each successful throw double the number of free games. Win-Win feature is activated according to the familiar rule and awards a prize of either 5x your bet (for a win of >5-10x bet), 10x (if you won >2-5x bet), 25x (for >0-2x bet), or 100x the triggering bet in case free spins themselves have made no impact on your balance.
Mice Dice
Mice Dice appropriately plays in a casino and features 5 reels and 25 flexible paylines. Gambler Mouse with dice in hand acts as a substitute and launches the Free Games feature. All of the triggering dice will roll, their sum determining the number of free spins and awarding a multiplier of up to x12. Feature Guarantee ensures free games will be activated within a given number of spins, while Win-Win feature guarantees you'll leave the bonus round with a minimum of 5x the bet (when your win is greater than 5x but less or equal to 10x your bet) and up to 50x the triggering bet (if you won nothing while spinning for free). Do note that Win-Win bonus feature can only activate when all 25 lines are being played.
Hockey Hero
Hockey Hero also allows you to play between 1 and 25 active paylines, but as the name would indicate, this game takes the action into the skating ring. Wild Player only appears on reels 2 and 4, doubling the prize each time it helps create a winning combo. Scattered Penalty Boxes launch Free Games feature, removing all low-paying Peanuts symbols and adding a Clock to reel 1. After every 3 free spins, another symbols disappears from the reels and one more Clock gets added. The feature continues until you use up all free games or 2 Clocks appear on the reels at the same time. Win-Win feature will activate should your bonus round win equal 10x the triggering bet or less, but only when playing with all paylines active. Starting at 5x your bet as a minimum feature reward, it can pay as much as 200x the triggering bet for total free game win of zero.
Megasaur
Megasaur is another RTG slot that combines Feature Guarantee and Win-Win feature. Having taken you millions of years into the past, the game will provide 2 kind of grouped Wilds along with Scattered Volcanos which trigger the Megasaur feature. As the reels keep spinning for free, Wild Megasaurs will eat their fellow dinosaurs and take their places. Win-Win feature has the potential to pay as much as 250x your triggering bet and make sure you won't be leaving the bonus round unhappy with the size of your catch.