Online Casino Games: Wagering Explained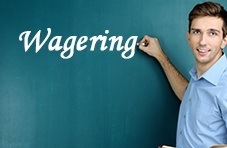 In a highly competitive online gaming world, players are constantly being bombarded by a variety of tempting promotional deals, be it deposit bonuses, free spins, cashbacks, or some other kind of freebie. Though they're often accompanied by the word "free", it doesn't mean these treats are immediately yours to do with them as you please. In 99% of the cases, promotional offers come with a little something called "wagering requirements" (also referred to as play-through requirements),  which need to be met before you'll be allowed to walk away with your winnings and potentially the bonus itself.
While not the most popular element of an online casino's offering, introduction of wagering requirements was necessary to prevent abuse of the bonus system. Back in the old days, numerous players were opening accounts simply for the benefit of welcome offers and made sure to cash out as soon as possible, costing casinos large amounts of money. This is basically an insurance policy against a huge financial risk, and while you'll have no choice but to comply, it's critical to understand what you're committing to when saying yes to any of these offers. To help you out, we'll explain what wagering means and provide a few examples along the way. 
No-Deposit Bonuses and Wagering
Occasionally you'll find an online casino offering a no-deposit bonus. This means that, having opened an account, you'll be given a certain amount of money to play with and test the casino risk-free. Normally there will be a maximum resulting win one can withdraw, but not before wagering requirements have been met. You'll see these expressed by a number and an "x", defining the number of times you'll need to bet the bonus amount before qualifying for withdrawal.
Let's say you have registered at a site offering R100 no-deposit bonus which needs to be played through 60 times. Having used the "free" cash, you manage to win R1,000. Before the operator releases this money, you'll have to bet an amount equaling  60x R100 (initial bonus) = R6,000. 
Match-Bonuses and Wagering
When it comes to deposit bonuses, wagering requirements are linked either to credited bonus amount, or the sum of bonus plus deposit. Make sure to read fine print to understand which of the two is being requested. Let's say there are two casinos offering 100% deposit bonus up to R1,000, one with 35x play-through requirements and the other with 50x. The first seems to be a better deal, right? Maybe not, let's explore. The first gaming site says bonus+ deposit amounts have to be wagered 35 times, meaning that having deposited R500 and claiming another R500 in bonus, you'll have to bet the amount of 35x (R500+R500) = R35,000. The second one asks you to play through credited bonus 50 times, requiring that you stake 50x R500 = R25,000.
So what happens if you request a withdrawal before you've met the above conditions? In most cases, both the bonus and your winnings will be void. If at any point you're unsure whether you've completed wagering requirements or not, check by contacting the operator's customer support service. 
Free Spins and Wagering
Free Spins come with same kind of strings attached, only expressed in a slightly different way.  Instead of having to stake X times the credited bonus amount, wagering applies to winnings generated while spinning for free.  Let's say a casino offers 50 Free Spins, subject to play-through requirements of 40x, and having played all 50 spins, you manage to win R500. Before this amount becomes available for withdrawal, you'll have to bet 40x R500 (win) = R20,000. 
Restrictions Related to Wagering
The most important wagering-related restriction comes in the form of game contribution. What this means is that not all of your bets will count the same towards completing play-through requirements. Normally, money wagered on slots contributes 100%, and if you stake R1,000 on spinning the reels, the amount which needs to be wager will be decreased by R1,000. Poker, on the other hand, might be contributing only 10%, so that R1,000 staked on chasing a Royal Flush counts only R100 towards the target. It's also not uncommon to see that bets made on certain games, be it video pokers or table games, do not count at. Some gaming sites determine game's contribution based on its RTP (theoretical return to player) – the lower the RTP, the bigger percentage of your bet counts, allowing some of the games to contribute even more than 100%.
Another important restriction is time: each promotional offer comes with a time period within which play-through requirements have to be completed, most frequently 30 days, though in some cases you'll be given as little as 7 or as much as 90 days.
Finally, as a rule, casinos will limit the size of the bet you're allowed to place while playing to meet wagering requirements, and should you happen to go above, your bonus balance will be forfeited. 
Wagering Checklist
Prior to claiming any promotional offer, it's crucial that you read the respective T&C and check the following:
How much is the play-through requirement attached to that particular offer?
What does it apply to – bonus / deposit, bonus + deposit, resulting winnings?
Which games contribute, and how much?
What is the period within which wagering requirements have to be completed?
So you see, the answer to the question "what is gambling at an online casino all about" is not so simple.  There are many, many variables to be considered.