Highest Slot Machine Wins in History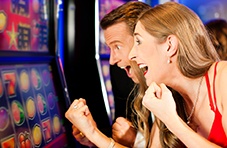 Even if you're in it primarily for the fun, it's hard to imagine the thought of winning millions while spinning the reels of a slot machine has never crossed your mind. Some of us openly admit we're after the mega win which would turn us into (multi) millionaires and change our lives forever. Others are enjoying the game and rejoice at every single win, no matter how big or small, but still occasionally dream about what it would be like to hit the headlines: The biggest slot machine winner ever!
The odds may not be in your favour, but it's definitely not impossible. We'll share a few stories about some of the most impressive slot machine wins in history to demonstrate it can and has been done.  
Las Vegas Players Celebrate Mega Wins
For one reason or another, the highest slot machine wins have been recorded, where else than in Las Vegas. In August 2016, a Hawaiian lady managed to collect close to $11m after betting only $3 on a penny slot machine. The same city was fortunate for a 66-year-old from Nevada, who has claimed almost 19m and is probably to this day the largest jackpot winner on penny slots. And imagine, slot games were not even his thing; normally the gentleman got entertained by gambling on video pokers!
While surely there's none of us who wouldn't be ecstatic to be in either of their shoes, these are not the biggest-ever wins in Vegas history; the largest jackpot recorded at the gambling capital of the world was just short of staggering $40m. This impressive amount was won by a 25-year-old engineer from Los Angeles, after having staked $100 on a Megabucks machine and beating the incredible odds of 1 in 16.7 million.
We all think that scoring a jackpot is kind of like getting hit by a lightning – unlikely to happen to the same person twice. However, there are players who have managed to collect more than once, one of them being Mr. Elmer Sherwin. He was 76 when he won a Megabucks jackpot in the amount of $4.6 million, after which he went on a trip around the world – probably travelling first class and staying in 5-star hotels. He also continued playing, hoping against the odds that lady luck would be equally generous one more time. In fact, she was even more so. Sixteen years after having won big the first time, Mr. Sherwin played the same jackpot and this time walked away with $21m in cash. Lucky bugger, right? But also a generous person, as he gave a lot of his fortune to charity. Guess he's seen enough of the world by then… 
Win Big in South African Casinos
The kind of fortunes won at Las Vegas are difficult to replicate anywhere else in the world, but we've seen some pretty impressive wins happen at South African land-based casinos as well. Earlier this year, Mr. Klaus Barnard was attending a function at Grand West together with his wife, and on a spur of the moment decided to play a spin or two on his favourite slot machine before retiring for the night. Things were not going great so he got up to try another slot game, but came back once he found the machine was occupied. A good thing too, because with the help of free spins and a pick-and-click bonus round, Mr. Barnard ended up R10 million richer. While this lucky player has managed to win more-than-decent amounts one or two times before, they came nowhere close to this little fortune. So it's no wonder that Mr. Barnard was shaking with shock when attempting to phone his wife and give her the good news. How much would you bet that it took a while before she believed him?
Eventually, it just goes to show the most generous payouts can happen when you least expect them, and someone will be collecting millions while playing slots maybe as soon as tomorrow. That someone could be you, why not? Regardless of whether you're playing in a land-based or an online casino, life-changing fortunes are only a spin away.