Progressive Jackpots: A Life-changing Opportunity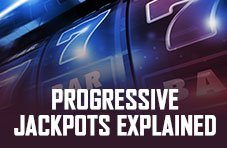 If you've ever played a casino game, whether online or in a brick-and-mortar gambling establishment, chances are you were at some point tempted with huge amounts offered by those featuring a progressive jackpot. It takes only one spin of the reels or one good poker hand to see your balance massively increase, and not long after experience the same happening to your bank account. Having bought a round of drinks for friends and family (and everybody else who happens to be at the bar), you'll be deciding which of your dreams to make true using this hefty cash amount. Sounds interesting? Then make sure you know all there is to know about progressive jackpots and go exploit this life-changing opportunity.
What is a Progressive Jackpot?
Progressive jackpot games feature jackpot value which increases with each real money bet placed, making it expand progressively – hence the name. The respective jackpot meter will demonstrate this perfectly, just watch as it keeps growing right before your eyes. Since every bet contributes with a tiny percentage, progressives are usually significantly larger than fixed jackpots you'd find on other games.
There are different kinds, though. A progressive jackpot can be attached to one particular game or linked to a network of machines. Within the latter you'll find in-house progressives which are linked over several games operated by a casino –either a single one, or a number of them owned by the same gaming company. These jackpots tend to be bigger than standalones and hit more often than the multimillion wide area progressives. The biggest jackpots, those we like to refer to as "life-changing", are normally those which link a game over a number of different, unrelated casinos.  
When you're playing a progressive game, don't forget to check the rules related to eligibility. Some games will require that you bet maximum amounts in order to stand a chance of winning it, and having failed to do so may see you trigger requested combination and not receive the top payout simply because your stakes weren't large enough. Knowing that progressive jackpots are not exactly won on daily basis, this would surely be a massive disappointment, though easily avoided. 
Slots with Progressive Jackpots
RTG is one of the developers renowned for their progressive slots. At Springbok Casino you'll find the popular Aztec's Millions currently displaying more than 18 million Rand, Megasaur which promises to pay well over 10 million Rand, along with multimillion Jackpot Pinatas, Shopping Spree II, Spirit of the Inka and Jackpot Cleopatra's Gold.
In Aztec's Millions the progressive jackpot is triggered by symbol featured as game logo, five of which will need to land on a payline to scoop this massive win. Meanwhile you'll get to enjoy re-triggerable free spins with all prizes tripled, as well as more-than-decent payouts provided by Wilds and other game icons. In Megasaur the three jackpots can be won only while spinning for free (meaning you've launched the Megasaur Feature) and are linked to your bet level; playing with max stakes is needed in order to activate all three. If Minor jackpot is active, you'll be paid 10% of the jackpot, Major jackpot will cash out 20%, and Mega Jackpot will let you have all of it. This slot comes with Feature Guarantee which ensures the Megasaur Feature will trigger within 26 to 250 spins. 
Table Games with Progressive Jackpots
If you thought progressive jackpots can be won only by playing slots, here is the good news: fans of table games can have a crack at it as well. In Caribbean Draw Poker an additional bet makes you eligible for part or all of the progressive which currently stands at close to 1 million Rand. The payout depends on your poker hand, so that  Straight Flush, Four of a Kind, Full House and Flush will earn you a fixed amount or a percentage of total value displayed, and Royal Flush will deliver 100%.
Same kind of treat is on offer with Caribbean Hold'em Poker and Caribbean Stud Poker. In the first, progressive payouts are based on a five-card poker hand made with your two cards and the first three community cards dealt. Both Poker games offer to pay the progressive in full for Royal Flush, provided you've made the required additional bet.