Slots Tips that Will Bring a Smile to Your Face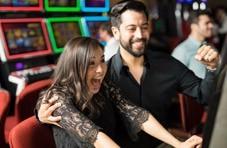 Slots are one of the most popular online games, casino or otherwise.  Since most people play slots for money, there are many sites that list tips for winning at slots.  In this blog, we'll debunk some common slots myths and give you a few excellent tips for playing slots correctly and possibly profitably.
Make Fun the Be All and End All
The developers of slots for online casinos invest a lot of money and time in making the graphics, animation, and sound quality as good as the technology will allow.  They do this because it keeps players entertained.  From the standpoint of the businesses involved, the more time you play the better.
However, you never have to make even a single bet on an online slots game.  You can play for free for as long as you wish!  Online casinos exist in a "place" called cyberspace.  As far as we know at this time, cyberspace is infinite.  Even if it isn't infinite, it will take millions of years until we reach its outer edges so for all practical purposes, it is infinite.  Land based casinos are limited by their walls.
So online casinos can let you play slots and all other games for free for as long as you like, whereas land based casinos cannot.
This means that you can emphasize the fun side of slots ad infinitum.  When you do so, you'll check out the hundreds of slots from all 150+ developers.  You can do this because technology has improved to such a degree that you can play on your internet server without downloading a heavy casino to your computer's hard drive.
There are thousands of entertaining slots online with great graphics, animation, and sound.  This is the first and best tip for slots play: emphasize the fun pastime side of the games.
Allow Your Imagination to Wander
Slots are a great way to "get into" an experience that you can't have in real life.  Technically, it's called subsuming an experience or living vicariously.  We can do this in many ways and slots are a fast paced way to do it.  You can go from one game to the next.  At Springbok Casino, we have over 300 slots and we add more every month so you can live vicariously from space travel to deep see exploration and from modern romance to ancient civilizations and much more.
Play with the Casino's Money
At Springbok Online Casino, we offer you many bonuses for up to R600 or more.  Every time you use our money to play, you get what in essence are free spins.  Free spins are the best way to score big wins in slots.  They come in the bonus rounds.  In those rounds, there may be extra ways that the wild symbol helps you win; there might be a multiplier; and you may be able to retrigger the free spins.  These are just a few of the ways you can win whilst playing with free spins.
A corollary to the excellent advice of using bonus money is to use comp points.  These points grow very fast, especially when you're playing slots.  When you convert your comp points into casino credits, it's as if you're getting even more free spins.
Stay within Your Budget
It's hard sometimes to even understand one's true gaming budget.  Here's a very good example.  A gamer decides to play for small wagers on each spin.  The gamer chooses to play a slot with many win lines.  He or she bets on each line.  This ends up being above the player's budget.
So, it's important to know how much you have to play with and to find the types of slots that will enable you to extend your gaming sessions without overextending your budget.
Progressive Games
Another aspect of handling your budget properly applies to playing progressive slots.  Progressive slots are great fun to play.  In order to qualify for the big progressive jackpot, you have to bet the maximum on the winning line.  There are many players for whom this level of betting exceeds their gaming budget.  For these players, a great tip is to set a limit on how many spins you'll allow yourself at a progressive jackpot.
The Random Number Generator or RNG controls every game so there is no greater chance of winning the jackpot on any given spin.  So give yourself a spinning budget in addition to the monetary budget.
Another great piece of advice for playing progressive jackpots also has to do with the RNG.  Since the odds of your winning the jackpot are exactly the same if the jackpot is R50,000 or R5,000,000, you might choose to play your limit of progressive jackpot spins when the jackpot has reached a given level.  Then, if you have the luck of the Irish, so to speak, you'll win a great big jackpot!
Understand the RNG
Many sites give players advice to look for a "loose" slot machine.  At an online casino, there is no such thing as a loose machine.  That's because every result of every spin is determined by the RNG - Random Number Generator.  Each spin is totally random - so that your chances of two big wins, one right after the other, are always high.
Understand Variance
The casino sets the desired return to player percentage.  For most slots the return to player percentage is about 97%.  However, some games return money to players in big chunks and some in small increments.  Most players like winning often even if the wins are relatively small.  This is called variance.  It's important to know what kind of gamer you are.  We, at Springbok Casino, do everything we can to make gaming here a wonderful, colourful, and entertaining experience.
So, we encourage everyone to play according to their personality.  If winning a sizable amount once in a while is your cup of rooibos, then certainly, go for it.  If you would rather win small amounts a lot more often, you need to find that type of slots game.
A Lot More to Say
We'll be adding to these tips every week so we'll have a lot to say about slots in upcoming weeks. In the meantime: enjoy playing slots right here, at Springbok Online Casino!