Play Online Slots for their "Fun Factor"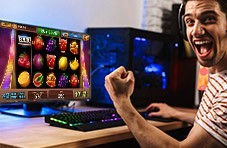 It seems that players continue to search for a magic formula—or the magic formula—to win at slots.  The plain fact is that the Random Number Generator has no knowledge of past spins.  It constantly generates random numbers.  In slots, that means random stops on each of the reels.  So, you can't know what will happen next in slots.  Online casino games are all digital, and rely on the RNG to maintain transparency and fairness.
So, when you play online gambling for real money, you should know that luck alone will determine if you end a session ahead or behind.   Although you can't "game" slots, you can certainly make a game out of them.  The return to player rate on all of the slots taken together at Springbok Casino is in the 97% range.  That means that with average luck you'll have almost as much money when you finish a session as when you started.  With good luck, you'll have more.
Introducing the Fun Factor
So, how do you know which slot to play?  We will begin a long series of articles in which we will review each of our slots and give you our subjective fun factor for that slot.
Slots Themes
Our games provider, Real Time Gaming, is always looking for new themes to develop a slot around.   As for now, we have a very large selection of some of RTG's best slots in a wider range of themes.
Today we'll review Aztec's Millions and Aztec's Treasure.  A lot of gamers love slots that are based on ancient cultures and Aztec culture is one of the most popular.  These two games are essentially the same except that Aztec's Treasure has a more modest internal jackpot and Aztec's Millions has a progressive jackpot that grows across the entire Real Time Gaming network.
So, we'll review Aztec's Millions and the review will cover Aztec's Treasure as well.
Aztec's Millions
The progressive jackpot grows as players spin the five reels all over the world.  You can watch the jackpot tracker as it moves upward.  By the time a lucky player wins the jackpot, it may have reached high seven figures and when someone wins the jackpot resets at $1,000,000!
Aztec's Millions is a five reel slot with 25 paylines.  The bet is fixed on this slot.  You bet on all 25 lines and the maximum bet is the same as the minimum bet.  In all, if you're playing in Rand, you'll be betting R12.5 on each spin.  You'll get a lot of R3 or R6 wins and also a lot of wins in R15-R25 range.  Every so often— actually pretty often—you'll get a big win that can be for as much as R250.  So a reasonable bankroll will go a long way even if you don't win the big progressive jackpot.
Important Symbols
The Aztec King is the wild symbol.  He substitutes for all the other symbols except for the scatter, as is usual in slots.  In addition to taking on the gaming value of the other slots, the King can stack a reel.  The graphics for when the King is stacking a reel are dynamic.  As visual stimulus, the reel stacking graphics are one of the reasons players love Aztec's Millions.
By stacking a reel, the King can take a normal R3 win and turn it into a Big Win.
The slot has all of the 25 lines listed on the sides of the screen and you can see which line won a spin and how much the win paid.
Free Spins
The scatter symbol is the Aztec Idol.  It wins in all positions and three or more Idols send you to the free spins bonus round.  You get more free spins with more scatter symbols.  In this slot, you can retrigger the free spins forever if your luck stays high.
The Royal symbols all represent the vast wealth of the Aztec Empire at its height.  The Aztecs were at their height of power and culture from about the 10th to the 16th centuries.  They lived in central Mexico and called themselves the Me-hica people. Their capitol city, Tenochtitlan, was at one time one of the largest cities in the world.
The Aztecs also loved games.  They had a ball game called Ullamaliztli, a board game called Patolli, and a throwing accuracy game called Totoloque.  Real money gamers will be interested to know that the Aztecs also gambled whilst they played their national games. 
Some people have speculated that the Aztecs had Biblical origins since the name of their great King was Tenoch, similar to the Old Testament names Enoch and Hanoch.  However, there is no proof to this theory and in fact the Aztecs had many gods whilst in the Old Testament is based on the belief in one God.
Winning the Jackpot
The Aztec Logo symbol is the one that gives a lucky gamer a very big win—the jackpot.   In addition to the symbols mentioned above, there are also a bejeweled necklace, a jungle tiger, the Aztec Queen, a mystery symbol that only the people at RTG know what it actually is, and a coin in variety of colours.  Some players see the mystery symbol as a shield while others see it as part of the Queen's ornaments. 
Playing slots with a big progressive jackpot requires good bankroll management.  You will win often but the wins may be for less than you bet.  So, we recommend that you set a very strict limit on your betting in Aztec's Millions.  We also recommend that you save some of your winnings after each win.  Even a small R3 win if you save the money will leave you with a sizable reserve once your original bankroll ends if it ever does.
Based on the feeling you get of a powerful non-European culture that reached great heights before its military conquest by Europeans, the powerful symbols, the great graphics, and the chance to win literally millions, we give Aztec's Millions a fun factor of 10.