Let Slots Put a Smile on Your Face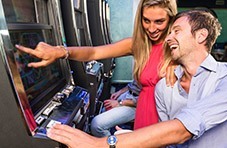 We all know that slots are a game of pure chance.  There is no real strategy, certainly not like the advanced strategy you can use in blackjack or video poker.   So, when we look for tips to give you to enhance your slots play, we look for tips outside of strategy.  You might say that in order to play slots better, you need an anti-strategy.  Here are a few of the best.
Play for Free
Everyone likes to place a bet; that's the main reason gamers go to Springbok Online Casino: people enjoy online gambling for real money.  Before you place a bet on any slots game, play it for free.  This is one of the very best advantages playing at an online casino provides over playing at a land based casino.
The land based casinos have so much overhead that they can't afford to let you play for an unlimited time for free.
Going to Places Where Man Has Gone Before
There are several advantages in playing for free.  Many gamers look to slots to take them to a faraway place or to a place in history.  That's why Egyptian, Aztec, Inca, Greek, and Roman themes are so popular in slots.  That's also why outer space is a big slots theme.  Still, not every Inca themes slot plays the way you like.  So, by playing for free you find that out at no cost.  You simply try another slot until you find one to your liking.
In our experience, it doesn't take long for a gamer to find a slot he or she likes and by playing for free you find your slots niche for free.
A Vehicle for Your Imagination
Finding a slot with the type of game play you like is one thing.  Another advantage of playing for free is that you find out if the appeals to your imagination.  Since slots are a game of pure chance, you can let your imagination "run wild" as it were.  Finding a slot that encourages great flights of fancy is what free play is all about.
Play with Bonus Money
This is actually a sub-category of the idea of playing for free.  By taking casino bonuses and playing with the casino's money, you can have a great time and possibly score a big win.
At Springbok Casino, we begin the bonuses with a no deposit bonus for new players.  As an aside, if you're a new player, and you're reading this article, you should realize the great extent to which we at Springbok go to making your gaming fun, entertaining, and as profitable as luck will allow.
After you accept the no deposit bonus, we have a three-tiered welcome package of bonuses for new players.  Veteran players can accept bonuses every week so you never are far from another way to play for real money using the casino's money to do so.
Play in Tournaments
These tournaments are competitions in the loosest sense of the word.  In reality, they are a purely entertaining way to play slots with other gamers from around the world.  Many of our tournaments are freeroll tournaments which means that you don't have to pay in to enter.  In freeroll tournaments the prize money is also small.  That's why we call them purely entertaining competitions.
In the tournaments where you do pay to enter, the entry fees are very small and the prize money is commensurate with the entry fee.  Again, we see slots tournaments as a way for our gamers to play for long gaming sessions at very little cost if at any cost at all.
If you like playing slots and want to manage your bankroll to the maximum degree, then slots tournaments are possibly the best way to play.  We offer as many as 15 slots tournaments every day.  Some last a single day whilst others go for as long as a week or a month.
Some players enter slots tournaments knowing that they are not likely to win but love being able to play for a long time at no cost.
Play Progressive Slots
This piece of advice comes with a very big caveat: we advise people to play progressive slots if their bankroll allows it and if their main reason for playing slots is the desire to hit the big one.  If neither of these applies to you, then we advise you not to play progressive slots.
In order to win the big jackpot in a progressive slot, you have to bet the maximum.  If your bankroll is large enough for you to bet the maximum for an extended period of time, then by all means do so.  Secondly, we advise everyone to understand why they are playing slots, progressive slots, or casino games in general.
If you're playing for short bursts hoping to make a big hit, we see it as no different than buying a lottery ticket.  If your slots play does not reflect the basics of responsible gaming then we advise against playing slots entirely.
Many gamers play progressive slots on our mobile casino every day.  They open the mobile app and play a specified number of progressive slots spins.  This is the perfect attitude for playing progressive slots: play a little every day and hope for the elusive jackpot.
Mobile gamers who play a few spins at a progressive slot usually continue to play whilst they are waiting or commuting by train.  But they will switch from a progressive slot to a regular slot where they can bet the minimum and still have a great time playing.
Manage Your Bankroll
Everything we have said in this article points to the importance of sound bankroll management.  We advise you to see slots as one form of entertainment with the same budgetary requirements as a holiday, a restaurant meal, or an evening out on the town. 
We advised all slots players to enter tournaments.  These are perfect ways to manage your bankroll.  We advise you to play with casino bonus money as a way of playing for real money but with the casinos' money.  We also advise playing for free for as long as you wish.
Use Your Imagination
The only advice we have given that goes outside the realm of good bankroll management is the advice to let slots be a means through which you let your imagination run wild.  This truly is the best use of slots: let them take you back in history, up into space, deep down under the seas, or just to a happy time someone close to home.  Let slots make you smile.