What are Multiplier Slots?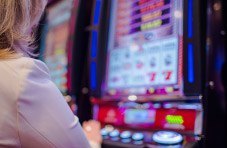 Multiplier slots are some of the most popular type of slot machines at the online casino. Today casino enthusiasts have many types of slots from which to choose when they're engaged in online gambling for real money. The most popular of these machines are the multiplier slots. Multiplier slots bring extra playing rounds, bonus games, free spins and more.
Multipliers are found within multiplier slot machines. If a multiplier is hit it can multiply winnings by a predetermined figure. Today, many slot machines feature multipliers but not all slots have them. 
The goal of a multiplier involves doubling, tripling, or increasing payouts multiplied x4, x40, or even x400 (or more). There are sometimes straightforward rules on how a multiplier will work while, at other times, the multiplier functions in a more complex way. Some types of multipliers are only encountered in normal play while others are featured in Bonus or Free Spins rounds. 
There are multipliers that multiply your wins and others that count towards the total bets or the line bets. Each game has its own rules regarding how the symbols function to multiply in its game. You can find out how a multiplier works in your preferred game by looking at the game's paytable.
A summary of some of these multiplier options includes:
Base Play Multipliers
Multipliers are not common during base play but they are featured in the base game of some slot machines. Base play versions generally multiply the value of the winning payline. For instance, if you get 3 matching symbols and a 2X multiplier on a line, then the total payout for landing those 3 matching symbols on one active payline will be 2X.
Free Spins
Free spins rounds often include multipliers. Since many slot developers look for ways to give the free spins rounds a different feel than the base play, they often include multipliers for free spins wins. Sometimes these rounds also include different symbols than those used in base play.
At times, the free spins wins are multiplied automatically. At other times the player is asked to choose his multiplier from hidden icons. This gives the gamer a chance to experience a sense of interaction with the slot and the outcome of his play while he achieves big bonuses. Free Spins Multipliers generally multiply winnings achieved during the free spins round by a set number (i.e. x2, x3, x10, etc.) 
Wild Symbol Multipliers
Sometimes a wild icon will double as a multiplier. When that happens, the Wild Symbol completes a payline and then, it multiplies the payout by the indicated multiplier. If you're playing a romantic-themed slots and the heart symbol is a multiplier, watch to see when the heart symbol occurs on the line. Say, for instance, the Wild heart symbol appears on the line with 2 puckered-lips symbols and completes the puckered-lips-symbol combination. If the heart symbol is a multiplier, that completed line will pay out at a multiplied rate.
Scattered Multipliers
Scatter often double up as multipliers. The advantage of playing a slot machine that includes a scatter is that the scatter doesn't have to occur on the same payline as another scatter in order for the 2 (sometimes 3) scatters to match up  and trigger the multiplier and/or the free spins round. It's enough that the scatter appears anywhere on the screen. If one scatter appears on the first line and the second scatter appears on the 10th line, it will still activate the free spins and trigger the game's multiplier (if that's what it's supposed to do).
Some slots have both wilds and scatters as multipliers while other have them only in the Free Spins round or the Bonus Round.
Wins Vs. Bet Multipliers
Some multipliers carry over to your winnings while others must apply to the wager placed on the spin. You need to read the rules of the game before you start to play so that you know what to expect.
Since multipliers don't cost you anything to play but add to your wins, it's a good idea to look for the games with the most lucrative multipliers.
Some Tips for Multiplier Slots
Multiplier slots are the most common, and most popular, type of slot machine. A multiplier machine's paytable is set out in the form of a table with one column for each coin you can play and one row for each winning combination. At worst, on a multiplier spin, you'd get a push – a return of the exact amount of money that you bet on a spin.
The hit frequencies on multipliers range from high to low. They aren't as high as Australian-style pokies or multi-line slots but they do offer a high percentage of matching combinations.
There are 2 types of multipliers -- Straight Multipliers or a Bonus Multipliers.
A straight multiplier machines pays out the same amount of money for each coin that you pay on each winning combination. Every column in the Straight Multiplier paytable shows the payout for one coin multiplied by the number of coins played. For example, two-coin machines are generally Straight Multipliers. 

There's no need to play more than one coin per spin on a Straight Multiplier. Additional coins won't activate any new winning combinations so there won't be any increase in hit frequency. The per coin payout on any winning combination won't result in any increase so you don't get additional long-term paybacks. You can do very well playing one coin per spin on Straight Multipliers.
You get bonuses for playing more coins on a Bonus Multiplier machine. The amount that you get for winning combinations and the amount that you receive for the top jackpot are calculated at more than just a straight multiple of the amount that you paid when you played one coin, multiplied by the number of coins played. 
When you play full coin on a Bonus Multiplier you'll see a higher long-term payback. The combinations that pay a bonus hit fairly infrequently, meaning that there are extremely small increases in long-term payback for bonuses, even large bonuses. It's advised that you play one coin per spin on Bonus Multipliers.