Why Video Slots?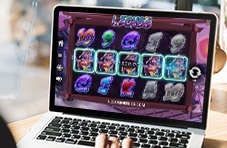 In general, three-reel classic online gambling for real money slots and five-reel online casino video slots offer payouts that more or less equal out in the long run. If your betting level remains similar you can look forward to similar levels of payouts in both types of slots. So what's the difference? Why do so many players prefer to play video slots over classic slots?
Video slots became popular in the 1980s when game developers started to add different types of elements to slot machines. The features went above and beyond the 2 extra reels to create a more interactive and dynamic slot gaming experience. Over the years more and more elements have been added, making the five-reel video slots the preferred type of slot machine for veteran gamers and beginning players alike.
Elements
If you're looking for a slot machine that offers the most visually-engaging and vibrant gameplay, you may wish to check to make sure that the machine features as many of these elements as possible:
Wild Reels
Wild reels are a popular element in slots games because they add excitement and suspense to the game. A wild reel is a reel on which all the positions turn wild. Then, the symbols on those positions substitute for other symbols and complete winning combination, creating wins. Wild reels mean that, when a wild is triggered, it's not just one symbol that turns wild – it's the whole reel.
Striking Wild
Striking wilds are randomly activated during a regular game, not during a bonus game round. When a striking wild is triggered a random reel transforms into a wild reel. Generally, only some of the reels transform into wild reels while the others remain stationary.
Wild Symbol Stack
The wild symbol stack is a feature in which five symbols are displayed simultaneously on the same reel.   When that happens, those multiple symbols substitute for other symbols and complete additional winning combinations.
Rolling Reels
When rolling reels activate, winning combinations are removed from the reels after the payout is delivered. Then, new symbols fall downward and fill the empty spaces. This results in new completed combination opportunities and multiple consecutive wins are delivered. Sometimes,  rolling reels are available during the regular game, sometimes during the free spins round and sometimes both. 
Exploding Symbols 
Exploding symbols are generally featured in more technologically-advanced slot machines. In a game that features exploding symbols, symbols may explode randomly when a winning combination occurs during a spin. The symbols that explode then disappear after the payout and the symbols that were positioned above the exploding symbols shift position to fill the empty spaces.
If a matching combination results from the shifting symbols, another payout results. The process repeats itself again and again until no more symbols explode. A game with exploding symbols gives you increased chances to add more wins without betting on another spin. Exploding symbols are often accompanied by multipliers that multiply the win. 
Multipliers
Multipliers are applied to wins based on the game's structure. Multipliers can take the form of x2, x3, x4 or even more. Some games have multipliers for regular game wins, some for wins achieved during free spins and some multiply wins for all completed paylines, both in the regular game and in the free spins round.
There are also multipliers applied to wins achieved via some of the game's features – exploding symbols, striking wilds, wild reels, etc. Each game has its own parameters for its multipliers.
Expanding Wilds
Expanding wilds are wilds that expand to all positions on a reel. Once the wild expands, it substitutes for other symbols and completes winning combinations.
Free Spins Rounds
Most video slots offer free spins round. When a regular game spin triggers the free spins round, the player is given a specific number of free spins that he can spin for free and collect the wins on that spin. The wins achieved during the free spins rounds are added to regular game wins.
Respins
Respins occur on some slot machines during the free spins game. Respins are triggered during one of the respins and restart the free spins for another round of no deposit spins. All of the wins collected during the respins are added to the player's win box, together with their regular game wins and their free spins payouts.
Bonus Games
In addition to the free spins rounds, many slot machines have extra bonus games. Some of these bonus games involve spinning a roulette wheel while others allow the player to select symbols and collect the payouts that the symbols present. There are also Gamble bonus games in which the player can gamble his winnings on a selection and, possibly, double or quadruple existing cash prizes for a larger take-home purse.
Before you select a slot game, review it so you know what elements it offers - you can often see them played on YouTube.  If you feel that it gives you the best slots adventure with the features that will create an atmosphere of entertaining fun and excitement, that's the slot machine for you!