How to Use Multi-hand Video Poker to Your Advantage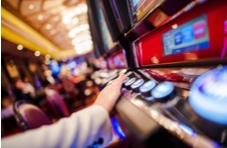 Video poker is now one of the most popular games here at Springbok Casino.  We have spoken in several articles about how it is possible for video poker players to even the odds with the house or even get a slight advantage over the house with correct play.
Let's review the main points and then we'll talk about a couple of other video poker advantages for you as you play at our online casino.
Always Bet the Maximum
The only correct strategy for video poker is to go for the Royal Flush in certain circumstances since the extra bonus for a Royal Flush is so high.  We have repeatedly said that the extra bonus for a Royal Flush is only available to players who have bet the maximum for that game.  So, here are the points:
Go for the Royal Flush whenever that is the practical strategy.
Always bet the maximum in order to qualify for the Royal Flush bonus.
Always play a video poker game that has a maximum bet that you can afford.
We will soon return to that last point when we talk about the benefits of multi-hand video poker.
Use Casino Bonuses
You should start your gaming at Springbok with the Springbok Casino no deposit bonus.  This bonus is relatively modest but it is a great way to learn your way around our online casino.  The no deposit bonus is just the first of many bonuses we offer and that you should accept.
Every bonus has a wagering requirement which means that you have to make a certain multiple of bets before you can withdraw winnings.  Since video poker has such a high return-to-player rate for correct play, many players find that they have winnings to withdraw after they have finished the wagering requirement for the bonus that they have taken.
It bears repeating that online casino bonuses have a huge advantage over land based casino bonuses because of the wagering requirement.  It may take more than a few days to work off the wagering requirement at an online casino and by then if you were playing at land based casino you would already be home.  In other words, many players leave their bonuses in place at a land based casino and may not be able to windrow any winnings for many months if ever!
That's one reason why land based casinos push other types of bonuses such as free accommodations, free meals, free alcohol, and in some cases free tickets to shows.
Use the Best Strategy
It is truly counter-intuitive to go for a Royal Flush especially if you have a winning high pair.  The Royal Flush comes up once in about 40,000 hands.  Still, we read every so often about a player usually at a land-based casino who "won" a progressive jackpot, generally in slots, but didn't "qualify" for the big jackpot because he or she had not bet the maximum.
That means that as rare as a big jackpot is they do come up regularly and it would be sad indeed to give up the chance for that big payout.  But we also have to keep in mind that it is not always the best play to go for the Royal Flush.  It is also true that in other variations such as Deuces Wild and Bonus Video Poker there are extra payouts for four or five of a kind.
In other words, learn the true basic strategy for the variation you are playing and accept that sometimes the best play is going to be counter-intuitive.
Increase Your Bets
This depends entirely on the size of your bankroll.  The maximum bet is simply five times the minimum.  If the minimum is one coin the maximum for that bet is five coins.  But you can always increase your bet.  Since the payout for a Royal Flush is so high, it may be better to play fewer video poker hands but to play for a higher bet.
The almost 100% return to payer rate means that you might still win even though you've increased your bet.   You simply have to be strict and realistic about your budget.
Play Multi-hand Video Poker
This is the main tip in this article.  If you play with perfectly correct strategy and never play a hunch and if your budget can afford to make the maximum bet on every extra hand you play then multi-hand video poker has a couple of huge advantages.
You will win big when your initial cards are good.  If you get three of a kind, and you're playing 100 hands, you will get a big extra feeling of excitement as the number of four of a kinds registers.  In addition, you'll get a lot of full houses.
If you get three to a straight flush, you will hit a lot of flushes, straights, and maybe one or two straight flushes. 
A Royal Flush comes up about once in 40,000 hands.  If you play 100 hands at a time, you should get a Royal Flush once in 400 separate hands.  But since you're playing 100 hands at a time, you might get two Royal Flushes on those great hands that are the most likely to end up as a Royal Flush!
If you play with correct strategy and you have a minimal amount of luck, you will end up with a winning session.  There is really no better feeling than to finish a video poker session in the black and then to go on taking care of other personal and work responsibilities.  We shrug off losses but the great feeling from winning lasts a while!
Gain Comp Points Fast
Springbok is a lot different than almost every other online casino in that we treat every game the same in terms of comp points.  Most casinos give a lot of comp points for slots and a lot fewer comp points for video poker.  We give the same number of comp points for every game!
So, you can really grow your comp points account by playing multi-hand video poker!
In short, playing multi-hand video poker has the potential for really high win totals and at any rate, allows you to accumulate extra "money" in the form of a massive increase in comp points.