When Is it Really Better to Give Up a Winning Hand in Video Poker?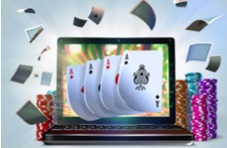 The two games that new players at Springbok casino play with their Springbok Casino no deposit bonus are pokies and video poker.  As we all know, there is really no strategy for success in pokies; we play them for the vicarious thrills and for the chance to score a big win through great good luck!
On the other hand, there is a lot of strategy in video poker.  Many new gamers play video poker at an online casino without having learnt or even read about the top strategy for this great game.  Fortunately, they have played with a no deposit bonus!  In this article, we will discuss one of the most counter-intuitive and esoteric aspects of top video poker strategy: the pursuit of the elusive Royal Flush.
The Big Royal Flush Jackpot
In a standard 9-6 video poker game, the payout for a Royal Flush is 4000 coins if you have made the maximum bet.  There are two very important points here.  First, the standard game should pay 9 for a full house and 6 for a flush.  Those games are called 9-6 games.  Second, if you want to earn the big extra bonus for a Royal Flush, you need to make the maximum bet.
Uncommon but not Rare
On average, a Royal flush will hit once in 40,000 hands.  However, as in all games where luck is involved, there is some volatility.  For every player who gets a Royal flush only once in 80,000 hands, there is a player who gets two in 40,000 hands.  It pays to do everything we can to be the player who gets two Royal Flushes in every 40,000 hands.
Discarding a Winning Hand
The standard strategy card for Jacks or Better video poker with no wild cards and no extra payments for four of a kind is a long sheet that lists from most valuable to least valuable all the hands you can get, listed as categories.  As long as the list is, it is a lot more accessible than the basic strategy chart for blackjack.
In order to learn the video poker strategy list, we suggest that you play at Springbok in our free play mode.  At every hand, look at the list to see where that particular hand fits.
Hold the Best Hands
It is obvious that you should hold the best hands if you are dealt them.  These are a Royal Flush, a straight flush, four of a kind, and a full house. 
The first counter-intuitive strategy in pursuit of a Royal Flush is to break up a winning hand, except for a dealt straight flush, if you also have four to a Royal Flush.  For example, you get four to a Royal Flush and a winning pair.  The best strategy, in this case, is to give up the winning pair which won't return much and go for the Royal Flush.
If you play multi-hand video poker with 100 hands, you might even get two Royal Flushes from this holding!  Or you might not get any.
Even though you give up a winning pair, you still have a good chance to draw a picture card and get another winning pair and you might also hit a flush or a straight.  So, you have so many winning chances at any rate that it pays to give up the winning pair in pursuit of the big Royal Flush jackpot.
Three to a Royal Flush
You have to go a long way down the list to find the place in the hierarchy of hands to find three cards to a Royal Flush.  The chances of hitting the Royal Flush with only three cards are very small so that hand ranks behind many other hands that you should keep instead of the three to a Royal Flush.
Still, the best strategy is to keep three to a Royal Flush over keeping four to a flush.  The pursuit of the big payout supersedes the pursuit of the relatively low payout for the flush.  In addition, you might still hit a flush, three of a kind, two pair, or a winning pair.
The Wizard of Odds
Michael Shackleford is also known as the wizard of odds.  He has an optimum strategy card that has 36 different categories of hands that you can get and where they fit in the hierarchy of hands.  Naturally, it will take you longer to learn the many nuances he has added to the standard basic strategy list.
Value of Using Top Strategy
The value of always making the best decision in video poker, even when that decision seems counter-intuitive is because Royal Flushes do happen albeit not very often.  The odds of getting a Royal Flush are far better than the odds of winning a government lottery worth hundreds of millions of dollars.
Multi-Hand Video Poker
You can play as many as 100 hands per deal in basic Jacks or Better at Springbok casino.  Since a Royal Flush comes up once in 40,000 hands, by playing 100 hands at a time, you reduce the number of actual hands you need to play to get the Royal Flush based on simple odds to 400 hands.
That means that you need to make 400 decisions to reach the 40,000 hand peak.  There is certainly no guarantee that you'll get a Royal flush this way but it does add a lot of fun to get a strong hand on the deal and then to see the bigger wins rack up as the random number generator deals out cards for each of the 100 hands you've played.
Look at all Five Cards
This seems so obvious but many video poker players especially the most inexperienced ones will look from left to right as most people do and might see a winning pair.  The temptation is simply to hold those cards and press deal.
However, a closer look to the right might have shown four cards or three cards to a Royal Flush.  So, always look at all the cards, take your time deciding on the best course of action, and then watch the winning hands pile up.
Video poker at Springbok returns about 99.5% of all money wagered so it takes just a little luck to finish a session with a win under your belt.