Video Poker and Casino Gaming are a Lot More than Just Strategy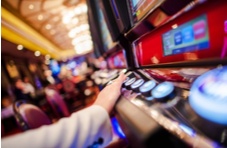 After we discussed the advanced gaming strategy for video poker in depth, we understood that strategy charts are not all there is to having success playing video poker.  In this article, we will present a few good pieces of advice that go beyond the strategy chart and are as important to your pleasure playing video poker as is the proper use of the advanced strategy chart.
Bankroll
Hundreds of advice articles about casino gaming stress the importance of sound bankroll management.  However, most of these articles don't go into enough depth on this vital issue.
You are the steward of your bankroll.  You are the superintendent of the gaming that sound control of your bankroll allows.  In video poker, it is always best to bet the maximum.  Whilst at land based casinos, the maximum bet in video poker terminals may be too high for your individual bankroll, at an online casino, you can find video poker games for as little as a single penny making the top bet only five cents.
Play for Free
This is very important advice in other gaming contexts as well in the context of good money management.  Within the discussion of bankroll stewardship, playing for free is a cost-free way to become expert at any game including video poker.  At springbok, you can play for free for as long as you wish.
Your Bankroll is Your Gaming Budget
You would never go to a restaurant that charges far more than you can afford for a meal.  Similarly, you would not buy concert tickets that you can't afford.  Most people sit in the economy section on a flight because the higher priced seats are too pricey.
The list of things we buy or don't buy based on their cost and our ability to afford those costs is endless.  We repeat often that online gaming (and land based gaming as well) should be related to as elements of your overall entertainment budget.  So, before you venture forth into the wonderful world of online gaming, you ought to formally decide what your gaming budget shall be per week or month.
Enrich Your Bankroll with Bonuses
Online casinos can offer daily bonuses.  We offer bonuses for life events such as anniversaries and birthdays.  We offer weekend and mid-week bonuses.  Every bonus carries a wagering requirement, which at Springbok online casino, is very fair.
It is far easier to complete the wagering requirement at an online casino since you have an unlimited amount of time to do so.  At a land based casino you have but a few days at best to complete the wagering requirement.
Taking a bonus offer is absolutely the best way to augment your bankroll!
Adopt a Zero Alcohol Strategy
We don't advocate a zero alcohol strategy for every moment of every day; we advocate it only when you're playing online casino games.  It is a verifiable fact that even though video poker has close to a 100% return to player rate, when alcohol is introduced into the equation the return to player rate plummets.
Zero alcohol is a vital aspect of sound bankroll stewardship.
A corollary of a zero alcohol practice is to adopt a zero yawns scheme.  Yawning means that you are tired and being tired is always converted into losses.  So, when you yawn, you close until you yawn no more.
Many gamers simply find that setting a time limit on any session is the best way to avoid getting tired.  Video poker tends to tire players a lot faster than slots or roulette do.  That's because you have to make logical decisions in video poker.  So, accept that you'll get tired faster whilst playing video poker.
We suggest ending a session of video poker with some quiet and easy slots play to unwind from the mental effort of playing video poker.
Pay "Taxes"
Of course, you have to pay the government for your winnings.  Here we are talking about adding taxing yourself to good bankroll management.  After every win, simply record about 10% as your self-tax.   When you do that, you may run out of your initial bankroll but you'll always have money left over if that happens.
Of course, if you follow best strategy, you will very rarely run out of your bankroll!  It is still a great idea to tax yourself.  You will find that you play much more for fun when you know that you are keeping some money back.  You can even use the money you pay yourself to fund other fun activities!
Play One Hand at a Time
This is mostly for beginning video poker players.  Newbies need some time to get comfortable with the strategy and the highs and lows of gaming.  Once you have the requisite experience, we often recommend playing multi-hand video poker.
In multi-hand video poker, you'll hit some massive hands with huge payouts.  And if you get four to a Royal Flush in multi-hand video poker, you might be able to afford an expensive seat the next time you fly!
Become an Expert in One Game at a Time
There are many variations of video poker and each one has its own best strategy.  So, it is best to learn one variation deeply before tackling another.  Most articles advise starting with Jacks or Better since so many variations begin with this game and then venture afield.
Once you have learnt the subtleties of Jacks or Better you can try out another variation, even one with a very slightly better return to player rate than standard Jacks or Better.
Avoid Tilt at all Costs
Tilt is a gaming term for when we lose in very unlucky circumstances.  Tilt is most prominent in poker.  Anyone who wants to see what poker tilt looks like need only google Phil Helmuth tilt.  That is what we hope you can avoid!
Avoiding tilt is a vital part of sound bankroll stewardship.  There are many online sites that deal with "controlling your emotions" which is basically the same as controlling the natural human tendency to tilt when luck runs dry.
We suggest ending as session when you feel yourself getting frustrated by losses.  Go for a walk.  Enjoy the beauty of the nature around you.  It is just as important to learn how to accept losses as it is to learn when to stop even when you are ahead.
Winning and losing are both elements in any game.  Happy gaming comes to those who can accept both with equanimity.