Best-Ever Video Poker Playing Tips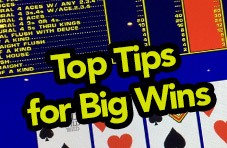 Video poker is one of those rare games that's not only fun to play but provides frequent payouts to players who have the skills, knowledge and strategies required to win.  At Springbok online casino there are heaps of video poker machines offering exciting variations of conventional five-card draw poker.
Provided you know how to play the game and where to find the machines with the highest return to player, there's a good chance you'll bank a lot more money playing video poker than most other web- and app-based casino games.
Those of you who are new to the wonderful world of real money gaming may be a bit mystified as to the finer points of playing video poker online. 
Here are a few tips and tricks that'll help you exploit the genre's traditional low house edge… and we all know what that means; more money for players who accumulate winning poker hands.
Learn the Rules  
All video poker variations are based on five-card draw poker.  Players are paid out according to the traditional poker hand rankings such as pairs, full house, straight and flush.  The amount of money you can win for a particular hand is posted on a paytable published on the gaming interface.
Although the rules are relatively straightforward, the most crucial aspect of play is to know exactly which cards to keep and which to discard.  The worst thing you can possibly do is start playing video poker for real money before you understand the rules and how best to play a particular game.
The easiest way to find the optimal strategy for a specific variation of video poker - be it Jacks or Better, Deuces Wild, Bonus Poker or Joker Poker - is to search for the information online.  You'll find detailed descriptions of when to stand and when to draw new cards based on the existing card values you are initially dealt with.
As all variations have different strategies to maximise the win rate, it's recommended you find a variant you really enjoy playing.  You can then spend your free time learning as much about that variation as possible.
By refining your choice of video poker to just one or maybe two variants, you'll have a better chance of understanding the nuances of the game and hitting regular payouts.
Practice in the Fun Mode
The best way to capitalise on video poker's favourable odds is to take what you've learnt about your preferred variant and apply it to game play in the fun mode.  You can test out your newly acquired skills and strategies in an authentic casino environment… but without the risk of losing ZAR.
It's worth mentioning that all the casino games in the free play mode are exact replicas of what you'll find at the instant play or download casino.  The only difference is no real money is exchanged for the coins or credits that are used to fund the gambling sessions.
We all know practice makes perfect and in the case of video poker, perfect means achieving high paying poker hand rankings like four of a kind, straight, flush or - the really big money-spinner - a royal flush!
Find a Video Poker Variation with the Best Payout Rate   
As we've already mentioned, video poker has one of the highest odds of all the casino games available online. That means the house edge - or the profit the casino earns from each wager - is nominal.  In most variants the casino banks less than 3% of the value of all the bets all the players place on the game results of a particular machine.
As a result, players can anticipate an average real money return of 97% or more.  That doesn't mean that every time you - as an individual player - wager on the outcome of the game you're guaranteed that precise payout rate.  It's simply an average rate at which the machine pays out to all players over time.
Nonetheless, it makes perfect sense to find the video poker variations with the best return to player (RTP) or payout rate.  Once you've narrowed down your choices, you'll know exactly which variants to focus on.
How do you find the average RTP of video poker games?  Well, there are gaming websites that publish that kind of information as a free service to players.  You can also calculate the RTP of a game based on data posted on the paytable… but that's a more complex lesson that's best left for another day.
However, it is important to remember there are dozens of different casino software providers offering similar types of games.  At Springbok online casino, for instance, all the casino games are developed by Real Time Gaming (RTG), so be sure to refine your search accordingly.
RTG Video Poker Variants with the Highest Return to Player
We did promise you we'd provide really helpful tips and tricks to get you going… so here are the RTPs of a few of the most popular Real Time Gaming video poker variants:
Pick 'Em Poker - 99.5%
Jacks or Better - 99.54%
Double Jackpot - 99.63%
Double Bonus - 99.37%
All American - 99.60%
Aces and Eights - 99.78%
Play Video Poker at your Own Pace  
One of the major benefits of playing casino games online is you can play as fast - or as slowly - as you want.  There's no dealer watching the clock and no other players around the table to pressure you into making careless mistakes.  Remember… mistakes can cost you dearly in terms of Rands and cents.
As we're already emphasised, the most important play you have to make in video poker is to decide which cards to discard… if any.  Be sure to take your time before making your decision.  Take a good look at the game strategy you've hopefully printed out and made available next to your PC or phone.
Once you've explored all your options, you can indicate which cards you want to discard with the tap of the screen or click of the mouse.  Then all that's left for you to do is engage the draw button to activate the second - and final - deal of the cards.
When you implement our basic tips on how to play video poker and win, there's a good probability the balance in your Springbok online casino account will grow exponentially larger day by day.